In this issue of the Blood-Letter, we honor Dana Haynes, winner of the 2011 Spotted Owl Award for CRASHERS. We also introduce the upcoming season of Bloody Thursdays, and much more.
May 2011
CONTENTS:
And the Winner Is… Dana Haynes for Crashers

The Spotted Owl committee has selected Dana Haynes as the 2011 winner for his thriller Crashers. A commercial airplane crashes just south of Portland on Interstate 5. The National Transportation Safety Board sends its crack team of investigators to determine the cause of the disaster. As the investigators begin to sift through the evidence, they become aware that it was not pilot error or mechanical failure, but a terrorist plot that brought the plane down. International intelligence indicates another plane is the next target. The investigators must use all their expertise to prevent another crash. A true "page-turner", the committee gave Crashers high marks.
We are so pleased to have Dana Haynes as our speaker for the May 26th Bloody Thursday. We will be presenting Dana with his Spotted Owl Award at the meeting. Dana was one of the "up and coming" authors at our May meeting last year. Writing as Conrad Haynes he published three traditional mysteries in the 1980's. For 20 years he was a journalist for several Oregon newspapers. He is now the Public Affairs Manager for Portland Community College.
We hope you will join us to celebrate Dana's award. The meeting will be held at Terwilliger Plaza, 2545 SW Terwilliger Blvd. in the Conference Room, located on the P3 level. Directional signs will be posted in the building. There will be a reception at 7:00 pm, followed by the program at 7:30 pm. The meeting is free and open to the public. Free parking is available in the Terwilliger Plaza employee lots across 6th Avenue from the lower level entrance, and on Sheridan Street. Handicapped parking is available at the upper level entrance. Tri-Met bus #8, Jackson Park, stops just in front of the lower level entrance. Click here for directions to Terwilliger Plaza, including a map which shows parking in the area.
Date: Thursday, May 26, 2011, 7:00pm
Location: Terwilliger Plaza, 2545 SW Terwilliger Blvd, Portland, OR
– Back to Top –
Spotted Owl Finalists for 2011
The selection of Crashers by Dana Haynes as the winner of the 2011 Spotted Owl Award marks the 16th year that the award has been given by Friends of Mystery. Previous winners are Kate Wilhelm, Kris (Nelscott) Rusch and Lowen Clausen, who have each won the award twice. Other winners include Alan Bradley, Phil Margolin, Mike Doogan, Kevin O'Brien, G.M. Ford, Marcia Simpson, L.L. Thrasher, Tom Mitcheltree, John Straley, and Earl Emerson.
Runners up for the 2011 Spotted Owl award are:
Jon Talton for Deadline Man
Robert Dugoni for Bodily Harm
Mike Lawson for House Justice
Patrick McManus for The Huckleberry Murders
Bill Cameron for Day One
Phillip Margolin for Supreme Justice
Greg Rucka for The Last Run
Steve Martini for The Rule of Nine
Michael Gruber for The Good Son
The committee of five Friends of Mystery members evaluated 61 books. Members of the committee are Marlyne Stuckey, Carrie Richards, Jeannette Voss, Pete Scott, and Sheila Sweet.
– Back to Top –
Annual Book Sale Prior to the May 26TH Meeting
Be sure to arrive early for our annual book sale. Starting at 6:30 pm we will have hardbacks, paperbacks, audio books and DVDs for sale. Most hardbacks will be priced at $1.00 with paperbacks at 50 cents. There will also be some signed first edition mysteries. These books were donated by members for the sale. Author Sharan Newman has also donated some of her collection for the sale. If you have books you would like to donate for the sale, you can bring them to the sale or call Elinore Rogers at 503-244-5271 for pick up.
– Back to Top –
The 2011-2012 Bloody Thursday Season
The Executive Committee will be meeting soon to plan for our 2011-2012 season. The dates are September 22 and November 17 of 2011 and January 26, March 22, and May 24 of 2012. If you have any suggestions for speakers or topics, please let us know. We are always looking for new ideas. You can contact us by mail at our PO Box 8251, Portland, Oregon 97207 or by email at info@friendsofmystery.org.
– Back to Top –
The Creator of the Cornish Copper
by Pete Scott
[Editors note: In the last issue of The Blood-Letter Pete Scott told us about the "Wycliffe" English police procedurals written by W.J. Burley. In this article he tells us more about this author.]
We all know the old adage for creative people, "Don't quit your day job." Well, W.J. Burley, the creator of the Cornish Copper, Chief Supt. Charles Wycliffe, quit his day job twice before settling in as an author. And I don't mean menial jobs either – he had two distinct complete careers before he began writing to provide a better retirement for himself and his family.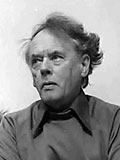 He missed his grammar school exams at the age of 12 because of illness and instead went to a local technical school, becoming an apprentice at the Truro Gas Company. He advanced steadily as an industrial engineer, eventually appointed as manager and secretary of the Camborne Gas Company in 1946. Along the way he was elected to the Institute of British Engineers. Sounds like a life-long career, doesn't it? However, in 1946 at the age of 32, he began attending evening lectures on natural history given by Dr. Frank Turk. The lectures were sponsored by the WEA (Workers Education Authority) – a government scheme to enhance the lives of the working class. In 1954 he had the experience of hearing such a lecture on ornithology in Bristol. The hall was jam-packed – a very popular evening's activity. Burley developed an ever increasing interest in zoology and the natural world around him such that with Dr. Turk's support and direct assistance, he was able to enroll in Balliol College at Oxford as an adult student and obtain his degree in zoology in 1953. He had a state scholarship that paid his expenses plus allowed his wife and two sons to remain in the family home in Cornwall. In 1953 he began his teaching career in biology at the grammar school level – the school level he missed out on 27 years before. Over the next 21 years he advanced steadily in his second career, becoming head of the Biology Department and Careers Master at Tretherras Comprehensive School.
Late in his teaching career he tried his hand at writing a mystery story featuring an amateur detective, Dr. Pym (a school master) and set in a school setting. Write what you know, right? The book was published, but the publisher thought Burley might do better financially with a police detective approach. Thus in 1968 was born Chief Supt. Wycliffe, who was with us for 22 books.
Burley died at the age of 88 in 2002 while working on his 23rd Wycliffe titled Wycliffe's Last Lap. Thus because of a missed school exam that might have led straight to university and a government job during World War II, Burley's life took a turn that eventually led to a writing career and the creation of Wycliffe.
– Back to Top –
Upcoming Events
Several events for authors are on the local literary calendar. We are pleased to provide this information for our members, mystery authors and fans.
Wilsonville Festival of the Arts
June 4-5 Author's Fair
Town Center Park Wilsonville
Contact: Kit Whittaker, 503-682-1446
Third Annual NW Book Festival
Saturday, July 30th from 11:00 am to 6:00 pm
Pioneer Courthouse Square, Portland
Contact: Veronica Esagui, 503-913-6006
For Writers: Summer Writing Lab
Summer Writers Lab at the Brooklyn campus of Long Island University is now accepting applications. This urban fiction immersion will be held from June 16-18, 2011, featuring Marlon James, Jennifer Egan and Gabriel Cohen leading master fiction workshops. Cohen, the author of Red Hook, The Graving Dock, Neptune Avenue, and the newly released The Ninth Step, a new Jack Leightner crime novel, will be teaching a workshop on writing the crime novel.
Workshops will be held during three sessions: Thursday through Sunday, June 16-18, from 10:00 a.m. to 1:00 p.m or 3:00 p.m. to 6:00 p.m. Applicants need to submit a writing sample, along with a $20 application fee. Tuition is $300 for one workshop or $500 for two workshops. Admission to panels and events is included in the workshop fees. For more information or to apply, contact (718) 488-1050 or email summerwriterslab@brooklyn.liu.edu, or visit www.liu.edu/swl.
– Back to Top –
Mystery Conventions
Mystery conventions are a great place to meet and hear your favorite authors and to be in the company of mystery fans from all over the world. If you get a chance to attend one, you will want to be at another.
– Back to Top –
Submissions Needed
Members and readers are encouraged to submit book or film reviews, comments on authors, and recommendations for books to read or questions about mysteries, crime fiction and fact. You can mail these to our PO Box 8251, Portland, Oregon 97207 or send to our email address at info@friendsofmystery.org.
– Back to Top –