In this issue of the Blood-Letter: a preview of upcoming Bloody Thursday panel on the mystery short story, Elinore Rogers serves up the 2012 Spotted Owl Award, Harriet Stay reviews The Chalk Girl, and Jeannette Voss speaks with Keith and Marlyne Stucky about book collecting!
May 2012
CONTENTS:
Writing a Mystery in Short Story Form
What is the difference between writing a mystery novel as opposed to writing a short story? FOM is pleased to have a distinguished panel of writers to discuss this question and other topics relating to short stories: Bill Cameron, Evan Lewis, Kristine Rusch, and Dean Wesley Smith.

Evan Lewis is a Portland writer who is the recent winner of the Robert L. Fish Memorial Award for best first short story by an American author. This award is part of the Edgar Awards, given by the Mystery Writers of America. His story, "Skylar Hobbs and the Rabbit Man," appeared in Ellery Queen's Mystery Magazine. The story is set in Portland, and the main character believes himself to be the reincarnation of Sherlock Holmes. Lewis is now completing a novel that pits Hobbs against a serial killer.
Kristine Rusch isn't a stranger to FOM. Writing under the pen name of Kris Nelscott, she is a two-time winner of our Spotted Owl award for A Dangerous Road (2005) and Days of Rage (2007), featuring Smokey Dalton. Rusch writes under various pseudonyms in multiple genres, including science fiction, fantasy, mystery, romance, and mainstream. She won the Hugo Award for Best Novelette in 2001, the 2003 Endeavour Award, and the Sidewise Award for Alternate History in 2008. Rusch edited The Magazine of Fantasy and Science Fiction for six years, winning one Hugo Award as Best Professional Editor. She is married to fellow writer Dean Wesley Smith, and they have collaborated on several works.
Dean Wesley Smith is a bestselling author who has written over ninety popular novels and more than 100 published short stories. He writes under many pen names and has also ghosted for a number of top bestselling writers. Smith has also written books and comics for all three major comic book companies, Marvel, DC, and Dark Horse. Over his career, he has also been an editor and publisher, first at Pulphouse Publishing, next for VB Tech Journal, and then for Pocket Books. He is currently writing thrillers and mystery novels under another name.
Bill Cameron is the winner of the 2012 Spotted Owl award for his mystery County Line, featuring retired Portland homicide cop Skin Kadash. His three previous mysteries, Lost Dog, Chasing Smoke, and Day One, have all been finalists for the Spotted Owl award. Cameron's short story, "The Princess of Felony Flats," was nominated for the CWA Short Story Dagger 2011. His short fiction has appeared in Portland Noir, Spinetingler, the Killer Year, and First Thrills anthologies. Bill is the webmaster for FOM, and is currently serving on the Board of the Mystery Writers of America.
The program will begin at 7:30 pm at Terwilliger Plaza, preceded by our annual book sale. The meeting is free and open to the public. Free parking is available in the employee parking lot across 6th Avenue from the lower level entrance. Handicapped parking is available at the upper level entrance. Tri-Met bus #8, Jackson Park, stops just in front of the lower level entrance. Learn more at our Bloody Thursdays page.
Date: Thursday, May 24, 2012, 7:00pm
Location: Terwilliger Plaza, 2545 SW Terwilliger Blvd, Portland, OR
– Back to Top –
Spotted Owl Winners for 2012 Announced
by Elinore Rogers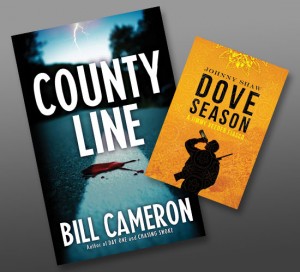 The Friends of Mystery Spotted Owl Committee announced the winners of the 2012 awards. Bill Cameron was selected for his mystery County Line. A special award, named for our late co-founder Stan Johnson, will also be given to Johnny Shaw for his debut mystery Dove Season. The other finalists are:
Heather Sharffedin for Damaged Goods
Urban Waite for The Terror of Living
Chelsea Cain for The Night Season
Robert Dugoni for Murder One
Dana Stabenow for Though Not Dead
Aaron Elkins for The Worst Thing
Mike Lawson for House Divided
Kate Wilhelm for Heaven Is High
Gary McKinney for Darkness Bids the Dead Goodbye
The committee members who evaluated the 67 books are Sheila Sweet, Marlyne Stucky, Pete Scott, Carrie Richards, and Jeannette Voss. This is the 17th year of Spotted Owl awards. Previous winners include Earl Emerson, John Straley, Tom Mitcheltree, L.L. Thrasher, Marcia Simpson, G.M. Ford, Kevin O'Brien, Phillip Margolin, Alan Bradley and Dana Haynes. Kate Wilhelm, Kris (Nelscott) Rusch, and Lowen Clausen have each won the award twice. Mike Doogan was the first to receive a special debut mystery award.
The Spotted Owl award was first awarded in 1996, to celebrate the work of mystery authors who live in the states of Oregon, Washington, Idaho, Alaska, and the province of British Columbia.
– Back to Top –
Book Review: The Chalk Girl
by Harriet Stay
The Chalk Girl
Check out this interview with Carol O'Connell by Crimespree Magazine's Jon Jordan.
I had just about given up hope. It had been almost four years since the last Kathleen Mallory crime novel or even a standalone story by Carol O'Connell. Over a span of seventeen years, Carol O'Connell has written twelve books. The Chalk Girl is the latest. My impatience and worrying has been for naught.
Her first, in 1994, was Mallory's Oracle. I read it while I was still the publisher of Mystery News, but as with most books I received, they were passed along to my reviewers; however, I never failed to purchase and collect each one. On the first day of my retirement, I gathered those books beside my favorite reading chair and began my journey into the world of Kathy Mallory. Only a privileged few are allowed to call her Kathy, the eccentric young woman, once orphaned, now a NYC police detective.
A silly notion entered my head when first encountering Lisbeth Salander…could Stieg Larsson have been thinking of Mallory when he envisioned Lisbeth? The comparison is uncanny: loneliness, self-reliance, haunting wildness both possess. Even their physical descriptions bear resemblance. Not the clothes. Kathleen Mallory is definitely a classy New Yorker. I don't recall other writers integrating the use of computers with their protagonists before Mallory. Remember, computers were not a household word back then. No matter. Just an idle thought, and I enjoyed reading Larsson's trilogy, as well.
During the opening scene of The Chalk Girl, I was delightfully escorted into Central Park, NYC, under the guide of a visiting school teacher, Mrs. Lanyard, but it turns out that rather than losing one of her charges, she gains an additional one- one who has the rest of the children enthralled with her knowledge about rats. Rats. Suddenly, they were swarming the park and in broad daylight, no less, which all leads to the discovery of murder…bodies found inconspicuously hung in the park.
It's true Mallory is a loner. She has no friends her own age. What she does have and adds delightfully to each story is a stable of friends who could be considered her surrogate parents, family whom she beats at poker, most of the time. They come to the rescue when the "additional" child, who calls herself Coco, appears to be out on a limb herself. Part of solving this mystery is figuring out where Coco came from, so I'll leave the reading and detecting to you. You won't be disappointed.
Oh, there's something I came across that I want to share if you haven't caught it already. It made me laugh. Mrs. Lanyard. Her name fits her part so perfectly. I recall as a Girl Scout leader wearing a lanyard because we made them. How clever a name choice. It was a thousand pictures in one word. If you haven't discovered Mallory (Carol O'Connell) yet, you're in for a treat.
– Back to Top –
Collecting Books
An Interview with Keith & Marlyne Stucky
By Jeannette Voss
I would venture to guess many FOM members have at least one stack of books just waiting to be read, and a somewhat smaller percentage have more than that (I would include myself in that number.) I enjoy going to author readings, and it's always a bit of a thrill to buy a book and get it signed by the author. FOM members Keith and Marlyne Stucky have taken collecting books to a higher level, and I wanted to speak with them about the ins-and-outs of collecting mysteries.
Keith and Marlyne have been members of FOM since the late 1980's, but began collecting before then. Keith first collected Western paperbacks, with an emphasis on Louis L'Amour. After meeting Tony Hillerman at the Portland Book Fair, they became friendly, and Hillerman was added to their "collectibles" list, along with Ed McBain, Robert B. Parker, Nevada Barr, P.D. James, Sue Henry, A.E. Maxwell, and Elizabeth George. As they became more involved with the mystery world, they began attending conferences such as Left Coast Crime and Bouchercon, becoming friendly with many of the mystery writers they read, and taking advantage of the opportunity to acquire many signed first editions.
Besides mysteries, they enjoy collecting westerns, thrillers, and historical novels. In deciding which authors they wanted to collect, they chose those they enjoyed reading, which were suspenseful with plots that were twisted and well-resolved, and whose protagonists were believeable.
Among their favorite authors to collect are (in no particular order): Harlen Coben, Phil Margolin, George Pelecanos, Robert Parker, Michael Connelly, Robert Crais, T. Jefferson Parker, Bill Pronzini, Sara Paretsky, Marcia Muller, Carola Dunn, J.A. Jance, Peter Robinson, Margaret Coel, Margaret Maron, Patricia Cornwell, Robert Dugoni, Lawrence Block, Loren Estleman, Rhys Bowen, Phillip R. Craig, William G. Tapply, Linda Fairstein, Henning Mankell, and S.J. Rozan.
When asked what advice they would give to someone who is thinking about collecting, they suggested the following:
Save your money! Use the library, and collect authors that you want to read.
Make sure your copy is a first edition, in very fine condition.
Use plastic book jacket covers.
Collect signatures on the title page.
Factors that make a book collectible include the condition of the book and the dust jacket, whether it is the author's first book, and whether the book has won any awards.
Sources where you can find collectible books are book dealers' catalogs, such as Buckingham Books, book stores that specialize in autographed first editions, such as High Crimes in Boulder, Colorado, and The Poison Pen in Scottsdale, Arizona.
Thanks to Marlyne and Keith for sharing their expertise.
If you are interested in reading about book collecting, some resources are:
Goldstone, Lawrence and Nancy. Used and Rare: Travels in the Book World.
Goldstone, Lawrence and Nancy. Slightly Chipped: Footnotes in Booklore.
John Dunning writes a good mystery series about Cliff Janeway, a book scout:
Booked to Die
The Bookman's Promise
The Bookman's Wake
The Bookwoman's Last Fling
The Sign of the Book
– Back to Top –
FOM Book Sale
May 24th at 7:00 pm, during the Bloody Thursday reception preceding the program.
| | | |
| --- | --- | --- |
| UNSIGNED HARDBACKS | | $1.00 |
| SIGNED HARDBACKS | | $2.00 |
| PAPERBACKS | | 50 cents |
| MAGAZINES | | 25 cents |
| AUDIO BOOKS/DVD'S | | priced as marked |
– Back to Top –
Submissions Needed
Members and readers are encouraged to submit book or film reviews, comments on authors, and recommendations for books to read or questions about mysteries, crime fiction and fact. You can mail these to our PO Box 8251, Portland, Oregon 97207 or send to our email address at info@friendsofmystery.org.
– Back to Top –