In this issue of the Blood-Letter: a preview of Bloody Thursday guest Shirley Tallman, a Lori Armstrong interview, Edgar nominees, and more!
March 2013
CONTENTS:
Bloody Thursday March 28, 2013:
Shirley Tallman… A woman of many talents
Even as a small child, Shirley Tallman dreamed of being a writer. Born in Los Angeles, California, she moved to the San Francisco Bay area as a teenager, where she attended junior high and high school. She obtained her BA degree in Radio and Television at San Jose State University, while working as Traffic Manager, scriptwriter and director for KNTV, a local ABC affiliate station.
After college, Shirley flew to Asia and the South Pacific as a flight attendant for Pan American World Airlines. Never one to waste a great opportunity, she used her travels to fill notebooks with ideas, story lines and snapshots for future novels.
Juggling marriage, children, and her new writing career, Shirley wrote a syndicated newspaper column while working up the courage to tackle that first novel. To her surprise, when she finally did write it, it actually sold! To date, she's written sixteen books, including ten contemporary Harlequin/Silhouette romances published under the pseudonym Erin Ross. During her "romance" years, she made the national bestseller list, and was nominated as "Best Desire of the Year" by "Romantic Times."
Currently, Shirley is writing an historical mystery series for St. Martin's Press. The books, Murder on Nob Hill, The Russian Hill Murders, The Cliff House Strangler, Scandal on Rincon Hill, and Death on Telegraph Hill – feature Sarah Woolson, a feisty nineteenth-century female attorney, who is forced to utilize all her talent and wits as she squares off against a narrow-minded, all-male legal establishment.
Together with her screenwriting partner, Nancy Hersage, Shirley has written and sold television scripts to NBC, CBS, and ABC. Their movie, "The Babysitter's Seduction", originally aired on NBC and continues to play regularly on the Lifetime Channel. Their current project, "The War Machine", was recently bought for Tom Cruise by Paramount Studios, and their story, " Lili ", is being produced for the Canadian Broadcast Corporation.
We hope you will be able to join us for her presentation. The program will begin at 7:30 pm at Terwilliger Plaza. Directional signs will be posted in the building. The meeting is free and open to the public. Free parking is available in the Terwilliger Plaza employee parking lots across 6th Avenue from the lower level entrance, and on Sheridan Street. Handicapped parking is available at the upper level entrance. Tri-Met bus #8, Jackson Park, stops just in front of the lower level entrance.
– Back to Top –
And the Nominess Are…
The nominees for the 2013 Edgar Allan Poe Awards were announced by the Mystery Writers of America. These are for works published or produced in 2012. The Edgar Awards will be presented May 2, 2013.
BEST NOVEL
The Lost Ones, by Ace Atkins
The Gods of Gotham, by Lyndsay Faye
Gone Girl, by Gillian Flynn
Potboiler, by Jesse Kellerman
Sunset, by Al Lamanda
Live by Night, by Dennis Lehane
All I Did Was Shoot My Man, by Walter Mosley
BEST FIRST NOVEL
The Map of Lost Memories, by Kim Fay
Don't Ever Get Old, by Daniel Friedman
Mr. Churchill's Secretary, by Susan Elia MacNeal
The Expats, by Chris Pavone
The 500, by Matthew Quirk
Black Fridays, by Michael Sears
BEST PAPERBACK ORIGINAL
Complication, by Isaac Adamson
Whiplash River, by Lou Berney
Bloodland , by Alan Glynn
Blessed are the Dead, by Malla Nunn
The Last Policeman, by Ben H. Winters
BEST FACT CRIME
Midnight in Peking: How the Murder of a Young Englishwoman Haunted the Last Days of Old China, by Paul French
Devil in the Grove: Thurgood Marshall, the Groveland Boys, and the Dawn of a New America, by Gilbert King
More Forensics and Fiction: Crime Writers' Morbidly Curious Questions Expertly Answered, by D.P.Lyle, MD
Double Cross: The True Story of the D-Day Spies, by Ben Macintyre
The People Who Eat Darkness: The True Story of a Young Woman Who Vanished from the Streets of Tokyo – and the Evil that Swallowed Her Up, by Richard Lloyd Parry
BEST CRITICAL / BIOGRAPHICAL
Raymond Chandler's Philip Marlowe: The Hard-Boiled Detective Transformed, by John Paul Athanasourelis
Books to Die For: The World's Greatest Mystery Writers on the World's Greatest Mystery Novels, John Connolly and Declan Burke, eds.
The Scientific Sherlock Holmes: Cracking the Cast with Science and Forensics, by James O'Brien
In Pursuit of Spenser: Mystery Writers on Robert B. Parker and the Creation of an American Hero, Otto Penzler, ed.
MARY HIGGINS CLARK
SIMON & SCHUSTER AWARD
Dead Scared, by S.J. Bolton
A City of Broken Glass, by Rebecca Cantrell
The Reckoning, by Jane Casey
The Other Woman, by Hank Phillippi Ryan
Sleepwalker, by Wendy Corsi Staub
For more award categories, go to www.mysterywriters.org
– Back to Top –
Interview: Lori Armstrong
by Bill Cameron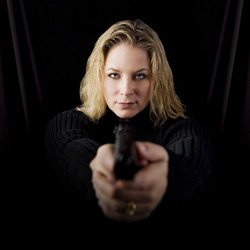 Author Lori Armstrong writes about badass women, and I can tell you she's pretty badass herself. Like her characters, Mercy Gunderson and Julie Collins, Lori is a resident of western South Dakota, and her mysteries and characters are infused with the power and fragile beauty of the High Plains.
She broke in to mysteries with Blood Ties, first in her Julie Collins series. Three more Julie Collins mysteries would follow, Hallowed Ground, Shallow Grave, and Snow Blind, and would rack up multiple nominations and wins for the Shamus Award, the WILLA Cather Literary Award, and the High Plains Book Award.
As if that wasn't enough to keep her busy, in 2010, the first in her Mercy Gunderson series, No Mercy, was released – and earned the Shamus for Best Hardcover Novel and a WILLA Cather Literary Award nomination. Mercy Gunderson has returned three times so far, in Mercy Kill, Silent Mercy, and the latest, Merciless. Lori also writes under the pen name Lorelei James, and is the NY Times and USA Today bestselling author of contemporary western erotic romance.
Our exclusive Friends of Mystery interview with Lori Armstrong follows.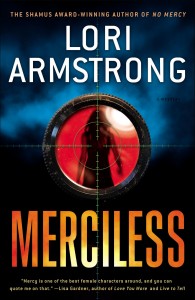 Friends of Mystery: Merciless is the latest in your Mercy Gunderson series. For those of us new to Mercy, what do we need to know about her?
Lori Armstrong: Mercy is a former black ops army sniper who was injured in war and retired. She's back in South Dakota living on her family ranch and has been trying to find her place in the world for the past two books. In Merciless, the 3rd book, she's just started to work for the FBI.
FOM: Your books are set in a strikingly beautiful and austere region. How does the landscape and its history influence your characters and their choices?
LA: Some people who live in rural America can't wait to leave the area for bigger and better things. Mercy happily joined the army at age 18. So when she had no choice but to come back to the vast and unforgiving land of her youth after her father's death, she still feels a tie to the ranch that's been in her family for 100 years, but she hates it a little bit too. My characters have to be self-reliant. They understand emptiness and see the beauty in it. They live with the mundane. The change, or lack of, in the area, and the people who inhabit it seems to be a theme that carries through all my books.
FOM: You've written two mystery series, and also write romance as Lorelei James. What—if anything—differs in the way you approach each character, series, or genre?
LA: When I'm writing mystery, I write in singular 1st person, so that character has to carry a 100K word book and while I love the intimacy of 1st person, that much pressure on a single character can be limiting as well as challenging. When I'm writing romance, I write from multiple points of view in 3rd person which also has benefits and challenges. Every day I count myself lucky I get to write in both genres, it stretches my mental muscles and keeps me from getting bored. The similarities are I tackle both genres from a relationship angle. In mystery, the book is about the characters' relationship with violence. In romance, the book is about the characters' relationship with sex.
FOM: Social media is the all the rage. How do you use social media, and what are your likes or dislikes about it?
LA: I'll be honest, I'm terrible at social media. I have a blog on my website that I update a few times a week with fun stuff like a Shot of the Week or Firearm Friday. I'm on twitter, and I tweet occasionally, but I'm not on there all the time. Same goes for Facebook—since my blog posts feed right into it, I often forget to interact with commenters. Social media is a huge time suck—and if I have a choice to be on twitter or be on my laptop working, sorry, working wins every time.
FOM: How do you tackle writer's block or distractions like the internet?
LA: Writer's block for me is more writer's "I don't wanna" for me when I'd rather be doing anything besides writing. But I am a fulltime writer, so I allow myself the tiniest whine and then I park my butt in the chair and get to work. I figure there are lots of days doctors or teachers don't want to work either, so it's a normal job thing and not a mental block—so I never allow myself to use it as an excuse. Even a bad day of writing is better than no writing at all. I try and limit myself to internet in the morning. Just up until last year my laptop didn't have internet—yes, that was on purpose I only bought old laptops and only installed Microsoft Word, so when I was on my laptop—I was writing, not screwing around online. However, I had a huge scare last year where I couldn't get any data off my laptop and that forced me to upgrade to one with internet. I'm not proud to admit…the internet button is frequently on and YES it has affected my productivity.
FOM: Kindle, Nook, or some other eReader? Or are you a print reader only? How has the growing ebook landscape affected you as an author?
LA: I have a kindle and a nook and I love both. I also buy a lot of print books. I'm a reader to the core, I love books no matter what format they're delivered in. The ebook explosion has really affected me more on the Lorelei James side of my career—I tend to sell more ebooks than print books, whereas I think a lot of mystery readers are mired in the print world—they'll stop buying print books when we pry them from their cold, dead hands. 🙂
FOM: What's the weirdest question you've been asked in an interview?
LA: If I've done all the things I write about. Ummm. No. Last time I checked disemboweling someone is still illegal in all 50 states.
You can learn more about Lori at her website, www.loriarmstrong.com.
– Back to Top –
Murder by the Book … a fond farewell
As many of you may have heard, Murder by the Book will be closing their door in April of this year.
Please join us in recognizing the staff of our favorite mystery bookstore for their service to FOM and the mystery community at our March 28th meeting.
During the month of March, their normal wide selection of new arrivals will be available, and special orders will be taken through March. Gift certificates will need to be redeemed by the end of this month.
– Back to Top –
Upcoming Mystery Events…
2013
March 21-24: Left Coast Crime, Colorado Springs, CO.  GOHs: Laura Lippman & Craig Johnson.
May 3-5: Malice Domestic 25, Bethesda, MD.  GOH: Laurie R. King, International GOH: Peter Robinson, Lifetime: Aaron Elkins.
May 30-June 2: CrimeFest, Bristol, UK.  GOHs: Lee Child, Jeffrey Deaver, Frederick Forsyth, Sue Grafton, P.D. James, Anders Roslund & Borge Hellstrom.
July 10-11: Thrillerfest, New York, NY.  Spotlight Guests: Michael Connelly, T. Jefferson Parker; ThrillerMaster: Anne Rice.
July 28-21: Theakstons Old Peculier Crime Writing Festival, Old Swan Hotel, Harrogate, UK.  Chair: Val McDermid.  Special Guests: Kate Atkinson, Charlaine Harris, Susan Hill, Ruth Rendell.
September 19-22: Bouchercon 44, Albany, NY.  GOH: Sue Grafton, International GOH: P.C. Doherty.
2014
March 20-23: Left Coast Crime, Monterey, CA.  GOHs: Cara Black, Louise Penny.
– Back to Top –
Submissions Needed
Members and readers are encouraged to submit book or film reviews, comments on authors, and recommendations for books to read or questions about mysteries, crime fiction and fact. You can mail these to our PO Box 8251, Portland, Oregon 97207 or send to our email address at info@friendsofmystery.org.
– Back to Top –