In this issue of the Blood-Letter: a preview of our November guest, Gregg Olsen, award nominations, mystery magazines, and more!
November 2014
CONTENTS:
BLOODY THURSDAY November 20, 2014: Welcomes Gregg Olsen
A New York Times, Wall Street Journal and USA Today bestselling author, Olsen has written nine non-fiction books, nine novels, a novella, and contributed a short story to a collection edited by Lee Child.  He has appeared on Dateline NBC, 48 Hours, Deadly Women on Investigation Discovery, Good Morning America, The Early Show, The Today Show, and Entertainment Tonight.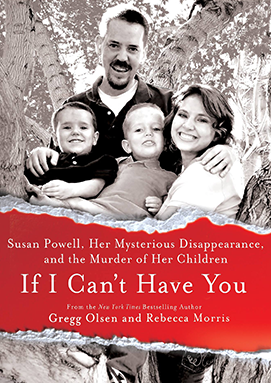 The Deep Dark was named Idaho Book of the Year by the ILA, and Starvation Heights was honored by Washington's Secretary of State for the book's contribution to Washington state history and culture.  His Young Adult novel, Envy, was the official selection of Washington for the National Book Festival.
His most recent books are The Girl in the Woods (A Waterman & Stark Thriller), published in October, and If I Can't Have You: Susan Powell, Her Mysterious Disappearance, and the Murder of Her Children, released in May 2014, and co-authored with Rebecca Morris.
Please plan to join us for what promises to be a compelling presentation.  The program will begin at 7:30 pm at Terwilliger Plaza.  Directional signs will be posted in the building.  The meeting is free and open to the public.  Free parking is available in the Terwilliger Plaza employee parking lots across 6th Avenue from the lower level entrance, and on Sheridan Street.  Handicapped parking is available at the upper level entrance.  Tri-Met bus #8, Jackson Park, stops just in front of the lower level entrance.
– Back to Top –
FOM Needs Your Help
Our membership chair, Nancy Thomas, has had to step down from her post after many years of service to Friends of Mystery.  We are looking for someone who would be willing to take over these duties, which would involve computer skills using Excel.  If you are willing to help out, please contact Jeannette Voss by email at jvoss@pcez.com or Carrie Richards at Carrieschindler@aol.com.
– Back to Top –
Macavity Award Nominations 2014
The Macavity Awards are nominated and voted on by members and friends of Mystery Readers International and subscribers to Mystery Readers Journal.  The books nominated were published in 2013.
Best Mystery Novel
Sandrine's Case, by Thomas H. Cook
Dead Lions, by Mick Herron
Ordinary Grace, by William Ken Krueger
The Wicked Girls, by Alex Marwood
How The Light Gets In, by Louise Penny
Standing In Another Man's Shoes, by Ian Rankin
Best First Mystery
Yesterday's Echo, by Matt Coyle
Rage Against The Dying, by Becky Masterman
Cover of Snow, by Jenny Milchman
Norwegian By Night, by Derek Miller
A Killing At Cotton Hill, by Terry Shames
Best Non-Fiction
The Lady and Her Monsters: A Tale of Dissections, Real-Life Dr. Frankensteins, and the Creation of Mary Shelley's Masterpiece, by Roseanne Montillo
Being Cool: The Work of Elmore Leonard, by Charles J. Rzepka
The Hour of Peril: The Secret Plot to Murder Lincoln Before the Civil War, by Daniel Stashower
Sue Feder Historical Mystery Award
A Murder At Rosamund's Gate, by Susanna Calkins
Saving Lincoln, by Robert Kresge
Dandy Gilver And A Bothersome Number of Corpses, by Catriona McPherson
Murder As A Fine Art, by David Morrell
Ratlines, by Stuart Neville
– Back to Top –
Spotted Owl Committee Is Reading Both Returning and New Authors
Since our update in the last newsletter, we are looking forward to reading some new books recently published from some familiar authors and several new ones:
My Sister's Grave, by Robert Dugoni
Chump Change, by G.M. Ford
Crooked River, by Valerie Geary
Woman With A Gun, by Phil Margolin
The Girl in the Woods, by Gregg Olsen
A Cry From Dust, by Carrie Stuart Parks
– Back to Top –
Mystery Magazines: Deadly Pleasures & Mystery Scene
How do you decide what mystery you're going to read next?  There are two magazines you may not be aware of that review mysteries.
I have subscribed to Mystery Scene for several years, and it is a good source of book reviews and articles about mystery authors – in fact the current issue features, among others, one of my favorites, Louise Penny.  The magazine is in color and on very good quality paper.  It's available by subscription, and you can usually find it at Barnes & Noble and Powell's.  Mystery Scene is published five times a year.
Deadly Pleasures is another great source of book reviews and articles, and it is published quarterly.  I have never seen it locally since Murder By The Book closed, so I recently subscribed and received my first issue.  It is mostly in black and white, and the paper isn't as high a quality, but I found it to be jam-packed with reviews.  One of the interesting features was "Reviewed to Death", where the same book was reviewed by eight different people, and the differences of opinion ratings ranged from A to C.  I'm really looking forward to receiving my next issue.
If you have a mystery review source to share, let us know!
– Back to Top –
Barry Award Nominations
Readers of Deadly Pleasures present their awards at Bouchercon.  Among their nominations for 2014 are:
Best Novel
A Conspiracy of Faith, by Jussi Adler-Olsen
Tap on the Window, by Linwood Barclay
Sandrine's Case, by Thomas H. Cook
Suspect, by Robert Crais
Ordinary Grace, by William Kent Krueger
Standing in Another Man's Grave, by Ian Rankin
Best First Novel
Burial Rites, by Hannah Kent
Japantown, by Barry Lancet
The Bookman's Tale, by Charlie Lovett
Cover of Snow, by Jenny Milchman
Norwegian by Night, by Derek B. Miller
– Back to Top –
Upcoming Mystery Conferences
Bouchercon 2014: Murder At The Beach
November 13-16, 2014
Long Beach, California
Guests of Honor: J.A. Jance, Edward Marston
Lifetime Achievement: Jeffery Deaver
Toastmaster: Simon Wood
Registration: $195
Website: www.bouchercon2014.com
Left Coast Crime 2015: Crimelandia
March 12-15
Portland, Oregon
Guests of Honor: Chelsea Cain, Timothy Hallinan
Toastmaster: Gar Anthony Haywood
Fan Guest of Honor: Friends of Mystery
Registration fee: $175
Website: www.leftcoastcrime.org/2015
Malice Domestic 2015: May 1-3, 2015
Guest of Honor: Charles Todd
International Guest of Honor: Ann Cleeves
Lifetime Achievement: Sara Paretsky
Toastmaster: Toni L.P. Kelner
Fan Guest of Honor: William L. Starck
Website: www.malicedomestic.org
Bouchercon 2015: Murder Under The Oaks
October 8-11, 2015
Raleigh, North Carolina
American Guests of Honor: Kathy Reichs and Tom Franklin
International Guests of Honor: Zoe Sharp and Allan Guthrie
Toastmasters: Sean Doolittle and Lori Armstrong
Local Guests of Honor: Sarah Shaber and Ron Rash
Lifetime Achievement: Margaret Maron
Website: www.bouchercon2015.org
– Back to Top –
Member News
Friends of Mystery is happy to publish news and press releases from our members in our Member News section, with the following considerations:
The news must be related to mystery or true crime writing, films, and television, as well as non-fiction examinations of the mystery genre.
Friends of Mystery will not be able to edit announcements, and will publish them as provided.
Friends of Mystery will include one image with each announcement, if provided.
Friends of Mystery is not responsible for the content of news announcements, and we reserve the right to not publish any announcements which we feel will reflect poorly on the organization and do not advance the organization's mission.
– Back to Top –
Submissions Needed
Members and readers are encouraged to submit book or film reviews, comments on authors, and recommendations for books to read or questions about mysteries, crime fiction and fact. If you have suggestions of mysteries worth sharing, please contact the editor at: jvoss@pcez.com