In this issue of the Blood-Letter: a preview of our March guest, Lisa Alber, awards, and more!
March 2015
CONTENTS:
BLOODY THURSDAY March 26, 2015: Welcomes Lisa Alber
Lisa Alber is the recipient of an Elizabeth George Foundation writing grant and a Walden Fellowship, both of which she received based on early drafts of Kilmoon, her debut mystery.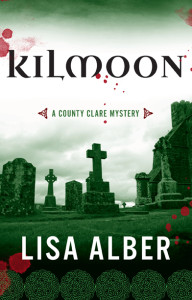 Her short story, "Paddy O'Grady's Thigh" appeared in Two of the Deadliest (Harper Collins), an anthology edited by Elizabeth George. In addition, Lisa was nominated for a Pushcart Prize for the story "Eileen and the Rock". Kilmoon was nominated for a Left Coast Crime Rosebud Award for best first novel. The novel is the first in a series and features a matchmaker with a dark past, his long-lost daughter, and a conflicted detective.
Before becoming a published author, Lisa worked in international finance and book publishing. Ever distractible, you may find Lisa staring out windows, dog walking, or drinking red wine with friends. Travel, reading, animals, photography, and blogging round out her distractions. You can find her online at www.lisaalber.com.
She will be speaking about her unlikely journey toward publication, inspirations for Kilmoon, and how New York Times bestselling author Elizabeth George helped her become a better writer.
We are looking forward to hearing Lisa's presentation – we hope you will be able to join us. The program will begin at 7:30 pm at Terwilliger Plaza. Directional signs will be posted in the building. The meeting is free and open to the public. Free parking is available in the Terwilliger Plaza employee parking lots across 6th Avenue from the lower level entrance, and on Sheridan Street. Tri-Met bus #8, Jackson Park, stops just in front of the lower level entrance.
– Back to Top –
2015 Left Coast Crime Awards Presented
This year's Left Coast Crime Conference was held at the Doubletree Hilton in Portland, Oregon. The awards, voted on by attendees of LCC, were presented on March 14, 2015.
Lefty Award for Most Humorous Mystery
The Good, the Bad, and the Emus, by Donna Andrews
Herbie's Game, by Timothy Hallinan
January Thaw, by Jess Lourey
Dying for a Dude, by Cindy Sample
Suede to Rest, by Diane Vallere
Bruce Alexander Memorial Mystery Award
(historical mystery, covering events before 1960)
Queen of Hearts, by Rhys Bowen
From the Charred Remains, by Susanna Calkins
A Deadly Measure of Brimstone, by Catriona McPherson
City of Ghosts, by Kelli Stanley
Cup of Blood, by Jeri Westerson
The Rose
(best mystery set in the LCC region)
One Kick, by Chelsea Cain
Glass Houses, by Terri Nolan
Pirate Vishnu, by Gigi Pandian
Deadly Bonds, by L.J. Sellers
Plaster City, by Johnny Shaw
The Rosebud
(best debut mystery)
Kilmoon, by Lisa Alber
Ice Shear, by M.P. Cooley
The Life We Bury, by Allen Eskens
The Black Hour, by Lori Rader-Day
Mistress of Fortune, by Holly West
Congratulations to those who were responsible for planning and bringing "Crimelandia" to Portland — it was a big success!!!
– Back to Top –
Edgar Award Nominees Announced
The Mystery Writers of America have announced their nominees for the 2015 Edgar Allan Poe Awards. The awards will be presented to the winners on April 29, 2015 in New York City.
Best Novel
This Dark Road to Mercy, by Wiley Cash
Wolf, by Mo Hayder
Mr. Mercedes, by Stephen King
The Final Silence, by Stuart Neville
Saints of the Shadow Bible, by Ian Rankin
Coptown, by Karin Slaughter
Best First Novel by an American Author
Dry Bones in the Valley, by Tom Bouman
Invisible City, by Julia Dahl
The Life We Bury, by Allen Eskens
Bad Country, by C.B. McKenzie
Shovel Ready, by Adam Sternbergh
Murder at the Brightwell, by Ashley Weaver
Best Paperback Original
The Secret History of Las Vegas, by Chris Abani
Stay With Me, by Alison Gaylin
The Barkeep, by William Lasher
The Day She Died, by Catriona McPherson
The Gone Dead Train, by Lisa Turner
World of Trouble, by Ben H. Winters
Best Fact Crime
Kitty Genovese: The Murder, the Bystanders, the Crime that Changed America, by Kevin Cook
The Savage Harvest: A Tale of Cannibals, Colonialism and Michael Rockefeller's Tragic Quest for Primitive Art, by Carl Hoffman
The Other Side: A Memoir, by Lacy M. Johnson
Tinseltown: Murder, Morphine, and Madness at the Dawn of Hollywood, by William Mann
The Mad Sculptor: The Maniac, the Model, and the Murder that Shook the Nation, by Harold Schechter
Best Critical / Biographical
The Figure of the Detective: A Literary History and Analysis, by Charles Brownson
James Ellroy: A Companion to the Mystery Fiction, by Jim Mancall
Kiss the Blood Off My Hands: Classic Film Noir, by Robert Miklitsch
Judges & Justice & Lawyers & Law: Exploring the Legal Dimensions of Fiction and Film, by Francis M. Nevins
Poe-Land: The Hallowed Haunts of Edgar Allan Poe, by J.W Ocker
The Simon & Schuster – Mary Higgins Clark Award
A Dark and Twisted Tide,by Sharon Bolton
The Stranger You Know, by Jane Casey
Invisible City, by Julia Dahl
Summer of the Dead, by Julia Keller
The Black Hour, by Lori Rader-Day
For a complete list of nominees in all categories go to www.mysterywriters.org.
And, for those of you who prefer more "traditional mysteries" here are some of the Agatha Award nominations, which will be announced at the Malice Domestic Conference, in Bethesda, Maryland, from May 1-3, 2015.
Agatha Award Nominatons
Best Contemporary Novel
The Good, The Bad and The Emus, by Donna Andrews
A Demon Summer, by G.M. Malliet
Truth Be Told, by Hank Phillippi Ryan
The Long Way Home, by Louise Penny
Designated Daughters, by Margaret Maron
Best Historical Novel
Hunting Shadows, by Charles Todd
An Unwilling Accomplice, by Charles Todd
Wouldn't It Be Deadly, by D.E. Ireland
Queen of Hearts, by Rhys Bowen
Murder in Murray Hill, by Victoria Thompson
For a complete list of nominees in other categories you can go to www.malicedomestic.org.
Look for our Spotted Owl Award winners in the next issue of The Blood-Letter.
– Back to Top –
Upcoming Mystery Conferences
Malice Domestic 2015: May 1-3, 2015
Guest of Honor: Charles Todd
International Guest of Honor: Ann Cleeves
Lifetime Achievement: Sara Paretsky
Toastmaster: Toni L.P. Kelner
Fan Guest of Honor: William L. Starck
Website: www.malicedomestic.org
Bouchercon 2015: Murder Under The Oaks
October 8-11, 2015
Raleigh, North Carolina
American Guests of Honor: Kathy Reichs and Tom Franklin
International Guests of Honor: Zoe Sharp and Allan Guthrie
Toastmasters: Sean Doolittle and Lori Armstrong
Local Guests of Honor: Sarah Shaber and Ron Rash
Lifetime Achievement: Margaret Maron
Website: www.bouchercon2015.org
– Back to Top –
Member News
Friends of Mystery is happy to publish news and press releases from our members in our Member News section, with the following considerations:
The news must be related to mystery or true crime writing, films, and television, as well as non-fiction examinations of the mystery genre.
Friends of Mystery will not be able to edit announcements, and will publish them as provided.
Friends of Mystery will include one image with each announcement, if provided.
Friends of Mystery is not responsible for the content of news announcements, and we reserve the right to not publish any announcements which we feel will reflect poorly on the organization and do not advance the organization's mission.
– Back to Top –
Submissions Needed
Members and readers are encouraged to submit book or film reviews, comments on authors, and recommendations for books to read or questions about mysteries, crime fiction and fact. If you have suggestions of mysteries worth sharing, please contact the editor at: jvoss@pcez.com