In this issue of the Blood-Letter: a preview of our May guest, Les Zaitz, the Spotted Owl Award, and more!
May 2015
CONTENTS:
Bloody Thursday, May 28, 2015: Friends of Mystery Welcomes Les Zaitz, Investigative Reporter

Les Zaitz is a native Oregonian, born in St. Helens and currently living on his ranch near Bates, Oregon.
By profession, he is a senior investigative reporter and newsroom coach for The Oregonian. He specializes in complex investigations (financial, political, terrorism) and also monitors the state's criminal justice system with a focus on the state prison system.
Les has won state, regional and national journalism awards for 30 years. In 2007, he was awarded one of the nation's top journalism honors and also was a finalist for the prestigious Pulitzer Prize. He was a finalist for a Pulitzer again in 2014.
He is a recognized expert in Oregon's public records law, serves as newsroom adviser to other reporters at The Oregonian and often assists reporters from other newspapers and broadcast outlets.
Les is a regular presenter at journalism conferences on investigative reporting, public records, interview techniques and time management. He speaks on journalism topics, provides one-on-one counseling, and also lectures at universities.
He has a lifelong involvement in community and civic affairs. Currently, he is president of the Grant County Economic Council, a director of the Blue Mountain Hospital District, and is an associate director of the Grant Soil and Water District.
Les and his wife, Scotta, operate Boulder Creek Ranch, a guest ranch and horse/cow operation in Eastern Oregon.
We are looking forward to hearing his presentation – we hope you will be able to join us. The program will begin at 7:30 pm at Terwilliger Plaza. Directional signs will be posted in the building. The meeting is free and open to the public. Free parking is available in the Terwilliger Plaza employee parking lots across 6th Avenue from the lower level entrance, and on Sheridan Street. Tri-Met bus #8, Jackson Park, stops just in front of the lower level entrance.
– Back to Top –
Spotted Owl Award Announced

The Spotted Owl Committee is pleased to announce their selections for the 2015 award. There was a tie for 1st place, with the award going to Chelsea Cain for One Kick, and Johnny Shaw for Plaster City. The other finalists were:
3: Valerie Geary for Crooked River
4: John Straley for Cold Storage Alaska
5: Ingrid Thoft for Identity
6: Drew Chapman for The Ascendant
7: G.M. Ford for Chump Change
8: (tie):
Robert Dugoni for My Sister's Grave
Warren Easley for Dead Float
10 (tie):
Mike Lawson for House Reckoning
Kris Nelscott for Street Justice
The committee considered 60 books published in 2014. The committee members were: Kris Field-Eaton, Carrie Richards, Marlyne Stucky and Judy Wyss.
If you are interested in participating on the committee, please contact committee facilitator, Jeannette Voss, at jvoss@pcez.com.
– Back to Top –
Author Spotlight:

By John Walsdorf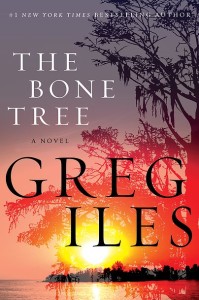 Several words of advice about what this book is NOT. It is not the first book featuring several characters such as former prosecuting attorney and current Natchez Mississippi Mayor Penn Cage or award-winning photojournalist Jordan Glass. It is not even a full story arc, as it is the middle book in a subset trilogy, and it will not have nearly the same impact being read by itself.
The Bone Tree is, however, the continuation of a remarkable and brilliant story with roots deeply imbedded in the Civil War, carrying through WWII, Korea and Vietnam wars, KKK, the Civil Rights movement in the 1960's, the Cuban Crisis, Assassinations of JFK, MLK, RFK, and on to Post 9/11 America, Meth and New Orleans post Hurricane Katrina.
To accomplish this, the story covers precious few actual chronological days, but the first book, Natchez Burning, published in 2014, came in at 788 pages, with this second book in 2015 at 804 pages and a forthcoming book for 2016 entitled Unwritten Laws expected to be roughly the same. Nearly 1,600 pages in three years, filled with enough history to write a college text book, characters fully developed and plenty of action to keep those pages rolling quickly by. How does one do it?
For the answer, you have to trace back to around 7 p.m. on March 7, 2011 at U.S. Highway 61 on the south side of Natchez, Mississippi, where Iles, driving an Audi, was hit on his driver's side by a pickup truck, ricocheting him 70 feet down the highway, before finally coming to rest. Nearly every one of his ribs was broken, his aorta torn, the bones in his left foot were shattered, his pelvis was split in four places, and his right leg was severely mangled.
The celebrated novelist, who had sold more than ten million books over the past 20 years and had 13 New York Times best-sellers, was then airlifted to the University of Mississippi Medical Center and after being in a medically induced coma for eight days, spent the next three years recovering from his injuries. It was during this time that the entire scope of the current novel he was working on changed from what would have been the fourth book in the Penn Cage series (after The Quiet Game – 1999, Turning Angel – 2005 and The Devil's Punchbowl – 2009), into the first volume of an epic tale that in many ways centered around his fictional character's father, Dr. Tom Cage.
The epiphany came from not only his new way of looking at life, but from doctors and nurses he met during his recovery, his desire to write more honestly and seriously, and was also profoundly rooted in the passing six months prior to his accident of his father, Dr. Jerry Iles, who in addition to teaching Greg about the history of the area, taught him about the seriousness of the issues the South has faced with regard to prejudice and injustice, and was in many ways still feeling the repercussions. And the writing of this series turned out to be Iles' salvation, his way out of the pain and unexplainable feelings of a post-crash survivor. He realized the scope of the book he had begun writing before the crash was much greater than anticipated, and that the story needed to be told. It was a story of some of the most important issues the South had faced, and Iles took it upon himself, and indeed made it his duty, to tell the story, without regard to length, who he might offend or critical reception.
(Spoiler For Those Who Have Not Read Natchez Burning)

The Bone Tree picks up from Natchez Burning with Penn Cage and his fiancée, newspaper reporter and publisher Caitlin Master, having barely escaped with their lives, and Penn's father on the run from the police for multiple murder he may or may not have committed. But the real danger has only begun as FBI Special Agent John Kaiser warns Penn that the person he thought was in charge of the group that tried to have them killed was indeed just a pawn for the actual person controlling the terrorist group known as the Double Eagles. It is a far more fearsome man, the corrupt chief of the state police of Louisiana's Criminal Investigations Bureau who is orchestrating everything. The only way Penn can save his father, is either to make a devil's bargain or possibly become a murderer himself. While Penn desperately pursues both options, Caitlin uncovers the real story behind a series of unsolved civil rights murders that may hold the key to the Double Eagles' downfall. The trail leads her deep into the past, to a secret killins ground, a place of terrifying evil known as "the bone tree." But as Penn races to save his father, and Caitlin to write the story of a lifetime, FBI Agent Kaiser is hot on the trail of the biggest unsolved murder in the history of the United States, who killed JFK. Each person holds parts of the puzzle for this soiled narrative that yearns to be bound together, but each has their own personal agenda and reasons for keeping their secrets.
It is nearly impossible to review The Bone Tree by itself, and again, it should not be read prior to Natchez Burning. One could get away with starting there and not reading the three prior Penn Cage novels (or Dead Sleep, featuring photojournalist Jordan Glass), but then again, with an author as talented and exception as Iles, why would you want to?
Iles was born in 1960, in Stuttgart, Germany, where his father ran the U.S. Embassy Medical Clinic, but was raised in Natchez, Mississippi, and graduated from the University of Mississippi in 1983, where he studied under Willie Morris. Iles spent several years as a guitarist, singer, and songwriter in the band Frankly Scarlet. He quit the band after he was married and began working on becoming a writer. Iles book 24 Hours was filmed, renamed Trapped, starred Charlize Theron, Courtney Love, Stuart Townsend, Kevin Bacon, and Dakota Fanning and was released in 2002. Natchez Burning was also just picked up to become a cable series with Sony and Amazon Studios.
One of the other remarkable things about Iles is his diversity in subject matter. His first two books (Spandau Phoneix – 1993, Black Cross – 1995) were World War II thrillers, and in addition to the soon-to-be six books in the Penn Cage series, he wrote two books featuring female protagonists (Dead Sleep – 2001, Blood Memory – 2005), Locked Room-type thrillers (24 Hours – 2000, Third Degree – 2007), as well as four others (Mortal Fear – 1997, Sleep No More – 2002, The Footprints Of God – 2003, True Evil – 2006).
Iles is also a member of the legendary lit-rock band, The Rock Bottom Remainders with authors Dave Barry, Ridley Pearson, Stephen King, Scott Turow, Amy Tan, Mitch Albom, Roy Blount Jr., Matt Groening, Kathi Kamen Goldmark, James McBridge, and Roger McGuinn.
More information can be found at: www.gregiles.com
– Back to Top –
Upcoming Mystery Conferences
Bouchercon 2015: Murder Under The Oaks
October 8-11, 2015
Raleigh, North Carolina
American Guests of Honor: Kathy Reichs and Tom Franklin
International Guests of Honor: Zoe Sharp and Allan Guthrie
Toastmasters: Sean Doolittle and Lori Armstrong
Local Guests of Honor: Sarah Shaber and Ron Rash
Lifetime Achievement: Margaret Maron
Website: www.bouchercon2015.org
– Back to Top –
Member News
Friends of Mystery is happy to publish news and press releases from our members in our Member News section, with the following considerations:
The news must be related to mystery or true crime writing, films, and television, as well as non-fiction examinations of the mystery genre.
Friends of Mystery will not be able to edit announcements, and will publish them as provided.
Friends of Mystery will include one image with each announcement, if provided.
Friends of Mystery is not responsible for the content of news announcements, and we reserve the right to not publish any announcements which we feel will reflect poorly on the organization and do not advance the organization's mission.
– Back to Top –
Submissions Needed
Members and readers are encouraged to submit book or film reviews, comments on authors, and recommendations for books to read or questions about mysteries, crime fiction and fact. If you have suggestions of mysteries worth sharing, please contact the editor at: jvoss@pcez.com