In this issue of the Blood-Letter: a preview of our September guest, Johnny Shaw, remembering Nancy Thomas, awards, a big change for Friends of Mystery and more!
September 2015
CONTENTS:
Bloody Thursday, September 24, 2015: Johnny Shaw, 2015 Spotted Owl Award Winner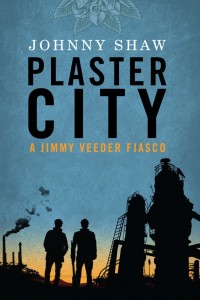 Friends of Mystery is pleased to welcome back Johnny Shaw. He is the author of the Spotted Owl Award-winning Jimmy Veeder Fiasco series of novels — including Plaster City and Dove Season — as well as the Anthony Award-winning adventure novel Big Maria.
His new book, Floodgate, will be published by Thomas & Mercer in February of 2016, his first book to come out in hardcover, and the beginning of a new series set in the fictional Auction City. Here's the back jacket copy:
Andy Destra is a mostly honest cop in the most notoriously corrupt and crime-ridden city in America: Auction City. After discovering explosive information that reveals corruption within the highest levels of the police department, Andy is kicked off the force, framed, and disgraced, left to wage a lonely one-man crusade against conspiracies he can't prove.
Andy's investigation plunges him into a blackly comic maelstrom of one-armed gang members, slick pickpockets, criminal syndicates, hired mercenaries, escaped convicts, sewer dwellers, and one sinister ice cream truck. At the same time, he must contend with a mystery closer to home: the true identity of his parents, his most unshakeable obsession. Understanding their past may be the key to Auction City's future as it teeters on the brink of chaos.
If Andy can't solve this case, the Floodgate will fail…and his city will burn.
Johnny is currently writing the third Jimmy Veeder Fiasco, tentatively titled Alamo River, which should be available some time in 2017.
His short fiction has appeared in Thuglit, Crime Factory, Shotgun Honey, Plots with Guns, and various anthologies. He was the creator and editor of the hard-boiled fiction magazine Blood and Tacos.
Barry Graham will be interviewing Johnny for our program. Barry is a Scottish noir author, journalist and Zen monk based in Portland, Oregon. He has written more than a dozen books, including The Book of Man, an American Library Association best book of the year, and Kill Your Self: Life After Ego, a bestselling guide to Zen practice. His journalism has been published in magazines ranging from Harper's to Flaunt, and newspapers ranging from Scotland On Sunday to The Arizona Republic.
We hope you will be able to join us for what promises to be a very entertaining presentation. The program will begin at 7:30 pm at Terwilliger Plaza. Directional signs will be posted in the building. The meeting is free and open to the public. Free parking is available in the Terwilliger Plaza employee parking lots across 6th Avenue from the lower level entrance and on Sheridan Street. Handicapped parking is available at the upper level entrance. Tri-Met bus #8, Jackson Park, stops just in front of the lower level entrance.
– Back to Top –
Remembering Nancy Thomas

1944 — 2015

Our membership chair for many years, Nancy passed away after living with ovarian cancer for seven years. Nancy was an avid reader, enjoying both books and time spent with her book club friends. She spent many hours working as a volunteer at the West Slope Community Library, and maintaining our FOM membership list.
Nancy earned a B.A. from Oregon State University in 1966, later attending Portland State University, earning her Master of Social Work in 1989. Nancy worked as a social worker for the majority of her career, then worked as a manager for Tri-Met until her retirement in 2007. Besides reading, her interests included traveling, gardening, dogs, and spending time with family and friends. She is survived by her daughter Charity, son Joel, and granddaughter Mila.
– Back to Top –
Friends of Mystery Will Be Moving in January

In January we will be moving our meetings to The Old Church. This will give us the opportunity to expand our audience, our membership, and our leadership.
We are very grateful to Terwilliger Plaza and especially to the staff, for their hospitality and support these past few years. We know we've made new friends there and very much hope they will continue to come to our meetings after we move. Look for more details in upcoming issues of The Blood-Letter.
– Back to Top –
Thriller Awards 2015

The International Thriller Writers announced their awards on Saturday, July 11th in New York City. The winners of each category are in bold print.
Best Hardcover Novel

The Fever, by Megan Abbott
Broken Monsters, by Lauren Beukes
Natchez Burning, by Greg Iles
Suspicion, by Joseph Finder
That Night, by Chevy Stevens
Best Paperback Original

The Buried, by Shelley Coriell
My Sister's Grave, by Robert Dugoni
Shadow Maker, by James R. Hannibal
Whirlwind, by Rick Mofina
Moonlight Weeps, by Vincent Zandri
Best First Novel

The Axeman's Jazz, by Ray Celestin
Invisible City, by Julia Dahl
The Life We Bury, by Allen Eskens
The Weight of Blood, by Laura McHugh
The Martian, by Andy Weir
– Back to Top –
Macavity Award Nominations

Mystery Readers International has nominated the following books for their 2015 awards, which will be presented at Bouchercon in October.
Best Mystery Novel

Sophie Littlefield: The Missing Place
Alex Marwood: The Killer Next Door
Peter May: The Lewis Man
Catriona McPherson: The Day She Died
Louise Penny: The Long Way Home
Terry Shames: The Last Death of Jack Harbin
Best First Mystery Novel

Kristi Belcamino: Blessed Are the Dead
Tom Bouman: Dry Bones in the Valley
Julia Dahl: Invisible City
Sarah Hilary: Someone Else's Skin
Elizabeth Little: Dear Daughter
Lori Rader-Day: The Black Hour
Best Mystery-Related Nonfiction

Charles Brownson: The Figure of the Detective: A Literary History and Analysis
J.W. Ocker: Poe-Land: The Hallowed Haunts of Edgar Allan Poe
Adam Plantinga: 400 Things Cops Know: Street Smart Lessons from a Veteran Patrolman
Hank Phillippi Ryan, editor: Writers of Passage: Adventures on the Writer's Journey
Sue Feder Historical Mystery Award

Rhys Bowen: Queen of Hearts
Alan Finn: Things Half in Shadow
Robert Harris: An Officer and a Spy
Catriona McPherson: A Deadly Measure of Brimstone
Malla Nunn: Present Darkness
Charles Todd: Hunting Shadows
– Back to Top –
Upcoming Programs

November: Steven Saylor
January: Chelsea Cain
March: Dr. Karen Gunson
May: It's a mystery!
– Back to Top –
Where Do You Look To Find New Mysteries?

BookPage, a free publication offered by my library system, recommends these mysteries for September:
Woman of the Dead, by Bernhard Aichner
Smaller and Smaller Circles, by F.H. Batacan
The Hanging Girl, by Jussi Adler-Olsen
The Investigation, by J.M. Lee.
– Back to Top –
Upcoming Mystery Conferences
Bouchercon 2015: Murder Under The Oaks
October 8-11, 2015
Raleigh, North Carolina
American Guests of Honor: Kathy Reichs and Tom Franklin
International Guests of Honor: Zoe Sharp and Allan Guthrie
Toastmasters: Sean Doolittle and Lori Armstrong
Local Guests of Honor: Sarah Shaber and Ron Rash
Lifetime Achievement: Margaret Maron
Website: www.bouchercon2015.org
– Back to Top –
Member News
Friends of Mystery is happy to publish news and press releases from our members in our Member News section, with the following considerations:
The news must be related to mystery or true crime writing, films, and television, as well as non-fiction examinations of the mystery genre.
Friends of Mystery will not be able to edit announcements, and will publish them as provided.
Friends of Mystery will include one image with each announcement, if provided.
Friends of Mystery is not responsible for the content of news announcements, and we reserve the right to not publish any announcements which we feel will reflect poorly on the organization and do not advance the organization's mission.
– Back to Top –
Submissions Needed
Members and readers are encouraged to submit book or film reviews, comments on authors, and recommendations for books to read or questions about mysteries, crime fiction and fact. If you have suggestions of mysteries worth sharing, please contact the editor at: jvoss@pcez.com