In this issue of the Blood-Letter: a preview of our May guest J. David Osborne, awards news, a mystery set in Michigan, and more!
MAY 2016
CONTENTS:
Bloody Thursday, May 26, 2016 Welcomes J. David Osborne
J. David Osborne is the publisher-in-chief of Broken River Books, an indie crime fiction press dedicated to bringing you weird, transgressive pulp novels the likes of which you won't find anywhere else. He's also the author of the Wonderland-Award-winning novel, By the Time We Leave Here, We'll Be Friends; the surreal noir Low Down Right Easy, and Black Gun. He lives in Portland, Oregon, with his wife and dog.
We are looking forward to hearing his presentation – we hope you will be able to join us. The book sale / social time begins at 7:00 pm, and the program will begin at 7:30 pm at The Old Church. The meeting is free and open to the public. A cash wine bar will be open during the reception.
Parking is available in the neighborhood, and there is a City Center Parking lot next to The Old Church on Clay @ 10th, and metered parking in the area. Directions on how to find the church are available at: www.theoldchurch.org/directions/.
– Back to Top –
Spotted Owl Award Announced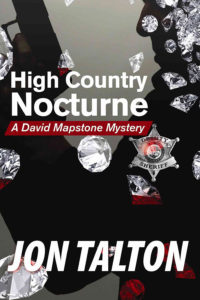 The Spotted Owl Committee is pleased to announce the winner for 2016 – Jon Talton. Mr. Talton won for his novel, High Country Nocturne, published by Poisoned Pen Press. He will be receiving the award at our September meeting, where he will also be the featured speaker.
The other finalists were:
Robert Dugoni, Her Final Breath
Warren Easley, Never Look Down
Elizabeth George, A Banquet of Consequences
M.E. (Mike) Lawson, Viking Bay
Mike Lawson, House Rivals
G.M. Ford, Threshold
Ingrid Thoft, Brutality
Roger Hobbs, Vanishing Games
Martin Limon, The Ville Rat
Committee members were Kris Field-Eaton, Carrie Richards, Sheila Sweet, Jeannette Voss and Judith Wyss.
– Back to Top –
Mystery Book Sale
Four cartons of first editions and ARCs (Advanced Reader Copies) were generously donated by Wrigley Cross. Books will be available for sale before and after the May 26th meeting. Come for our social time (7:00 pm) and select some books for your collection at a reasonable price.
– Back to Top –
Edgar Awards Announced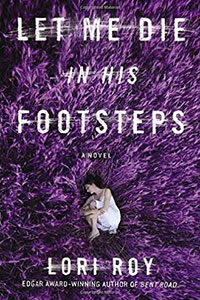 The awards, presented by the Mystery Writers of America, were announced on April 28, 2016.
Best Novel
Let Me Die in His Footsteps, by Lori Roy
Best First Novel By An American Author
The Sympathizer, by Viet Thanh Nguyen
Best Paperback Original
The Long and Faraway Gone, by Louis Berney
Best Fact Crime
Whipping Boy: The Forty-Year Search for My Twelve-Year-Old Bully, by Allen Kurzweil
Best Critical/Biographical
The Golden Age of Murder, by Martin Edwards
Mary Higgins Clark Award
Little Pretty Things, by Lori Rader-Day
– Back to Top –
Agatha Awards
These awards are given to honor the "traditional" mystery. They contain no explicit sex or excessive gore or gratuitous violence.
The winners were announced on April 30, 2016 during Malice Domestic. The complete list of nominees and winners is below.
Best Contemporary Novel
Long Upon the Land, by Margaret Maron (Winner)
Bridges Burned, by Annette Dashofy
The Child Garden, by Catriona McPhersons
Nature of the Beast, by Louise Penny
What You See, by Hank Phillipi Ryan
Best Historical Novel
Dreaming Spies, by Laurie R. King (Winner)
Malice at the Palace, by Rhys Bowen
The Masque of a Murderer, by Susanna Calkins
Mrs. Roosevelt's Confidante, by Susan Elia Macneal
Murder on Amsterdam Avenue, by Victoria Thompson
Best First Novel
On the Road with Del and Louise, by Art Taylor (Winner)
Death of a Dishonorable Gentleman, by Tessa Arlen
Macdeath, by Cindy Brown
Plantation Shudders, by Ellen Byron
Just Killing Time, by Julianne Holmes
Best Nonfiction
The Golden Age of Murder: The Mystery of the Writers Who Invented the Modern Detective Story, by Martin Edwards (Winner)
The Great Detective: The Amazing Rise and Immortal Life of Sherlock Holmes, by Zack Dundas
A is for Arsenic: The Poisons of Agatha Christie, by Kathryn Harkup
Unsolved Murders and Disappearances in Northeast Ohio, by Jane Ann Turzillo
The Mystery Writers of America Cookbook: Wickedly Good Meals and Desserts to Die For, edited by Kate White
Best Short Story
"A Year Without Santa Claus?" by Barb Goffman (Winner)
"A Questionable Death" by Edith Maxwell
"A Killing at the Beausoleil" by Terrie Farley Moran
"Suffer the Poor" by Harriette Sackler
"A Joy Forever" by B.K. Stevens
Best Children's/Young Adult
Andi Unstoppable, by Amanda Flower (Winner)
Pieces and Players, by Blue Balliett
Need, by Joelle Charbonneau
Woof, by Spencer Quinn
Fighting Chance: A Martial Arts Mystery, by B.K. Stevens
– Back to Top –
Thriller Award Nominees – 2016
Best Novel
The Fifth Gospel, by Ian Caldwell
Playing with Fire, by Tess Gerritsen
The Girl on the Train, by Paula Hawkins
Inspector of the Dead, by David Morrell
Pretty Girls, by Karin Slaughter
Best First Novel
Little Black Lies, by Sandra Block
The Drowning Game, by L.S. Hawker
What She Knew, by Gilly Macmillan
Bull Mountain, by Brian Panowich
The Gates of Evangeline, by Hester Young
Best Paperback Original
Day Zero, by Marc Cameron
Against All Enemies, by John Gilstrap
Name of the Devil, by Andrew Mayne
The Angel of Eden, by D.J. McIntosh
Pockets of Darkness, by Jean Rabe
– Back to Top –
A Police Procedural Set in Michigan
by Jeannette Voss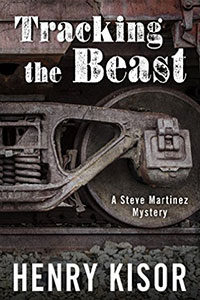 Tracking the Beast, by Henry Kisor is the fifth in his Steve Martinez mystery series. Martinez is the Sheriff of Porcupine County in the Upper Peninsula area of Michigan. The skeleton of a young girl is discovered in a hopper car stored in an isolated siding. When three more bodies are located in other hopper cars in the same area, the investigation begins. Working with other law enforcement agencies, including the FBI, tribal police, game wardens and state troopers, the hunt is on for the "the Beast" who has committed these crimes.
A bonus for readers is the description of the historic areas of the Upper Peninsula. The other books in the series are: Season's Revenge, A Venture into Murder, Cache of Corpses and Hang Fire. This is the first book I have read in the series, but I found it hard to put down.
– Back to Top –
For Those Interested in Forensic Pathology
Following the informative and entertaining presentation at our March meeting by Dr. Karen Gunson, here is a new book that may be of interest: Morgue: A Life in Death, by Vincent DiMaio and Ron Franscell.
Dr. DiMaio is an American pathologist and expert in gunshot wounds. He was formerly the chief medical examiner of San Antonio, Texas, and is the Editor-in-chief of The American Journal of Forensic Medicine and Pathology. Now working as a private consultant, he has performed more than 9,000 autopsies. In 2014 he was appointed to the U.S. Department of Justice's National Commission on Forensic Science to help develop uniform federal codes in death investigations.
Ron Franscell is a true crime writer and novelist.
The authors examine, among others, the cases of Trayvon Martin, Lee Harvey Oswald, Phil Spector, and Vincent Van Gogh.
The book is being released on May 17, 2016.
Another well-reviewed source is Forensics: What Bugs, Burns, Prints, DNA, and More Tell Us About Crime, by Val McDermid.
– Back to Top –
Member News
Friends of Mystery is happy to publish news and press releases from our members in our Member News section, with the following considerations:
The news must be related to mystery or true crime writing, films, and television, as well as non-fiction examinations of the mystery genre.
Friends of Mystery will not be able to edit announcements, and will publish them as provided.
Friends of Mystery will include one image with each announcement, if provided.
Friends of Mystery is not responsible for the content of news announcements, and we reserve the right to not publish any announcements which we feel will reflect poorly on the organization and do not advance the organization's mission.
– Back to Top –
Submissions Needed
Members and readers are encouraged to submit book or film reviews, comments on authors, and recommendations for books to read or questions about mysteries, crime fiction and fact. If you have suggestions of mysteries worth sharing, please contact the editor at: jlvoss48@gmail.com