In this issue of the Blood-Letter: a preview of our May 2017 YA Mystery panelists Sheryl Scarborough, Kelly Garrett, and Bill Cameron, with moderator Baron R. Birtcher, plus awards news and more!
May 2017
CONTENTS:
Bloody Thursday May 25, 2017 We Welcome a Panel of YA Authors
In recent years, young adult fiction has taken the publishing world by storm. To close out our 2016-2017 Bloody Thursday season, we bring together three Northwest authors of young adult mystery to discuss their work, the unique challenges of writing about younger characters, and why you should give YA mystery a try no matter how old you are.
Sheryl Scarborough is an award-winning writer for children's television. She holds an MFA in Writing for Children and Young Adults from Vermont College of Fine Arts, lives in Washington state, and has always had an obsession with forensics. When she was twelve, her home was the target of a Peeping Tom. Sheryl diligently photographed his footprints and collected the candy wrappers he left behind. Unfortunately, he was never caught. But the desire to use evidence to solve a great mystery was sparked inside Scarborough all the same. To Catch a Killer is her debut.
When not writing, Kelly Garrett spends her time hiking, and seeking out new coffee shops and breweries. Her debut YA mystery, The Last to Die, was published by Poisoned Pen Press in April 2017. You can track her on twitter as @garrett_kelly and on both Instagram and Facebook as @writerkellygarrett. Or stop by and visit her at garrettkelly.com.
The Spotted Owl Award-winning author of the Skin Kadash adult mysteries, Bill Cameron's latest, the YA mystery Property of the State, was named one of Kirkus Reviews Best Books of 2016: Teen. His stories have appeared in publications like Alfred Hitchcock's Mystery Magazine and Portland Noir. Bill lives in Oregon with his wife, two cats, and four chickens. He's currently at work on a high desert mystery. Learn more at www.bill-cameron.com.
Moderating our panel will be Baron R. Birtcher, a professional musician, founder of a record label, and critically acclaimed author. His novels Roadhouse Blues and Ruby Tuesday are Los Angeles Times and Independent Mystery Booksellers Association best sellers. A three-time winner of the Silver Falchion Award, he has also been nominated for the Nero, the Claymore, and the Left Coast Crime "Lefty" awards. Baron divides his time between Portland, Oregon and Kona, Hawaii. Learn more at www.BaronRBirtcher.com.
Please join us at The Old Church in downtown Portland (1422 SW 11th Avenue). This event is free and open to the public. A reception (with cash wine bar) begins at 7:00 pm, followed by our program at 7:30 pm. The Old Church is located at 1422 S.W. 11th Avenue, Portland, Oregon 97201. Click here for directions and parking info.
– Back to Top –
In Memoriam: John J. Walsdorf, II
May 25, 1970 – February 27, 2017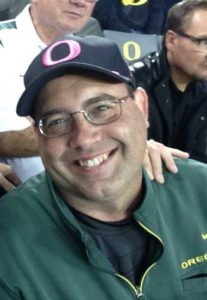 Friends of Mystery has lost an important and active member of our organization. If you have attended our programs, chances are you heard John make the welcoming announcements and keep us up-to-date on upcoming author appearances and related events. He interviewed authors for our newsletter, and was instrumental in scheduling many of our speakers. An avid book collector, you may have also seen him at author readings getting books signed.
John attended Catlin Gabel School, Pacific University, and graduated from the University of Oregon. For a time he worked at Blackwell's booksellers in Oxford, England; as a legislative assistant in Salem; and most of his career was spent with Sykes Financial Services in Lake Oswego, Oregon. Besides FOM, he volunteered with Tigard CERT and his daughter's dance team, the Tigerettes. He was an extra on Grimm, enjoyed baseball, and was an avid Oregon Ducks and Green Bay Packers fan. He is survived by his daughters, Emily Eve and Alison Grace Walsdorf of Tigard, his mother and stepfather, Karen and Gordon Sykes of Lake Oswego, and his father Jack Walsdorf, of Rock Creek.
He will be greatly missed by FOM.
– Back to Top –
And the Book Award Winners are…
In the last issue of The Blood-Letter we gave you the nominees for the Edgar, Agatha and Lefty awards. The winners were:
Left Coast Crime
Best Humorous Mystery Novel
Body on the Bayou, by Ellen Byron
Best Historical Mystery Novel
The Reek of Red Herrings, by Catriona McPherson
Best Debut Mystery Novel
Murder in G Major, by Alexia Gordon
Best Mystery Novel
A Great Reckoning, by Louise Penny
Mystery Writers of America Edgar Awards
Best Novel
Before the Fall, by Noah Hawley
Best First Novel by an American Author
Under the Harrow, by Flynn Berry
Best Paperback Original
Rain Dogs, by Adrian McKinty
Best Fact Crime
The Wicked Boy: The Mystery of a Victorian Child Murderer, by Kate Summerscale
Best Critical/Biographical
Shirley Jackson: A Rather Haunted Life, by Ruth Franklin
The Simon & Schuster Mary Higgins Clark Award
Charles Todd for The Shattered Tree
Malice Domestic
Best Contemporary Novel
A Great Reckoning, by Louise Penny
Best Historical Novel
The Reek of Red Herrings, by Catriona McPherson
Best First Novel
The Semester of Our Discontent, by Cynthia Kuhn
Best Non-Fiction
Mastering Suspense, Structure, and Plot: How to Write Gripping Stories that Keep Readers on the Edge of Their Seats, by Jane K. Cleland
– Back to Top –
And the Nominees Are…
The Barry Awards are given out at Bouchercon, and are voted on by readers of Deadly Pleasure magazine.
Best Novel
Where It Hurts, by Reed Farrell Coleman
The Wrong Side of Goodbye, by Michael Connelly
The Second Life of Nick Mason, by
Steve Hamilton
Wilde Lake, by Laura Lippman
A Great Reckoning, by Louise Penny
The Second Girl, by David Swinson
Best First Novel
Dodgers, by Bill Beverly
I'm Traveling Alone, by Samuel Bjork
IQ, by Joe Ide
The Drifter, by Nicholas Petrie
I'm Thinking of Ending Things, by Iain Reid
Missing, Presumed, by Susie Steiner
Best Paperback Original
Under the Harrow, by Flynn Berry
The Heavens May Fall, by Allen Eskens
The Queen's Accomplice, by Susan Elia MacNeal
The Darkest Secret, by Alex Marwood
Rain Dogs, by Adrian McKinty
The Girl in the Window, by Jake Needham
Best Thriller
Overwatch, by Mathew Betley
First Strike, by Ben Coes
Guilty Minds, by Joseph Finder
Back Blast, by Mark Greaney
The One Man, by Andrew Gross
Collecting the Dead, by Spencer Kope
– Back to Top –
In Memoriam: Colin Dexter
September 29, 1930 – March 21, 2017
"If I am categorized, it would be as a whodunit man." —Colin Dexter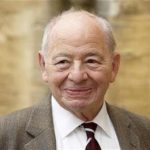 Dexter studied classics at Christ's Church, Cambridge and went into teaching. His first mystery, Last Bus to Woodstock, introduced Inspector Morse and his assistant, Sergeant Lewis. When his novels were adapted for television with John Thaw as Morse and Kevin Whately as Sergeant Lewis they became very popular. Dexter was very interested in crossword puzzles, and was national crossword champion half a dozen times. In all of his books but one the name of the killer was based on the winner of the Observer Azed crossword contest. The thirty Morse novels put Oxford on the "murder" map.
– Back to Top –
Spotted Owl Book Contenders – 2016
Our committee needs to make room for books published in 2017, so we will be giving away some of the books that we read from 2016. Come to the May meeting and choose a free book!
– Back to Top –
Upcoming Books to Look for This Summer
The Seagull: A Vera Stanhope Mystery, by Anne Cleeves. (September 5, 2017)
The Late Show, by Michael Connelly. (July 18th, 2017). Introduces a new protagonist, Renee Ballard, a young LA detective who works the night shift in Hollywood.
Blood for Wine (Cal Claxton Oregon Mysteries), by Warren C. Easley. (June 6, 2017)
Y is for Yesterday (A Kinsey Milhone Novel), by Sue Grafton. (August 22, 2017)
The Chalk Pit (Ruth Galloway Mysteries), by Elly Griffiths. (May 30, 2017)
The Color of Fear (A Sharon McCone Mystery), by Marcia Muller. (August 8, 2017)
Glass Houses (Chief Inspector Gamache Novel), by Louise Penny. (August 29, 2017)
Sleeping in the Ground: An Inspector Banks Novel, by Peter Robinson. (August 15, 2017)
Less than a Treason (Kate Shugak), by Dana Stabenow. (May 6, 2017)
The Templar's Last Secret (Bruno, Chief of Police Series), by Martin Walker. (June 13, 2017)
Have a great summer and read a lot of books! We look forward to seeing you in the Fall, when Robert Dugoni will be presented with his Spotted Owl Award.
– Back to Top –
Member News
Friends of Mystery is happy to publish news and press releases from our members in our Member News section, with the following considerations:
The news must be related to mystery or true crime writing, films, and television, as well as non-fiction examinations of the mystery genre.
Friends of Mystery will not be able to edit announcements, and will publish them as provided.
Friends of Mystery will include one image with each announcement, if provided.
Friends of Mystery is not responsible for the content of news announcements, and we reserve the right to not publish any announcements which we feel will reflect poorly on the organization and do not advance the organization's mission.
– Back to Top –
Submissions Needed
Members and readers are encouraged to submit book or film reviews, comments on authors, and recommendations for books to read or questions about mysteries, crime fiction and fact. If you have suggestions of mysteries worth sharing, please contact the editor at: jlvoss48@gmail.com