In this issue of the Blood-Letter: a preview of our September 2017 Bloody Thursday guest Robert Dugoni, plus a new event venue, awards news and more!
September 2017
CONTENTS:
On September 28, 2017, FOM Welcomes Spotted Owl Award Winner Robert Dugoni
Robert Dugoni is the critically acclaimed New York Times, #1 Wall Street Journal and #1 Amazon Best Selling Author of The Tracy Crosswhite series, My Sister's Grave, Her Final Breath, In the Clearing, and The Trapped Girl. Close to Home was released September 5, 2017 as a #1 Amazon bestseller. The Crosswhite Series has sold more than 2,000,000 books worldwide and My Sister's Grave has been optioned for television series development. He is also the author of the best-selling David Sloane series, The Jury Master, Wrongful Death, Bodily Harm, Murder One and The Conviction, and the stand-alone novels The 7th Canon and The Cyanide Canary, a Washington Post Best Book of the Year, and several short stories. He is the recipient of the Nancy Pearl Award for Fiction, and the Friends of Mystery Spotted Owl Award for best novel written by an author living in the Pacific Northwest. He is a two-time finalist for the International Thriller Writers Award for best novel, and a finalist for the Mystery Writers of America Edgar Award for best novel. His David Sloane novels have twice been nominated for the Harper Lee Award for legal fiction. His books are sold world-wide in more than 25 countries and have been translated into more than two dozen languages, including French, German, Italian and Spanish. Visit his website at www.robertdugoni.com, and follow him on Twitter @robertdugoni and on Facebook at facebook.com/AuthorRobertDugoni
Please join us at our new meeting place, TaborSpace, 5441 SE Belmont St., Portland, Oregon 97215 in the Copeland Commons room. The event is free and open to the public. A reception begins at 7:00 pm, followed by our program at 7:30 pm.
– Back to Top –
New Meeting Venue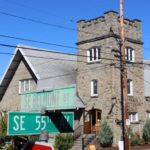 We will be starting the new Friends of Mystery season in a new venue: TaborSpace, in southeast Portland (5441 SE Belmont Street, Portland, Oregon 97215). We hope this venue will be more convenient, with parking on site. We will also be going back to our refreshment format (minus the wine), and for the first meeting there will be a cake in honor of our Spotted Owl award winner, Robert Dugoni. We hope you will be able to join us for a "mysterious" evening.
– Back to Top –
Announcing the Friends of Mystery 2017–2018 Season
September 28, 2017
Robert Dugoni , Spotted Owl Award Winner
November 16, 2017
Finn JD John, Off-Beat Oregon
January 25, 2018
Women of Mystery Panel with
Kate Dyer-Seely, Cindy Brown, Angela Sanders, moderated by Bill Cameron
March 22, 2018
Lou Berney, Edgar-winning author
May 24, 2018
Men of Mystery Panel with Baron Birtcher, Warren Easley, and Grant Bywaters, moderated by Kelly Garrett
Plan to join us!!!
– Back to Top –
Thrillerfest Awards
These awards were presented at the Thrillerfest Awards Banquet, July 1, 2017.
BEST HARDCOVER NOVEL
Before the Fall, by Noah Hawley
BEST FIRST NOVEL
The Drifter, by Nicholas Petrie
BEST PAPERBACK ORIGINAL NOVEL
The Body Reader, by Anne Frasier
BEST YOUNG ADULT NOVEL
Steeplejack, by A.J. Hartley
BEST E-BOOK ORIGINAL NOVEL
Romeo's Way, by James Scott Bell
THRILLERMASTER
Lee Child
LITERARY SILVER BULLET AWARD
Lisa Gardner
THRILLER LEGEND AWARD
Tom Doherty
– Back to Top –
Bouchercon 2017
The world mystery conference, Bouchercon, is being held in Toronto, Canada this year, October 12–15, 2017. The guests of honor this year are:
Canadian: Louise Penny
American: Megan Abbott
International: Christopher Brookmyre
Bcon4Kids: Chris Grabenstein
Ghost of Honor: John Buchan
Over the course of the convention there are lots of author panels from which to choose, and interviews with all the guests of honor. It's a great way to get to see/hear your favorite authors and discover new ones. For those attending there's also the bonus of free books when you pick up your registration materials. On Thursday the panels begin in earnest. For example, from 10:00 to 11:00 am you can choose from the following panels:
Forensic Footprints: Detective Ed Adach of the Toronto Police Forensic Identification Services presents slides and a talk on footprints that led to solved crimes.
Need For Speed: Drawing parallels between racing toward a finish line and a looming deadline.
Heroes and Antiheroes: Are true heroes possible even in fiction? Do we need them?
Mysterious Collaborations: Not your ordinary collaboration situations.
East v West: An American panel with authors setting their work in either side of the contiguous states.
Readers Recommend: Some dedicated mystery readers talk about faves.
There is a scheduled half hour before the next set of panels, so that you can get books autographed by the members of the panels you've just seen. Then it's on to the next set of panels.
On Thursday evening there is an opening reception, and the Barry, Derringer and McCavity Awards are presented. After playing pub games from 9:30 to 11:00 pm, it's time to get some sleep so you can be ready for Friday's activities.
For more info go to: www.bouchercon2017.com
– Back to Top –
Recent Releases by Pacific Northwest Authors
The Child Finder by Rene Denfeld
"Three years ago, Madison Culver disappeared when her family was choosing a Christmas tree in Oregon's Skookum National Forest. She would be eight years old now — if she has survived. Desperate to find their beloved daughter, the Culvers turn to Naomi, a private investigator with an uncanny talent for locating the lost and missing. Known to the police and a select group of parents as "the child finder," Naomi is the Culvers' last hope.
Naomi's methodical search takes her deep into the icy, mysterious forest in the Pacific Northwest, and into her own fragmented past. She understands children like Madison because once upon a time, she, too, was a lost girl.
As Naomi relentlessly pursues and slowly uncovers the truth behind Madison's disappearance, shards of a dark dream pierce the defenses that have protected her, reminding her of a terrible loss she feels but cannot remember. If she finds Madison, will Naomi ultimately unlock the secrets of her own life?"
Family Values by G.M. Ford
"Returning to Seattle after a business trip, retired PI Leo Waterman is shocked to find his girlfriend, Rebecca Duvall, unconscious on the bathroom floor, her house filled with gas. Officials believe it was a suicide attempt in the wake of a humiliating scandal. Under investigation for dereliction of duty, she'd been suspended from her job as medical examiner for King County. Leo knows Rebecca too well — and is determined to prove her innocence and clear her name. Most important, he wants to find out who tried to kill her.
Despite the prosecuting attorney's claims of a solid case, Leo rounds up his ragtag team of miscreants to find the truth. The investigation leads straight to The Highlands. There, behind the locked doors of one of Seattle's most exclusive gated communities, old money can afford to bury older family secrets. But for Leo, unearthing them is going to trap him a conspiracy that is deadlier, and far more personal, than he feared."
Tangier by Stephen Holgate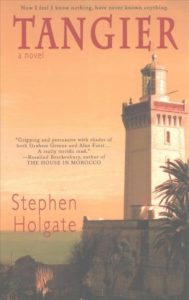 "Tangier tells two parallel stories: one a mystery and the other a spy story, set fifty years apart and told in a series of alternating sections. In the first, we follow Christopher Chaffee, a disgraced Washington power broker whose father, a French diplomat, died in a Vichy prison in 1944 — or so he had always believed until a letter received decades after it was posted, upends his life.
The second is a tale of espionage and betrayal, set in Morocco during WWII as Rene Laurent, Christopher's father, struggles to maintain his soul — and his life — in the snake pit of wartime Tangier. The stories slowly intertwine as Christopher unravels the mystery of his father's fate, and Laurent gets trapped in a web of lies and corruption, and caught up, too, in the arms of a woman he knows he shouldn't trust."
Proof of Life by J.A. Jance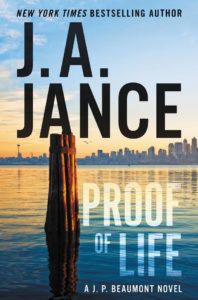 "Before he retired, J.P. Beaumont had looked forward to having his days to himself and spending quality time with his busy wife, Mel, Bellingham's chief of police, and his two grown children. But too much free time doesn't suit a man used to brushing close to danger. Beau wants to do something useful — a wish that is soon fulfilled in spades.
When his longtime nemesis, retired Seattle crime reporter Maxwell Cole, dies in what's officially deemed to be an accidental fire, Beau is astonished to be dragged into the investigation at the request of none other than the deceased victim himself. On opposite sides of the homicide coin, there'd been bad blood between the two men for years. In the process, Beau learns that just because a long-ago case was solved doesn't mean it's over.
It seems that before his death, Cole was writing a book about some of the investigations he'd covered, and stumbled on information on a past crime involving Beau. Caught up in a situation where old action and grudges can hold dangerous consequences in the present, Beau is forced to operate outside the familiar world of law enforcement. While seeking justice for his enemy and healing for a long-fractured family, he comes face to face with an implacable enemy who has spent decades hiding in plain sight — and his own past self."
– Back to Top –
Member News
Friends of Mystery is happy to publish news and press releases from our members in our Member News section, with the following considerations:
The news must be related to mystery or true crime writing, films, and television, as well as non-fiction examinations of the mystery genre.
Friends of Mystery will not be able to edit announcements, and will publish them as provided.
Friends of Mystery will include one image with each announcement, if provided.
Friends of Mystery is not responsible for the content of news announcements, and we reserve the right to not publish any announcements which we feel will reflect poorly on the organization and do not advance the organization's mission.
– Back to Top –
Submissions Needed
Members and readers are encouraged to submit book or film reviews, comments on authors, and recommendations for books to read or questions about mysteries, crime fiction and fact. If you have suggestions of mysteries worth sharing, please contact the editor at: jlvoss48@gmail.com