In this issue of the Blood-Letter: a preview of our Bloody Thursday guest Finn J.D. John, plus a visit to Canada, awards news and more!
November 2017
CONTENTS:
Bloody Thursday: On November 16, 2017, FOM Welcomes Finn J.D. John
Friends of Mystery is pleased to welcome Finn J.D. John as our November speaker. He is the author of several books on the regional history of his home state of Oregon. John is also the editor, annotator, and audiobook narrator of several omnibus collections of classic pulp authors, including Edgar Rice Burroughs, H.P. Lovecraft and Robert E. Howard, published in hardcover, paperback, e-book, audiobook and interactive PDF editions.
Since 2011 he has produced the thrice-weekly Offbeat Oregon History podcast, and, since 2009, a locally syndicated weekly newspaper column titled "Offbeat Oregon History" (http://offbeatoregon.com), which runs regularly in 16 community newspapers in his home state. John teaches New Media Communications at Oregon State University, specializing in trans-media franchises as a venue for creative expression. He can be reached via Twitter at @offbeatoregon or by e-mail at finn@pulp-lit.com.
Please join us at our new meeting place, TaborSpace, 5441 SE Belmont St., Portland, Oregon 97215. The event is free and open to the public, and free parking is available in the block across from the entrance. Bus line #15 will drop you off right by the door.
– Back to Top –
Bouchercon 2017…the winners were:
Barry Awards
(Chosen by the Readers of Deadly Pleasures Magazine)
Best Novel
A Great Reckoning, by Louise Penny
Best First Novel
Iq, by Joe Ide
Best Paperback Original
Rain Dogs, by Adrian Mckinty
Best Thriller
Guilty Minds, by Joseph Finder
Macavity Awards
(Chosen by the Readers of Mystery Readers International)
Best Novel
A Great Reckoning, by Louise Penny
Best First Novel
Iq, by Joe Ide
Best Short Story
"Parallel Play" by Art Taylor
Sue Feder Memorial Award for Best Historical Novel
Heart of Stone, by James W. Ziskin
Best Non-Fiction
Sara Paretsky: a Companion to Mystery Fiction, by Margaret Kinsman
Anthony Awards
(Chosen by Bouchercon Attendees)
Best Novel
A Great Reckoning, by Louise Penny
Best First Novel
Iq, by Joe Ide
Best Paperback Original
Heart of Stone, by James W. Ziskin
Best Short Story
"Oxford Girl', by Megan Abbott
Best Children's / YA Novel
The Girl I Used to Be, by April Henry
Best Anthology
Blood on the Bayou: Bouchercon 2016
Best Novella
The Last Blue Glass, by B.K. Stevens
– Back to Top –
Passport to Adventure…Toronto
October 12-15th
by Jeannette Voss
Once again, two other FOM members, Carrie Richards and Sheila Sweet, and I, passports in hand, boarded a direct flight to Toronto to meet authors, acquire books (both free and purchased) and attend interesting panels on a variety of topics.
Upon our arrival in Toronto we discovered that Portland author (and former FOM speaker) Lisa Alber had been on our flight, so we shared a cab ride to the host hotel, the Sheraton Centre Toronto. Our room was on the 17th floor, and overlooked a large open space that turns into a skating rink in the winter, and a large Toronto sign that changed colors throughout the night.
On Wednesday we were able to pick up our registration materials (which included three free books) and start planning which panels we wanted to attend. The panels began on Thursday morning and the book room opened shortly thereafter. The layout was excellent – all the rooms for the panels were on the same floor, as was the book room. The author signings were held in the book room, making it easy to purchase a book and get it signed all in one fell swoop.
Thursday evening there was a reception open to all where the Barry and Macavity Awards were presented. Delicious appetizers abounded. Several book publishers hosted author signings, providing the books to be signed.
We discovered new authors to read, along with old favorites. Some of the longest signing lines were for Louise Penny, Maureen Jennings, and Peter Robinson. I discovered several new (to me) Canadian authors, and I learned that Peter Robinson was Canadian.
On Sunday several panels were scheduled, and Guest of Honor Louise Penny was interviewed by Ann Cleeves. The final event was the presentation of the Anthony Awards, where Louise Penny completed her sweep of the awards that were presented at the conference.
Having come prepared with packing tape and scrounged boxes from the different signings, Carrie had packed all our book purchases, and she and Sheila had shipped them by Fed Ex by early Sunday morning. We were ready to head to the airport and wing our way back to Portland, looking forward to many hours of mystery reading in the future.
– Back to Top –
The Crime Writers of Canada and the Arthur Ellis Award
The Arthur Ellis Award, named after the nom de travail of Canada's official hangman, is awarded annually by the Crime Writers of Canada to Canadian crime writers wherever in the world they might reside, and to writers of any nationality who live in Canada and have Permanent Resident status.
The award itself is a wooden statuette of a condemned man on a gibbet whose arms and legs flail when you pull a string. The award categories are: best novel, best first novel, best novella, best short story, best book in French, best juvenile/young adult book, and best non-fiction book. There is also an additional category for best unpublished first crime novel, the Unhanged Arthur.
TRIVIA: The Toronto Reference Library houses one of the world's foremost collections of library materials devoted to the life and works of Arthur Conan Doyle.
– Back to Top –
Canadian Authors to Check Out
Brenda Chapman
Chapman writes the Stonechild and Rouleau mystery series. Stonechild is from a First Nations reserve, a lone wolf who is used to surviving by her wits. Detective Jacques Rouleau is her boss. The first in the series, Cold Mourning, was shortlisted for the Arthur Ellis Award for Best Crime Novel, 2015. She lives in Ottawa, Ontario. The other books in the series are: Butterfly Kills, Tumbled Graves, and Shallow End.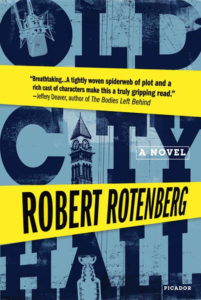 Robert Rotenberg
Rotenberg's first book, Old City Hall, is set in Toronto and is a legal thriller. He is one of Toronto's top criminal lawyers, and the story takes you on a tour of Toronto. The book was nominated for the UK Crime Writers Association John Creasey (New Blood) Dagger Award. The other books in the series are: The Guilty Plea, Stray Bullets, Strangle Hold, and Heart of the City. "Robert Rotenberg does for Toronto what Ian Rankin does for Edinburgh." —Jeffery Deaver
– Back to Top –
Membership Renewal
With the new season underway, it is time to consider renewing your membership. Dues are $20.00 annually. FOM is a 501 (c)(3) non-profit organization. Dues and additional donations are deductible to the full extent of the law. Please mail your check, made out to Friends of Mystery, to PO Box 8251, Portland, Oregon 97201. Include your name, address, city, state, zip code, email and telephone. Your newsletter will be sent electronically unless otherwise requested.
– Back to Top –
Member News
Friends of Mystery is happy to publish news and press releases from our members in our Member News section, with the following considerations:
The news must be related to mystery or true crime writing, films, and television, as well as non-fiction examinations of the mystery genre.
Friends of Mystery will not be able to edit announcements, and will publish them as provided.
Friends of Mystery will include one image with each announcement, if provided.
Friends of Mystery is not responsible for the content of news announcements, and we reserve the right to not publish any announcements which we feel will reflect poorly on the organization and do not advance the organization's mission.
– Back to Top –
Submissions Needed
Members and readers are encouraged to submit book or film reviews, comments on authors, and recommendations for books to read or questions about mysteries, crime fiction and fact. If you have suggestions of mysteries worth sharing, please contact the editor at: jlvoss48@gmail.com