In this issue of the Blood-Letter: a preview of our Bloody Thursday guest John Burley, remembering Sue Grafton, and more!
March 2018

CONTENTS:

Bloody Thursday, March 22, 2018, We Welcome John Burley

Interviewed by Kelly Garrett

John Burley was born in Baltimore, Maryland and grew up near the Chesapeake Bay. Following college, he spent twelve years as a paramedic and firefighter before attending medical school in Chicago and returning to Baltimore to complete an emergency medicine residency at the University of Maryland Medical Center and the R. Adams Cowley Shock Trauma Center. After graduating from residency, John moved to California, where he began work on his first novel. The Absence of Mercy was published by HarperCollins in November of 2013. It received the
National Black Ribbon Award in recognition of an author who brings a fresh new voice to suspense writing.
John currently lives in the San Francisco Bay area, where he works as an emergency department physician. His books have been described as dark psychological thrillers that take place in small-town America. His most recent book, The Quiet Child, was released in August of 2017.

When not writing, Kelly Garrett spends her time hiking and seeking out new coffee shops and breweries. Her debut YA mystery, The Last To Die (Poisoned Pen Press, 2017) is a 2018 Oregon Book Award finalist. You can track her on twitter as @garrett_kelly and on both Instagram and Facebook as @writerkellygarrett. Or stop by and visit her at garrettkelly.com.
We look forward to you joining us at our new location this year, TaborSpace, 5441 SE Belmont St., Portland, Oregon 97215. The event is free and open to the public, and free parking is available in the block across from the entrance. Bus line #15 will drop you off right by the door.
– Back to Top –
The Alphabet Now Ends At "Y"

Sue Grafton, 1940 – 2017

Sue Grafton, author of the popular alphabet series featuring private investigator Kinsey Millhone, passed away from cancer on December 28, 2017. Her most recent book in the series was Y is For Yesterday. In a statement on her mother's website her daughter, Jamie Clark, said: "Many of you also know that she was adamant that her books would never be turned into movies or TV shows, and in that same vein, she would never allow a ghost writer to write in her name. Because of all of those things, and out of the deep abiding love and respect for our dear sweet Sue, as far as we in the family are concerned, the alphabet now ends at "Y".
– Back to Top –
The 2018 Edgar Allan Poe Award Nominations

The Edgar Awards will be presented by the Mystery Writers of America on April 26, 2018 in New York City.
Best Novel

The Dime, by Kathleen Kent
Prussian Blue, by Philip Kerr
Bluebird, Bluebird, by Attica Locke
A Rising Man, by Abir Mukherjee
The Twelve Lives of Samuel Hawley, by Hanna Tinti
Best First Novel

She Rides Shotgun, by Jordan Harper
Dark Chapter, by Winnie M. Li
Lola, by Melissa Scrivner
Tornado Weather, by Deborah E. Kennedy
Idaho, by Emily Ruskovich
Best Paperback Original

In Farleigh Field, by Rhys Bowen
Ragged Lake, by Ron Corbett
Black Fall, by Andrew Mayne
The Unseeing, by Anna Mazzola
Penance, by Kanae Minato
The Rules of Backyard Cricket, by Jock Serong
Best Fact Crime

Killers of the Flower Moon: The Osage Murders and the Birth of the FBI, by David Grann
The Road to Jonestown: Jim Jones and Peoples Temple, by Jeff Guinn
American Fire: Love, Arson, and Life in a Vanishing Land, by Monica Hesse
The Man From the Train: The Solving of a Century-Old Serial Killer Mystery, by Bill and Rachel McCarthy James
Mrs. Sherlock Holmes: The True Story of New York City's Greatest Female Detective and the 1917 Missing Girl Case that Captivated a Nation, by Brad Ricca
Best Critical/Biographical

From Holmes to Sherlock: The Story of the Men and Women who Created an Icon, by Mattias Bostrom
Manderley Forever: A Biography of Daphne du Maurier, by Tatiana de Rosnay
Murder in the Closet: Essays on Queer Clues in Crime Fiction Before Stonewall, by Curtis Evans
Chester B. Himes: A Biography, by Lawrence P. Jackson
Arthur and Sherlock: Conan Doyle and the Creation of Holmes, by Michael Sims
The Simon & Schuster / Mary Higgins Clark Award

The Vinyard Victims, by Ellen Crosby
You'll Never Know, Dear, by Hallie Ephron
The Widow's House, by Carol Goodman
Uncorking a Lie, by Nadine Nettmann
The Day I Died, by Lori Rader-Day
– Back to Top –
Who Will Win the Next Spotted Owl Award???

The Spotted Owl Committee has been hard at work, reading books published in 2017 that were written by authors living in the Pacific Northwest (Oregon, Washington, Idaho, Alaska, British Columbia). The committee has considered 45 books this year, and will make their final decision soon. The winner and nine finalists will be announced at our upcoming March meeting. Attend the meeting and be among the first to know who the big winner is!
– Back to Top –
New and Upcoming Releases

Cathy Ace, The Case of the Unsuitable Suitor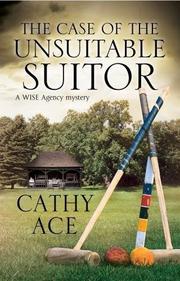 It's August – and croquet season at Chellingworth Hall, where the two local teams are due to play their fiercely competitive annual tournament. Disaster strikes when it seems moles have ruined the croquet lawn and Henry Devereaux Twyst, the 18th Duke of Chellingworth, has only days to get the lawn back into pristine condition.
However, it seems there are darker forces at work…When Anwen-by-Wye's prodigal son, Huw Hughes, returns and sets his cap at Annie Parker, village publican Tudor begs Annie's colleagues at the WISE Enquiries Agency to unearth the truth behind the untimely death of Huw's previous three wives.
But when the croquet pavilion is vandalized and several of the players come down with a mystery sickness with fatal consequences, it seems even a game of croquet can turn deadly…
Mike Lawson, House Witness

Minority Leader of the House and DeMarco's long-time employer John Mahoney has kept more than one secret from his wife over the years, but none so explosive as this: He has a son, and that son has just been shot dead in a Manhattan bar. Mahoney immediately dispatches DeMarco to New York to assist prosecutor Justine Porter, but with five bystanders willing to testify against the killer – rich-boy Toby Rosenthal – the case seems a slam-dunk. That is, until Porter begins to suspect that someone is interfering with those witnesses, and that this may be connected to a pattern of cases across the country. Is there someone who is getting witnesses out of the way when the fate of a wealthy defendant is on the line?
With the help of Porter's young and brainy intern, and traveling from New York to Las Vegas, Minneapolis, Phoenix, and beyond, DeMarco becomes determined to follow that question through to its violent resolution.
Phillip Margolin, The Third Victim

A woman stumbles onto a dark road in rural Oregon – tortured, battered, and bound. She tells a horrific story about being kidnapped, then tortured, until she finally managed to escape. She was the lucky one – two other women, bearing similar burns and bruises, were found dead.
The surviving victim identifies the house where she was held captive, and the owner, Alex Mason, a prominent local attorney, is arrested. Although he loudly insists upon his innocence, his wife's statements about his sexual sadism and the physical evidence found at the scene are damning.
Regina Barrister is a legendary criminal defense attorney, known as "The Sorceress" for her courtroom victories. But she's got a secret, one that threatens her skill, her reputation, and, most of all, her clients. She's agreed to take on the seemingly impossible task of defending Alex Mason.
Robin Lockwood, a young lawyer and former MMA fighter, has just left a clerkship at the Oregon Supreme Court to work for Regina. The Alex Mason trial is her first big one, a likely death-penalty case, and she's second chair to Regina. Increasingly, she's worried both about her boss's behavior and the seemingly ironclad case against their client, one that even the fabled Regina Barrister might not win. Yet lurking in the details of the case is something that bothers Robin, something that might reveal a very chilling story.
Coming in March & April

Cameron, Marc. The Triple Frontier
George, Elizabeth. The Punishment She Deserves
Jance, J.A. Duel to the Death
Kope, Spencer. Whispers of the Dead
– Back to Top –
Member News

Friends of Mystery is happy to publish news and press releases from our members in our Member News section, with the following considerations:
The news must be related to mystery or true crime writing, films, and television, as well as non-fiction examinations of the mystery genre.
Friends of Mystery will not be able to edit announcements, and will publish them as provided.
Friends of Mystery will include one image with each announcement, if provided.
Friends of Mystery is not responsible for the content of news announcements, and we reserve the right to not publish any announcements which we feel will reflect poorly on the organization and do not advance the organization's mission.
Submissions Needed

Members and readers are encouraged to submit book or film reviews, comments on authors, and recommendations for books to read or questions about mysteries, crime fiction and fact. If you have suggestions of mysteries worth sharing, please contact the editor at: jlvoss48@gmail.com
Few negative pleasures are as exhilarating to the bookish as reading a persuasive review whose gravamen is that one needn't bother reading a prolific writer whose many works one has had a bad conscience about not hitherto having read.

—Joseph Epstein