In this issue of the Blood-Letter: a preview of our November Bloody Thursday guest Lou Berney, award results, international titles, and more!
November 2018
CONTENTS:
Bloody Thursday, November 15, 2018
We Welcome Lou Berney

Friends of Mystery is pleased to welcome Lou Berney as our November speaker. Lou is the author of The Long and Faraway Gone (winner of the Edgar, Anthony, Barry, Macavity and ALA awards), Whiplash River, and Gutshot Straight. He's also written a collection of stories, The Road to Bobby Joe, and his short fiction has appeared in publications such as The New Yorker, Ploughshares, and the Pushcart Prize anthology. He teaches in the MFA program at Oklahoma City University.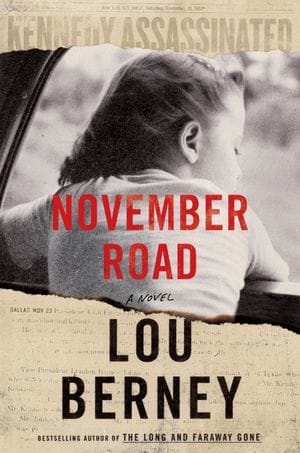 A little personal information from his website:
"My two older sisters liked to play school with me, whether I liked it or not, and so I learned to read, whether I liked it or not, at a very early age.
"Between the ages of 12 and 19, I was fired from approximately nine different jobs. A representative sampling: newspaper delivery boy (dereliction of duty), grill cook (lying about my age to get the job), apartment complex maintenance man (general incompetence), photo darkroom attendant (dereliction of duty, general incompetence, inappropriate use of darkroom). Since the age of 19, I have not been fired from a job."
Berney's most recent book, November Road, came out this October to excellent reviews:
"Wistful and complex, Berney's confident portrait of a roadside America traumatized by Kennedy's death gives the novel literary heft, while the ticking clock of the mob closing in on the family to settle accounts lends a genre bite. With depth and genre crossover appeal, this literary crime thriller will please fans of Dennis Lehane or George Pelecanos and also satisfy a wider audience."

—Library Journal (Starred Review)
"Berney bends his notes exquisitely, playing with the melody, building his marvelously rich characters while making us commit completely to the love story, even though we hear the melancholy refrain and see the noir cloud lurking in the sky. Pitch-perfect fiction."

—Booklist (Starred Review)
"Berney's gentle, descriptive writing brilliantly reflects these times of both disillusionment and hope. [November Road] perfectly captures those few weeks at the end of 1963 – all that was lost and all that lay tantalizingly and inevitably just beyond the horizon."

—Kirkus Reviews (Starred Review)
"Berney creates nail-biting suspense by placing Marcello's top hit man on Guidry's trail, the book's power drives from Charlotte, who finds hidden strength as she confronts unexpected challenges. This is much more than just another conspiracy thriller."

—Publishers Weekly (Starred Review)
Lawrence Kasdan (The Big Chill), who acquired rights to the book in a six-figure deal, is already slated to adapt Road into a movie.
We hope to have copies of the book available for sale at the meeting.
Please join us at TaborSpace, 5441 SE Belmont St., Portland, Oregon 97215. The event is free and open to the public. A social time with refreshments begins at 7:00 pm, with the program beginning at 7:30 pm. Free parking is available in the block across from the entrance. Bus line #15 will drop you off right by the door.
– Back to Top –
Bouchercon 2018
…The Winners Were:
Anthony Awards (Chosen By Bouchercon Attendees)
Best Mystery Novel
Bluebird, Bluebird, by Attica Locke
BEST FIRST MYSTERY
Hollywood Homicide, by Kellye Garrett
BEST PAPERBACK ORIGINAL
The Day I Died, by Lori Rader-Day
BILL CRIDER AWARD FOR BEST NOVEL IN A SERIES
Y Is For Yesterday (Kinsey Milhone #25), by Sue Grafton
BEST ANTHOLOGY
The Obama Inheritance: Fifteen Stories of Conspiracy Noir, edited by Gary Phillips
BEST CRITICAL/NON-FICTION BOOK
Killers of the Flower Moon: The Osage Murders and the Birth of the FBI, by David Grann
BEST ONLINE CONTENT
Jungle Red Writers
Barry Awards (Chosen by the Readers of Deadly Pleasures Magazine)
Best Novel
The Marsh King's Daughter, by Karen Dionne
Best First Novel
The Dry, by Jane Harper
Best Paperback Original
The Deep Dark Descending, by Allen Eskens
Best Thriller
Unsub, by Meg Gardiner
Macavity Awards (Chosen by the Readers of Mystery Readers International)
Best Mystery Novel
Magpie Murders, by Anthony Horowitz
Best First Mystery Novel
The Lost Ones, by Sheena Kamal
Best Mystery-Related Nonfiction
The Story of Classic Crime in 100 Books, by Martin Edwards
Sue Feder Historical Mystery Award
In Farleigh Field, by Rhys Bowen
– Back to Top –
Armchair Travel
Australia

Resurrection Bay, by Emma Viskic
If you liked Jane Harper, you may want to try Emma Viskic. Her debut novel, Resurrection Bay, won the 2016 Ned Kelly Award for Best Debut, as well as an unprecedented three Davitt Awards: Best Adult Novel, Best Debut, and Readers' Choice. Her main character, Caleb, is deaf, and she studied Australian sign language (Auslan) in order to be able to write him. Her next novel featuring Caleb, And Fire Came Down, is available now in the U.S.
[The Davitt Awards are presented annually by the Sisters in Crime Australia association. The awards are presented for excellence in Australian crime fiction, by women, for both adults and young adults. They were established in 2001 to mark the 10th anniversary of the association.]
England

Our House, by Louise Candlish
(Domestic Suspense)
In the wake of her husband, Bram's, infidelity, Fiona Lawson manages to keep her sons' lives as stable as possible, thanks to a bird's nest custody agreement. The two boys get to stay in their home, while Fiona and Bram take turns living there.
All seems to be going as well as possible until the terrible day Fiona arrives at the house to find her family's possessions gone – and strangers moving in.
With Bram and their children missing, Fiona desperately searches for answers and begins to unravel a dangerous web of lies, learning that her grand plan to protect her family has instead put it in jeopardy. As their nest comes tumbling down, Fiona will discover how little she truly knew her husband – as well as a betrayal so shocking it will teach her to keep her own secrets behind locked doors…

Sweet Little Lies, by Caz Frear
(Police Procedural)
Twenty-six-year-old Cat Kinsella overcame a troubled childhood to become a detective constable with the Metropolitan Police Force, but she's never been able to banish the ghosts of her past or reconcile with her estranged father. Work provides a refuge from her family dysfunction, but she relies on a caustic wit to hide her vulnerability from her colleagues.
When a mysterious phone call links a recent strangling victim to Maryanne Doyle, a teenage girl who went missing in Ireland eighteen years earlier, the news is discomfiting for Cat. Though she was only a child when her family met Maryanne on a family vacation, right before she vanished, Cat knew that her charming but dissolute father wasn't telling the truth when he denied knowing anything about the girl's disappearance. Did he do something to Maryanne all those years ago? Could he have something to do with her current case?
Determined to close the two cases, Cat rushes head-long into the investigation, crossing ethical lines and trampling professional codes. But the deeper she digs, the darker the secrets she may uncover…
– Back to Top –
Membership Renewal
With the new season underway, it is time to consider renewing your membership. Dues are $20.00 annually. FOM is a 501 (c) (3) non-profit organization. Dues and additional donations are deductible to the full extent of the law. Please mail your check, made out to Friends of Mystery, to PO Box 8251, Portland, Oregon 97202. Your newsletter will be sent electronically unless otherwise requested.
Member News
Friends of Mystery is happy to publish news and press releases from our members in our Member News section, with the following considerations:
The news must be related to mystery or true crime writing, films, and television, as well as non-fiction examinations of the mystery genre.
Friends of Mystery will not be able to edit announcements, and will publish them as provided.
Friends of Mystery will include one image with each announcement, if provided.
Friends of Mystery is not responsible for the content of news announcements, and we reserve the right to not publish any announcements which we feel will reflect poorly on the organization and do not advance the organization's mission.
Submissions Needed
Members and readers are encouraged to submit book or film reviews, comments on authors, and recommendations for books to read or questions about mysteries, crime fiction and fact. If you have suggestions of mysteries worth sharing, please contact the editor at: jlvoss48@gmail.com.
– Back to Top –