In this issue of the Blood-Letter: a preview of our January Bloody Thursday guests Curtis C. Chen, Jennifer Wolfe, and Chuck Caruso, remembering Jane Langton, and more!
January 2019
CONTENTS:
Bloody Thursday, January 24, 2019, Welcomes a Panel of Authors
Friends of Mystery is pleased to welcome a panel of local authors, moderated by Bill Cameron.
Curtis C. Chen
Once a Silicon Valley software engineer, Curtis C. Chen now writes speculative fiction and runs puzzle games near Portland, Oregon. His debut novel, Waypoint Kangaroo (a 2017 Locus Awards Finalist), is a science fiction spy thriller about a superpowered secret agent facing his toughest mission yet: vacation. Curtis' short stories have appeared in Playboy Magazine, Daily Science Fiction, and Oregon Reads Aloud. He is a graduate of the Clarion West and Viable Paradise writers' workshops. You can find Curtis at Puzzled Pint Portland on the second Tuesday of most every month.


Jennifer Wolfe
Jennifer Wolfe worked as a phlebotomist, a fiction writing teacher, a copywriter, and ran a concert venue before quitting to move to Los Angeles, where she performed odd jobs in the film industry for a decade. She now divides her time between Los Angeles and Portland, Oregon. Watch the Girls is Jennifer's debut thriller. She also publishes young adult fiction under the name Jennifer Bosworth.


Chuck Caruso
Long-time staff member at our own dearly departed Murder By The Book, Chuck Caruso last year won an Independent Publishing Award (IPPY) for his debut crime novel. An edgy thriller set in contemporary Portland, The Lawn Job updates the noir sensibilities of James M. Cain and Jim Thompson with cell phones, legal weed, crazy militias, and a transgender femme fatale. This past November, Caruso followed up with a potent collection of crime, horror, and western short stories called The Meaning of Blood and Other Tales of Perversity. Reviewers are comparing Caruso to Edgar Allan Poe, which is high praise but no surprise given this local author's deep roots as a scholar of the American Gothic. He taught literature and creative writing at Marylhurst University for fifteen years.
The panel discussion will explore the similarities and differences in the work of these three talented, distinctive authors.
Please join us at TaborSpace, 5441 SE Belmont St., Portland, Oregon 97215. The event is free and open to the public. A social time with refreshments begins at 7:00 pm, with the program beginning at 7:30 pm. Free parking is available in the block across from the entrance. Bus line #15 will drop you off right by the door.
– Back to Top –
Spotted Owl Readers Busy
The Spotted Owl Committee readers have had a busy reading year. As of our last meeting in December, we have considered 57 books, of which 44 are still in contention for the award. Later entries into competition (published October-December 2018) include:
Alexander, Ellie. Live and Let Pie
Alexander, Ellie. A Pint of No Return
Coco, Nancy. Forever Fudge
Devlin, A.J. Cobra Clutch
Dyer-Seeley, Kate. Violet Tendencies
Kingsbury, Kate. Be Our Ghost
Limon, Martin. The Line
London, Colette. The Peppermint Mocha Murder
Robb, Candace. A Murdered Piece
Wygant, Jim. Circle of Vengeance
Wygant, Jim. The Detectives
Wygant, Jim. Pursued
Wygant, Jim. Sweet and Gone
The committee will announce their decision at the March Bloody Thursday meeting. Readers are: Janet Bechtold, Kris Field-Eaton, Carrie Richards, Sheila Sweet and Judith Wyss.
– Back to Top –
August Snow Captures Both Hammett and Nero Awards
August Snow, by Stephen Mack Jones won both the 2017 Hammett Prize and the 2018 Nero Award. The Hammett Prize is given annually by the North American Branch of the International Association of Crime Writers to honor literary excellence in the field of crime writing published in the English language in the United States and/or Canada. The 2017 award, given in 2018 for books published in 2017, was presented in December. The Nero Award for the best American Mystery written in the tradition of Rex Stout's Nero Wolfe stories, was presented on December 1, 2018 in New York City.
The other nominees were:
Hammett Prize
The Marsh King's Daughter, by Karen Dionne
The Tragedy of Sims, by Ernest J. Gaines
Two Days Gone, by Randall Silvis
Nero Award
Blood for Wine, by Warren C. Easley
The Lioness Is the Hunter, by Loren D. Estelman
Gone to Dust, by Matt Goldman
The Dime, by Kathleen Kent
– Back to Top –
Jane Langton 1922-2018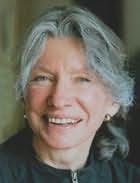 Jane Langton, New England author of children's books and mysteries, died at the age of 95. Langton received the Grand Master Award from the Mystery Writers of America last year for a series of 18 books, published between 1964 and 2005. The central character in those books was Homer Kelly, a tweedy Harvard professor and sometime police lieutenant. The fifth in the series, Emily Dickinson Is Dead, received an award from the Nero Wolfe Society.
– Back to Top –
Winter Weather Reads
As we settle into winter, with cold temperatures and dark days, reading mysteries set in Scandinavia may be in order. Here are some suggestions:
HENNING MANKELL
Mankell (1948-2015) was a Swedish crime writer who wrote a series of novels featuring Inspector Kurt Wallander, who lives and works in Ystad, Sweden.
Faceless Killers
The Dogs of Riga
The White Lioness
The Man Who Smiled
Sidetracked
The Fifth Woman
One Step Behind
Firewall
The Pyramid
The Troubled Man
YRSA SIGURDARDOTTIR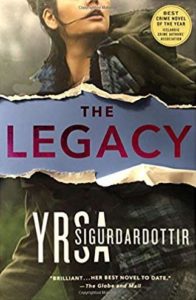 Yrsa works as a civil engineer and lives in Reykjavik, Iceland. She is the author of six novels in the Thora Gudmundsdottir series and three standalones. Her latest, The Legacy, was nominated for The Glass Key and won the Icelandic Crime Fiction Award. The Legacy is the first in a new series:
The murder was meant as a punishment – but what sin could justify the method?

The only person who might have answers is the victim's seven-year-old daughter, found hiding in the room where her mother died. And she's not talking.

Newly promoted, out of his depth, detective Huldar turns to Freyja and the Children's House for their expertise with traumatized young people. Freyja, who distrusts the police in general and Huldar in particular, isn't best pleased. But she's determined to keep little Margret safe.

It may prove tricky. The killer is leaving them strange clues: warnings in text messages, sums scribbled on bits of paper, numbers broadcast on the radio. He's telling a dark and secret story – but how can they crack the code? And if they do, will they be next?
DEREK B. MILLER
Miller is the director of the Policy Lab and is a senior fellow with the United Nations Institute for Disarmament Research. Born and raised in Boston, he has lived abroad for over fifteen years in Norway, Switzerland, Britain, Israel, and Hungary. He now lives in Oslo, Norway. Norwegian by Night was his debut novel, followed by American by Day.
Sheldon Horowitz – widowed, impatient, impertinent – has grudgingly agreed to leave New York and move in with his granddaughter, Rhea, and her new husband, Lars, in Norway: a country of blue and ice with one thousand Jews, not one of them a former Marine sniper in the Korean War turned watch repairman, who failed his only son by sending him to Vietnam to die. Not until now, anyway.

Home alone one morning, Sheldon witnesses a dispute between the woman who lives upstairs and an aggressive stranger. When events turn dire, Sheldon seizes and shields the neighbor's young son from the violence, and they flee the scene. But old age and circumstances are altering Sheldon's experience of time and memory. He is haunted by dreams of his son Saul's life and by guilt over his death. As Sheldon and the boy look for a haven in an alien world, reality and fantasy, past and present weave together, forcing them ever forward to a wrenching moment of truth.
HELENE TURSTEN
Tursten is a Swedish writer who worked as a nurse and a dentist before becoming an author. Her main character is Detective Inspector Irene Huss, with the novels being set in Gothenburg, Sweden.
Detective Inspector Huss
The Torso
The Glass Devil
Night Rounds
The Golden Calf
The Fire Dance
The Beige Man
The Treacherous Net
Who Watcheth
Protected by the Shadows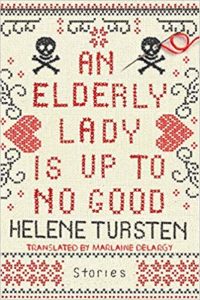 Her newest book is a collection of stories featuring Maud, "an irascible 88-year-old woman with no family, no friends…and no qualms about a little murder."
"Ever since her darling father's untimely death, Maud has lived in the family's spacious apartment in downtown Gothenburg, Sweden, rent-free, thanks to a minor clause in a hastily negotiated contract. That was how Maud learned that good things can come from tragedy. Now in her late eighties, Maud leads a solitary existence, and she likes it that way. Over the course of her adventures – or misadventures- this little bold lady will handle a crisis with a local celebrity who has her eyes on Maud's apartment, foil the engagement of her long-ago lover, and dispose of some pesky neighbors. But when Detective Inspectors Irene Huss and Embla Nystrom are called in to investigate a dead body found in Maud's apartment, will Maud finally become a suspect?"
Other Suggestions:
Blaedel, Sara. The Running Girl
Bjork, Samuel. I'm Traveling Alone
Brekke, Jorgen. The Fifth Element
Dahl, Kjell Ola. Faithless
Dean, Will. Dark Pines
Enger, Thomas. Cursed
Eriksson, Kjell. Stone Coffin
Horst, Jorn Lier. Ordeal
Jonasson, Ragnar. Whiteout
Lagercrantz, David. The Girl Who Takes an Eye for an Eye
Ravatn, Agnes. The Bird Tribunal
Sigurdardottir, Lilja. Snare
Staalesen, Gunnar. Where Roses Never Die
Sundstol, Vidar. The Devil's Wedding Ring
Curl up with a book and a hot drink and enjoy a little crime!
– Back to Top –
Membership Renewal
It's never too late to consider renewing your membership to Friends of Mystery! Dues are $20.00 annually. FOM is a 501 (c)(3) non-profit organization. Dues and additional donations are deductible to the full extent of the law. Please mail your check, made out to Friends of Mystery, to PO Box 8251, Portland, Oregon 97207. Your newsletter will be sent electronically unless otherwise requested.
– Back to Top –
Member News
Friends of Mystery is happy to publish news and press releases from our members in our Member News section, with the following considerations:
The news must be related to mystery or true crime writing, films, and television, as well as non-fiction examinations of the mystery genre.
Friends of Mystery will not be able to edit announcements, and will publish them as provided.
Friends of Mystery will include one image with each announcement, if provided.
Friends of Mystery is not responsible for the content of news announcements, and we reserve the right to not publish any announcements which we feel will reflect poorly on the organization and do not advance the organization's mission.
– Back to Top –
Submissions Needed
Members and readers are encouraged to submit book or film reviews, comments on authors, and recommendations for books to read or questions about mysteries, crime fiction and fact. If you have suggestions of mysteries worth sharing, please contact the editor at: jlvoss48@gmail.com
– Back to Top –