In this issue of the Blood-Letter: a preview of our September 2019 Bloody Thursday guest: Spotted Owl Winner Mike Lawson, plus awards, new mysteries and more!
September 2019
CONTENTS:
Bloody Thursday, September 26, 2019, FOM Welcomes Mike Lawson, Spotted Owl Winner
Friends of Mystery is pleased to welcome three-time winner of the Spotted Owl Award, Mike Lawson.

Lawson is the author of sixteen novels. He has been nominated for the Edgar Award and five times for the Barry Award. The thirteen books in his Joe DeMarco political thriller series revolve around a character who is a fixer for a somewhat corrupt politician. The first of the three books in his Kay Hamilton series, titled Rosarito Beach, was optioned for television. Prior to turning to writing full time, Mike was a nuclear engineer employed by the Navy and he lives in the Pacific Northwest.
Lawson won his current Spotted Owl Award for House Witness. His most recent book is House Arrest.
Please join us at TaborSpace, 5441 SE Belmont St., Portland, Oregon 97215. The event is free and open to the public. A social time with refreshments begins at 7:00 pm, with the program beginning at 7:30 pm. Free parking is available in the block across from the entrance. Bus line #15 will drop you off right by the door.
– Back to Top –
Where do you get your suggestions/recommendations for the next mystery you choose to read? (Part II)
CrimeReads newsletter comes several times a week via email. The August 29th issue contained the following articles to choose from:
Academia is brutal. Here are twelve campus mysteries and research noirs to cushion the back-to-school blow.
Danny Caine, owner and operator of the Raven Bookstore, talks to CrimeReads about books, Sara Paretsky, books, handselling, books and more books.
"When I write women I'm thinking about what I want to put out in the universe." Lisa Lutz, interviewed by Olivia Rutligliano, talks feminism, puns, and her new novel, The Swallows.
Radha Vatsal on five iconic visual motifs from Hitchcock, and how the director used these signifiers to create suspense.
"By the time Michael killed Bridget, everyone else knew that she was a real person." Sady Doyle on the 19th century man who believed his wife was a changeling.
A police officer's widow, a war nurse, and "Mrs. Sherlock Holmes": a look at trailblazing women detectives of the 19th century, from Olivia Rutigliano.
Edwin Hill on the best books to understand Boston's most infamous crimes of the past 60 years.
For those of you who think that grit and humor go together like chalk and cheese, here's a list of 15 books as gritty as they are funny, as selected by Greg Levin.
In the latest episode of Criminal Broads Tori Telfer presents the story of Kathy Kleiner, the young woman who survived an attack by Ted Bundy.
– Back to Top –
Thriller Awards 2019
The 2019 Thriller Awards were presented on July 13, 2019 by the International Thriller Writers. The winners were:
BEST NOVEL
Jar of Hearts, by Jennifer Hillier
BEST FIRST NOVEL
The Chalk Man, by C.J. Tudor
BEST PAPERBACK ORIGINAL
The Lost Man, by Jane Harper
BEST SHORT STORY
"Nana" by Helen Smith —  in Killer Women: Crime Club Anthology #2
BEST E-BOOK ORIGINAL NOVEL
Pray for the Innocent, by Alan Orloff
BEST YOUNG ADULT NOVEL
Girl at the Grave, by Teri Bailey Black
– Back to Top –
2019 Shamus Award Nominees
The Shamus Award is given annually by the Private Eye Writers of America to honor excellent work in the Private Eye genre. The awards will be presented during Bouchercon this fall.
BEST P. I. NOVEL
Wrong Light, by Matt Coyle
What You Want To See, by Kristen Lepionka
The Widows of Malabar Hill, by Sujata Massey
Baby's First Felony, by John Straley
Cut You Down, by Sam Wiebe
BEST FIRST P. I. NOVEL
The Best Bad Things, by Katrina Carrasco
Broken Places, by Tracy Clark
Last Looks, by Howard Michael Gould
What Doesn't Kill You, by Aimee Hix
Only to Sleep: A Phillip Marlowe Novel, by Lawrence Osborne
BEST P. I. PAPERBACK ORIGINAL
She Talks to Angels, by James D.F. Hannah
No Quarter, by John Jantunen
Shark Bait, by Paul Kemprecos
Second Story Man, by Charles Salzberg
The Questionable Behavior of Dahlia Moss, by Max Wirestone
– Back to Top –
New Books to Consider from New Zealand and Australian Authors
(Plot summaries from the publisher)
Second Sight, by Aoife Clifford
When the biggest legal case of her career brings Eliza Carmody back to Kinsale, the hometown she thought she had left forever, she witnesses an old friend commit a crime that sends her on a dangerous quest to uncover the mysteries of her childhood that the rest of the town seems willing to ignore.
With her friend on the run and the police investigating the bones of an unidentified dead body at a historic homestead near town, Eliza becomes convinced that the truth lies in her memories of the New Year's Eve years ago when her friend Grace disappeared from Kinsale forever.
With the town still reeling from the devastating fire and powerful local families determined to protect young men from the consequences of their actions, Eliza begins to suspect that no one – even those she needs to trust the most – is telling the truth.
Aoife Clifford was born in London of Irish parents, and she grew up in New South Wales, studied Art/Law at the Australian National University, Canberra and now lives in Melbourne.
Redemption Point, by Candice Fox
When former police detective Ted Conkaffey was wrongly accused of abducting Claire Bingley, he hoped the Queensland rainforest town of Crimson Lake would be a good place to disappear. But nowhere is safe from Claire's devastated father.
Meanwhile, in a dark roadside hovel called the Barking Frog Inn, the bodies of two young bartenders lie on the beer-sodden floor. Detective Inspector Pip Sweeney's first homicide investigation is complicated by the arrival of private detective Amanda Pharrell to "assist" on the case.
For Ted and Amanda, redemption is certainly in the cards – but it may well cost them their lives.
Candice Fox's first novel, Hades, won the Ned Kelly Award for best debut in 2014 from the Australian Crime Writers Association. The sequel, Eden, won the Ned Kelly Award for best crime novel in 2015, making Candice only the second author to win these accolades back-to-back. She is also the author of the bestselling Fall, Crimson Lake and Redemption Point, all shortlisted for Ned Kelly and Davitt Awards. She lives in Sydney.
Overkill, by Vanda Symon
When the body of a young mother is found washed up on the banks of the Mataura River, a small rural community is rocked by her tragic suicide. But all is not what it seems.
Sam Shephard, sole charge police constable in Mataura, soon discovers the death was no suicide and has to face the realization that there is a killer in town. To complicate the situation, the murdered woman was the wife of her former lover. When Sam finds herself on the list of suspects and suspended from duty, she must cast aside her personal feelings and take matters into her own hands. She has to find the murderer…and clear her name.
Vanda Symon is a crime writer, TV presenter and radio host from Dunedin, New Zealand, and the chair of the Otago Southland branch of the New Zealand Society of Authors.
Under the Cold Bright Lights, by Garry Disher
The young detectives think Alan Auhl is washed up, but that doesn't faze him. He does things his own way – and gets results.
He still lives with his ex-wife, off and on, in a big house full of random boarders and hard-luck stories. And he's still a copy, even though he retired from Homicide some years ago. He works cold cases now. Like the death of John Elphick – his daughters are still convinced he was murdered; the coroner is not so sure. Or the skeleton that's just been found under a concrete slab. Or the doctor who killed two wives and a girlfriend, and left no evidence at all.
Auhl will stick with these cases until justice is done. One way or another.
Garry Disher is one of Australia's best-known authors. A full-time writer since 1988, he's published over 50 books. Disher lives on the Mornington Peninsula, south-east of Melbourne. In 2018 he won the Australian Crime Writers Association's Lifetime Achievement Award.
Good Girl, Bad Girl, by Michael Robotham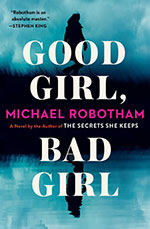 A girl is discovered hiding in a secret room in the aftermath of a terrible crime. Half-starved and filthy, she won't tell anyone her name, or her age, or where she came from. Maybe she is twelve, maybe fifteen. She doesn't appear in any missing persons file, and her DNA can't be matched to an identity. Six years later, still unidentified, she is living in a secure children's home with a new name, Evie Cormac. When she initiates a court case demanding the right to be released as an adult, forensic psychologist Cyrus Haven must determine if Evie is ready to go free. But she is unlike anyone he's ever met – fascinating and dangerous in equal measure. Evie knows when someone is lying, and no one around her is telling the truth.
Meanwhile, Cyrus is called in to investigate the shocking murder of a high school figure-skating champion, Jodie Sheehan, who dies on a lonely footpath close to her home. Pretty and popular, Jodie is portrayed by everyone as the ultimate girl next door, but as Cyrus peels back the layers, a secret life emerges—one that Evie Cormac, the girl with no past, knows something about. A man haunted by his own tragic history, Cyrus is caught between the two cases—one girl who needs saving and another who needs justice. What price will he pay for the truth?
Michael Robotham is a Gold Dagger winning and Edgar short-listed author who was born in Australia and grew up in small country towns. A former investigative journalist, his novels have been translated into 25 languages. He lives in Sydney.
– Back to Top –
Membership Renewal
It's never too late to consider renewing your membership to Friends of Mystery! Dues are $20.00 annually. FOM is a 501 (c)(3) non-profit organization. Dues and additional donations are deductible to the full extent of the law. Please mail your check, made out to Friends of Mystery, to PO Box 8251, Portland, Oregon 97207. Your newsletter will be sent electronically unless otherwise requested.
– Back to Top –
Member News
Friends of Mystery is happy to publish news and press releases from our members in our Member News section, with the following considerations:
The news must be related to mystery or true crime writing, films, and television, as well as non-fiction examinations of the mystery genre.
Friends of Mystery will not be able to edit announcements, and will publish them as provided.
Friends of Mystery will include one image with each announcement, if provided.
Friends of Mystery is not responsible for the content of news announcements, and we reserve the right to not publish any announcements which we feel will reflect poorly on the organization and do not advance the organization's mission.
– Back to Top –
Submissions Needed
Members and readers are encouraged to submit book or film reviews, comments on authors, and recommendations for books to read or questions about mysteries, crime fiction and fact. If you have suggestions of mysteries worth sharing, please contact the editor at: jlvoss48@gmail.com
– Back to Top –