In this issue of The Blood-Letter from Friends of Mystery: a preview of our November 2019 Bloody Thursday panel, plus a recap of Bouchercon and recent awards!
November 2019
CONTENTS:
Bloody Thursday, November 21, 2019, FOM Welcomes a Panel of Northwest Authors

Valerie Geary, Dana Haynes, and J.S. James, hosted by Baron R. Birtcher

Friends of Mystery is pleased to welcome these Northwest authors for our second program of the season.
Valerie Geary is the author of the novels Everything We Lost and Crooked River, a finalist for the 2016 Oregon Book Award and 2014 Spotted Owl Award. Her short stories have appeared in The Rumpus, Day One, Menda City Review, and other publications. She grew up in Oregon and currently lives in Portland with her husband and a little brown dog named Charlie Waffles. In addition to writing, reading, and all things story, Valerie enjoys gardening, hiking, cycling, and racing in triathlons.
Dana Haynes is the author of the new mystery/thriller novel, St. Nicholas Salvage & Wrecking, which marked his debut with Blackstone Publishing in 2019. This is his eighth published mystery. His first thriller, Crashers, won the Spotted Owl Award in 2010. Haynes has spent 25 years in Oregon newspaper newsrooms, split between weeklies and dailies. He currently serves as the managing editor of the Portland Tribune. He has won awards as a reporter, columnist and editor. A native of the Pacific Northwest, he also served as spokesman and speechwriter for the former mayor of Portland, Oregon. Haynes lives in Portland, Oregon, with his wife, Katy King.
J.S. James lives near Portland, Oregon, with his family, including their "Velcro" Vizsla and furry red exercise machine, Maggie. He completed a popular fiction writing program in Washington, but grew up fishing and hunting in Oregon. River Run won first place in the Pacific Northwest Writer's Association's mystery/thriller contest, and was runner-up and "highly commended" in the Crime Writer's Association's Debut Dagger contest. This is J.S. James's first novel. Currently he's hard at work on more novels in the genre.
Baron R. Birtcher is the LA TIMES and IMBA bestselling author of the hardboiled Mike Travis series (Roadhouse Blues, Ruby Tuesday, Angels Fall, and Hard Latitudes), the award-winning Ty Dawson series (South California Purples, Fistful Of Rain), as well as the critically-lauded stand-alone, Rain Dogs. He divides his time between Hawaii and the Pacific Northwest. Birtcher will be the panel moderator.
Please join us at TaborSpace, 5441 SE Belmont St., Portland, Oregon 97215. The event is free and open to the public. A social time with refreshments begins at 7:00 pm, with the program beginning at 7:30 pm. Free parking is available in the block across from the entrance. Bus line #15 will drop you off right by the door.
– Back to Top –
Bouchercon 2019

Awards, Awards, Awards

This year's Bouchercon was held in Dallas, Texas, from October 31 to November 3, 2019. It was the 50th anniversary of the conference, and the theme was "Denim, Diamonds and Death."
The Guests of Honor and Special Guests were:
James Patterson, Distinguished Contribution to the Genre
Deborah Crombie, Local Guest of Honor
Peter Lovesey, Lifetime Achievement
Hank Phillippi Ryan, American Guest of Honor
Felix Francis, Special Guest of Honor
McKenna Jordan, Fan Guest of Honor
Sandra Brown, Special Guest
Charlaine Harris, Special Guest
Harry Hunsicker, Toastmaster
Each morning began with a breakfast event, followed by author panels on varying topics. The panels were an hour in length, followed by a thirty-minute break where the authors went to the Book Room and were available to sign their books. Here is a sample of what the panels were like:
The Magical McGuffin: Discussion of the pros and cons of the use of a missing McGuffin – a valuable object such as the Maltese Falcon.
London as a Historical Setting: With its rich history and many secrets, historical London is a natural setting for crimes and murders.
Interesting Ways to Kill People: Join us for a talk about innovative methods of murder.
Defining Your Novel: Five authors who represent a cross-section of mystery genres have a freewheeling discussion about genre labels and how a certain mystery can fit within a genre.
That's What She Said: Snappy Dialogue: Four masters of dialogue share their secrets for writing crackling dialogue that leaps off the page.
This Novel Stands Alone: The pros/cons and why/why nots of the stand-alone crime novel.
James Patterson Guest of Honor Interview by Hank Phillippi Ryan
There was a lunch break everyday at noon, and a dinner break, followed by evening activities. My friends and I were staying in the host hotel, and we didn't even leave the hotel until we left for the airport to come home.
Awards were also presented throughout the weekend. In the last Blood Letter we listed the nominees for the Shamus Awards, presented by the Private Eye Writers of America. (Their definition of a Private Eye is a person paid to investigate crimes who is not employed by a government agency.) The winners were:
BEST P.I. NOVEL
What You Want To See, by Kristen Lepionka
BEST FIRST P.I. NOVEL
The Best Bad Things, by Katrina Carrasco
BEST P.I. PAPERBACK ORIGINAL
The Questionable Behavior of Dahlia Moss, by Max Wirestone
The Macavity Awards were presented by Mystery Readers International: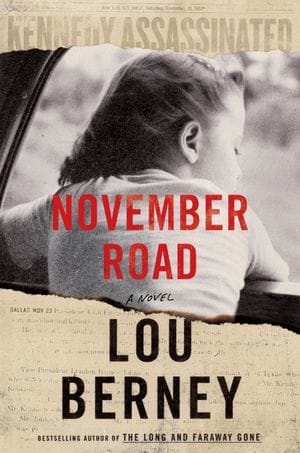 BEST NOVEL
November Road, by Lou Berney
BEST FIRST NOVEL
Dodging and Burning, by John Copenhaver
BEST NONFICTION
The Real Lolita: The Kidnapping of Sally Horner and the Novel That Scandalized the World, by Sarah Weinman
BEST SHORT STORY
"English 398: Fiction Workshop" by Art Taylor. Ellery Queen's Mystery Magazine, July/August 2018
SUE FEDER MEMORIAL AWARD FOR BEST HISTORICAL NOVEL
The Widows of Malabar Hill, by Sujata Massey
The Barry Awards were presented by Deadly Pleasures Mystery Magazine:
BEST NOVEL
November Road, by Lou Berney
BEST FIRST NOVEL
The Chalk Man, by C.J. Tudor
BEST THRILLER
Safe Houses, by Dan Fesperman
BEST PAPERBACK ORIGINAL
The Ruin, by Dervla McTiernan
The Anthony Awards were voted on by attendees of the conference and presented on the final evening:
BEST NOVEL
November Road, by Lou Berney
BEST FIRST NOVEL
My Sister, the Serial Killer, by Oyinkan Braithwaite
BEST PAPERBACK ORIGINAL
Under a Dark Sky, by Lori Rader-Day
BEST SHORT STORY
"The Grass Beneath My Feet", by S.A. Cosby, in Tough (blogazine, August 20, 2018)
BEST CRITICAL/BIOGRAPHICAL
I'll Be Gone in the Dark: One Woman's Obsessive Search for the Golden State Killer, by Michelle McNamara
You may have noted that Lou Berney, our speaker at the November meeting last year, made a clean sweep of the Macavity, Barry and Anthony Awards for Best Novel.
By Jeannette Voss
– Back to Top –
And one more . . . The 2019 Dagger Awards

The 2019 Dagger Awards were given by the Crime Writer's Association in London, England, on October 24, 2019 for the best in thriller and crime writing:
DIAMOND DAGGER
Robert Goddard
GOLD DAGGER
The Puppet Show, by M.W. Craven
NEW BLOOD DAGGER
Scrublands, by Chris Hammer
IAN FLEMING STEEL DAGGER
To the Lions, by Holly Watt
INTERNATIONAL DAGGER
A Long Night in Paris, by Dov Alfon
NON-FICTION DAGGER
The Spy and the Traitor: the Greatest Espionage Story of the Cold War, by Ben Macintyre
HISTORICAL DAGGER
Destroying Angel, by S.G. MacLean
SHORT STORY
"The Dummies Guide to Serial Killing", by Danuta Reah
– Back to Top –
Membership Renewal

It's never too late to consider renewing your membership to Friends of Mystery! Dues are $20.00 annually. FOM is a 501 (c)(3) non-profit organization. Dues and additional donations are deductible to the full extent of the law. Please mail your check, made out to Friends of Mystery, to PO Box 8251, Portland, Oregon 97207. Your newsletter will be sent electronically unless otherwise requested.
– Back to Top –
Member News

Friends of Mystery is happy to publish news and press releases from our members in our Member News section, with the following considerations:
The news must be related to mystery or true crime writing, films, and television, as well as non-fiction examinations of the mystery genre.
Friends of Mystery will not be able to edit announcements, and will publish them as provided.
Friends of Mystery will include one image with each announcement, if provided.
Friends of Mystery is not responsible for the content of news announcements, and we reserve the right to not publish any announcements which we feel will reflect poorly on the organization and do not advance the organization's mission.
– Back to Top –
Submissions Needed

Members and readers are encouraged to submit book or film reviews, comments on authors, and recommendations for books to read or questions about mysteries, crime fiction and fact. If you have suggestions of mysteries worth sharing, please contact the editor at: jlvoss48@gmail.com
– Back to Top –