In this issue of The Blood-Letter from Friends of Mystery: Spotted Owl winner Robert Dugoni, Bloody Thursdays on Zoom, awards, book recommendations, and more!
September 2020
CONTENTS:
Friends of Mystery Goes Online
Out of caution and due to limits on public gatherings, Friends of Mystery will be hosting our Bloody Thursday 2020-2021 speaker series online using ZOOM.
Though we regret we won't have the opportunity to meet and mingle with our speakers and guests in person, going online does have its benefits. In addition to protecting the health of our participants, we will be able to serve attendees from literally around the world. And when possible, we will record the events, which means even if you can't make it at the scheduled time, you will be able to watch later at your convenience.
Bloody Thursday, October 1, 2020, Friends of Mystery Welcomes Robert Dugoni
NOTE: This event has moved from its originally scheduled date of September 24, 2020 to October 1, 2020.
Friends of Mystery is happy to welcome Spotted Owl Award winner Robert Dugoni, in conversation with Kelly Garrett. He is a critically acclaimed New York Times, Wall Street Journal, Washington Post and #1 Amazon bestselling author of the Tracy Crosswhite police detective series set in Seattle. Friends of Mystery is honored to present him with the 2020 Spotted Owl Award for The Eighth Sister.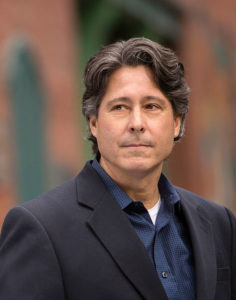 Dugoni's stand-alone novels include The 7th Canon, Damage Control, and the literary novel, The Extraordinary Life of Sam Hell – Suspense Magazine's 2018 Book of the Year, for which his narration won an AudioFile Earphones Award, as well as the nonfiction expose The Cyanide Canary, a Washington Post Best Book of the Year.
He is the recipient of the Nancy Pearl Award for Fiction and a two-time Spotted Owl Award winner (this year for The Eighth Sister.) He is also a two-time finalist for the International Thriller Award, the Harper Lee Prize for Legal Fiction, the Silver Falchion Award for mystery, and the Mystery Writers of America Edgar Award.
Please join us our first event of the 2020-2021 season. FOM will send out a link on the day of the event that you can use to attend. An EventBrite event page is going to be created that will be used to invite people not on our email list. Anyone who signs up on EventBrite will get a link also. We will plan to begin the event at 7:00 pm.
How To Attend
Blood-Letter subscribers will receive a link to the Zoom event on the day of the presentation. If you're not a subscriber, register for a free ticket at EventBrite to get your notification link.

Miss the Event? Watch It Online!
If you weren't able to join us for Robert Dugoni's visit with Friends of Mystery on Zoom, no problem! You can watch it any time online.
Check it out!
Use the passcode: D*39OZpt
– Back to Top –
Left Coast Crime 2021 "Southwest Sleuths" Rescheduled
Due to the uncertainty of holding large gatherings in the spring of 2021, the Left Coast Crime convention has been rescheduled for April 7-10, 2022 – same guests, same place, same week in April, just a year later.
Guest of Honor: Mick Herron
Guest of Honor: Catriona McPherson
Fan Guest of Honor: Kristopher Zgorski
Toastmaster: Kellye Garrett
Ghost of Honor: Tony Hillerman
Albuquerque, New Mexico
– Back to Top –
Bouchercon 2020 Goes Digital
Where Murder is a Capital Crime
Sacramento – October 16 -17, 2020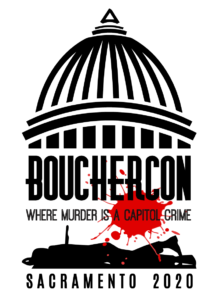 The Sacramento convention had to be cancelled because of COVID-19, but for $55.00 you can register for the virtual convention. "Planners of the new virtual convention are keeping as much of the standard format as we can – minus traveling, hotel costs, lost luggage, waiting in line and worry about loved ones pining for you back home."
Guests of honor are:
Scott Turow
Walter Mosley
Anne Perry
Anthony Horowitz
Catriona McPherson
Cara Black
Janet Rudolph
October 4th is the last day to register. Go to www.bouchercon2020.org/registration
– Back to Top –
Catching the Criminal
By Jay Margulies
Previously I recommended Collateral, Bodyguard, and Unbelievable, three shows I still rank among the best. I continue to highlight relatively unknown crime shows currently available on Netflix.
Criminal is perhaps the most imaginative new series. The premise, a police interrogation squad has a limited time to get the suspect to confess or to provide an important piece of evidence. The twist: this is a 12-part series, with three episodes set in Germany, France, Spain, and the United Kingdom. Only one set is used for every episode in the four countries: an interrogation room, an observation room, and a hallway. Each sequence of three features the same criminal investigators, many of them very smart women. Each episode is a standalone and the series can be seen in any order. But start with the first UK episode. It features David Tennant (star of Dr Who, Broadchurch, and The Spies of Warsaw) as the suspect.
Not for everyone is David Fincher's Mindhunter. Set in the 1960s & 1970s this two-season series focuses on the creation of the FBI's behavioral science unit to investigate and profile serial and mass killers. Interviews with creepy sociopaths (Richard Speck, Son of Sam, Charles Manson) are central to the action.
A 10-part, one season Netflix series, 7 Seconds, filmed three years ago seems especially relevant today. It focuses on a police cover-up of a careless car accident in New Jersey and it soon becomes a racist crime, a cop killing of a black teenager and the cover-up. The show's flaw is perhaps its fascination – it feels too familiar this year. The dialogue is too easy, the characters are often stereotypes, but there is an overall complexity that feels real. First rate acting, timely humor. (Episode 2 was directed by Jonathan Demme shortly before he died.)
A slight detour from the thriller, but a terrific political drama, is Borgen, a three-season Danish series shot about 10 years ago that is finally streaming on Netflix. This show features the leader of a minority party, brilliantly acted by Sidse Babett Knudsen, who becomes the first woman prime minister of Denmark. Her efforts to remain in power without abandoning her principles or her marriage are thoughtfully presented. We also follow the intrigue, compromise, petty corruption, political blackmail, sexual intrigues, and other realistic activities that are inevitable in a multi-party parliamentary form of government. Did I mention this is also great fun to watch!
– Back to Top –
Shortlists For Awards
2020 Ned Kelly Awards
Best International Crime Fiction
Cruel Acts, by Jane Casey
The Night Fire, by Michael Connelly
The Chain, by Adrian McKinty
The Last Widow, by Karin Slaughter
Macavity Awards
Best Mystery Novel
Your House Will Pay, by Steph Cha
This Tender Land, by William Kent Kruger
Lady in the Lake, by Laura Lippman
The Chain, by Adrian McKinty
The Murder List, by Hank Phillippi Ryan
Sarah Jane, by James Sallis
Best First Mystery Novel
The Ninja Daughter, by Tori Eldridge
My Lovely Wife, by Samantha Downing
Miracle Creek, by Angie Kim
One Night Gone, by Tara Laskowski
Call Me Evie, by J.P. Pomare
American Spy, by Lauren Wilkinson
Best Mystery Nonfiction/Critical
Hitchcock and the Censors, by John Billheimer
Frederic Dannay, Ellery Queen's Mystery Magazine and the Art of the Detective Short Story, by Laird R. Blackwell
Beyond the Thirty-Nine Steps: A Life of John Buchan, by Ursula Buchan
Norco '80: The True Story of the Most Spectacular Bank Robbery in American History, by Peter Houlahan
The Mutual Admiration Society: How Dorothy L. Sayers and her Oxford Circle Remade the World for Women, by Mo Moulton
Indecent Advances: A Hidden History of True Crime and Prejudice Before Stonewall, by James Polchin
Sue Feder Historical Mystery Award
Murder Knocks Twice, by Susanna Calkins
The Pearl Dagger, by L.A. Chandler
A Lady's Guide to Gossip and Murder, by Dianne Freeman
The Satapur Moonstone, by Sujata Massey
Charity's Burden, by Edith Maxwell
The Secrets We Kept, by Lara Prescott
– Back to Top –
Bloody Scotland Awards
The McIlvanney Prize is Bloody Scotland's annual prize awarded to the best Scottish Crime book of the year. The prize was renamed in memory of William McIlvanney, often described as the Godfather of Tartan Noir, in 2016. The Debut Prize was introduced in 2019 to honor outstanding new voices in Scottish crime writing.
Hold Your Tongue, by Deborah Masson
McIlvanney Prize
– Back to Top –
New Mysteries to Check Out
(Summaries provided by the publishers)
Eight Perfect Murders
by Peter Swanson
Years ago, bookseller and mystery aficionado Malcolm Kershaw compiled a list of fiction's most unsolvable murders – which he titled "Eight Perfect Murders" – chosen from among the best of the best, including Agatha Christie's The A.B.C. Murders, Patricia Highsmith's Strangers on a Train, and Ira Levin's Deathtrap.
But no one is more surprised than Mal, now the owner of the Old Devils Bookstore in Boston, when an FBI agent comes knocking on his door one snowy day in February. She's looking for information about a series of unsolved murders that look eerily similar to the killings on Mal's old list. And the agent isn't the only one interested in this bookseller who spends almost every night at home reading. The killer is out there, watching his every move – a diabolical threat who knows way too much about Mal's personal history, especially the secrets he's never told anyone, even his recently deceased wife.
To protect himself, Mal begins looking into possible suspects…and sees a killer in everyone around him. But Mal doesn't count on the investigation leaving a trail of death in its wake. Suddenly, a series of shocking twists leaves more victims dead – and the noose around Mal's neck grows so tight he might never escape.
The Cutting Place
by Jane Casey
Everyone's heard the rumors about elite gentlemen's clubs, where the champagne flows freely, the parties are the height of decadence…and the secrets are darker than you could possibly imagine.
DS Maeve Kerrigan finds herself in an unfamiliar world of wealth, luxury and ruthless behavior when she investigates the murder of a young journalist, Paige Hargreaves. Paige was working on a story about the Chiron Club, a private society for the richest and most privileged men in London. Then she disappeared.
It's clear to Maeve that the members have many secrets. But Maeve is hiding secrets of her own – even from her partner DI Josh Derwent. Will she uncover the truth about Paige's death? Or will time run out for Maeve first?
(This is the ninth in this series.)
The Silence of the White City
by Eva Garcia Saenz
A madman is holding Vitoria hostage, killing its citizens in brutal ways and staging the bodies. The city's only hope is a brilliant detective struggling to battle his own demons.
Inspector Unai Lopez de Ayala, known as "Kraken," is charged with investigating a series of ritualistic murders. The murders are eerily similar to ones that terrorized the citizens of Vitoria twenty years earlier. But back then, police were sure they had discovered the killer, a prestigious archaeologist who is currently in jail. Now Kraken must race to determine whether the killer had an accomplice or if the wrong man has been incarcerated for two decades. This fast-paced, unrelenting thriller weaves in and out of the mythology and legends of the Basque country as it hurtles to its shocking conclusion.
(The first of a three-part series.)
– Back to Top –
Share Your Member News
Friends of Mystery is happy to publish news and press releases from our members in our Member News section, with the following considerations:
The news must be related to mystery or true crime writing, films, and television, as well as non-fiction examinations of the mystery genre.
Friends of Mystery will not be able to edit announcements, and will publish them as provided.
Friends of Mystery will include one image with each announcement, if provided.
Friends of Mystery is not responsible for the content of news announcements, and we reserve the right to not publish any announcements which we feel will reflect poorly on the organization and do not advance the organization's mission.
– Back to Top –
Membership Renewal
It's never too late to consider renewing your membership to Friends of Mystery! Dues are $20.00 annually. FOM is a 501 (c)(3) non-profit organization. Dues and additional donations are deductible to the full extent of the law. Please mail your check, made out to Friends of Mystery, to PO Box 8251, Portland, Oregon 97207. Your newsletter will be sent electronically unless otherwise requested.
– Back to Top –
Submissions Needed
Members and readers are encouraged to submit book or film reviews, comments on authors, and recommendations for books to read or questions about mysteries, crime fiction and fact. If you have suggestions of mysteries worth sharing, please contact the editor at: jlvoss48@gmail.com
– Back to Top –
STAY SAFE AND HEALTHY