In this issue of The Blood-Letter from Friends of Mystery: a preview of our November 2020 Bloody Thursday guest Robert Donnelly, awards, new books, and more!
November 2020

CONTENTS:

Friends of Mystery Goes Online

Out of caution and due to limits on public gatherings, Friends of Mystery will be hosting our Bloody Thursday 2020-2021 speaker series online using ZOOM.
Though we regret we won't have the opportunity to meet and mingle with our speakers and guests in person, going online does have its benefits. In addition to protecting the health of our participants, we will be able to serve attendees from literally around the world. And when possible, we will record the events, which means even if you can't make it at the scheduled time, you will be able to watch later at your convenience.
Bloody Thursday, November 19, 2020, Friends of Mystery Welcomes Robert C. Donnelly

Friends of Mystery is pleased to welcome Robert Donnelly as our November speaker (originally scheduled for our March 2020 meeting.) He is an Associate Professor at Gonzaga University in Spokane, Washington, where he has taught U.S. History since 2004. Donnelly earned degrees at Western Oregon University, Portland State University, and Marquette University, and is the author of Dark Rose: Organized Crime and Corruption in Portland (UW Press, 2011). Dr. Donnelly is a native Oregonian who was born in Eugene and raised in Winston, Oregon.
Please join us via Zoom on Thursday evening, November 19th. If we have your email address you will automatically receive an invitation. The evening will begin at 6:30 pm with a time to casually chat, and the program will begin at 7:00 pm. We hope you will be able to join us.
FOM Members will receive an email the morning of the event with Zoom login information. You can also register for a free ticket EventBrite.
Miss Our September Event? Watch It Online!
If you weren't able to join us for Robert Dugoni's visit with Friends of Mystery on Zoom, no problem! You can watch it any time online.
Check it out!
Use the passcode: D*39OZpt
– Back to Top –
Bouchercon 2020 Goes Virtual

Due to the pandemic, Bouchercon was conducted virtually, and the usual awards were presented. The winners, voted on by conference attendees, were:
2020 Anthony Awards

Best Mystery Novel
The Murder List, by Hank Phillippi Ryan
Best First Mystery
One Night Gone, by Tara Laskowski
Best Paperback Original
The Alchemist's Illusion, by Gigi Pandian
Best Critical Non-Fiction
The Mutual Admiration Society: How Dorothy L. Sayers and Her Oxford Circle Remade the World for Women, by Mo Moulton
Best Anthology or Collection
Malice Domestic 14: Mystery Most Edible, edited by Verena Rose Rita Owen and Shawn Reilly Simmons
Best Young Adult
Seven Ways to Get Rid of Harry, by Jen Conley
2020 Barry Awards

(voted on by readers of Deadly Pleasures)
Best Mystery/Crime Novel
The Lost Man, by Jane Harper
Best First Mystery/Crime Novel
The Chestnut Man, by Soren Sveistrup
Best Paperback Original Mystery/ Crime Novel
Missing Daughter, by Rick Mofina
Best Thriller
The Chain, by Adrian McKinty
Best Mystery/Crime Novel of the Decade
2020 Macavity Awards

(nominated/voted on by members of Mystery Readers international)
Best Mystery Novel
The Chain, by Adrian McKinty
Best First Mystery Novel
One Night Gone, by Tara Laskowski
Best Mystery Nonfiction/Critical
Hitchcock and the Censors, by John Billheimer
Sue Feder Historical Mystery Award
The Secrets We Kept, by Lara Prescott
– Back to Top –
Crime Writers Association 2020 Dagger Awards

(presented by a specialist authors' group in the United Kingdom)
Gold Dagger
Good Girl, Bad Girl, by Michael Robotham
Ian Fleming Steel Dagger
November Road, by Lou Berney
John Creasey New Blood Dagger
The Man on the Street, by Trevor Wood
Crime Fiction in Translation Dagger
The Godmother, by Hannelore Cayre
Non-Fiction Dagger
Furious Hours: Murder, Fraud, and the Last Trial of Harper Lee, by Casey Cep
Historical Dagger
Death in the East, by Abir Mukherjee
– Back to Top –
Spotted Owl Committee Hard at Work

Even though we have not been able to meet in person, our committee members have been diligently reading mysteries written by authors living in the Pacific Northwest. Among those being considered are:
Stone Cross, by Marc Cameron
A Cold Trail, by Robert Dugoni
The Last Agent, by Robert Dugoni
A Desperate Place, by Jennifer Greer
Credible Threat, by J.A. Jance
The Last High, by Danie Kalla
Derailed, by Mary Keliikoa
Shadows of the Dead, by Spencer Kope
House Privilege, by Mike Lawson
A Reasonable Doubt, by Phil Margolin
No Fixed Line, by Dana Stabenow
And just entering the competition is River Blues, a book by FOM member, Doc Macomber.
The publishing deadline is December 31, 2020, so if you know an author who has a book qualifying to be considered, please let me know at: jlvoss48@gmail.com
–Jeannette Voss
– Back to Top –
Portland's Dark Past

If you want more background related to our speaker, you may want to check out his book.
Dark Rose: Organized Crime and Corruption in Portland, by Robert Donnelly

Dark Rose reveals the fascinating and sordid details of an important period in the history of what by the end of the century had become a great American city. It is a story of Portland's repeated and often failed efforts to flush out organized crime and municipal corruption – a familiar story for many mid-twentieth-century American cities that were attempting to clean up their police departments and municipal governments. Dark Rose also helps explain the heritage of Portland reform politics and the creation of what is today one of the country's most progressive cities.
(Summary provided by the publisher.)
– Back to Top –
A Look Backwards . . .

When one reads a lot of mysteries it can be hard to remember which books you have read and why you liked them. I am picking a book to share that I read shortly after it came out in 2000 and am getting ready to read again. If you have a similar book you would like to share in a future newsletter, please contact me.
–Jeannette Voss
A Place of Execution, by Val McDermid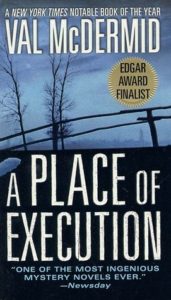 On a freezing day in December 1963, Alison Carter vanishes from her rural village, an insular community that distrusts the outside world. For the young George Bennett, a newly promoted inspector, it is the beginning of his most difficult and harrowing case—a suspected murder with no body, an investigation with more dead ends and closed faces than he'd have found in the anonymity of the inner city, and an outcome that reverberates through the years.
Decades later Bennett finally tells his story to journalist Catherine Heathcote, but just when the book is poised for publication, he unaccountably tries to pull the plug. He has new information that he refuses to divulge, new information that threatens the very foundations of his existence. Catherine is forced to reinvestigate the past, with results that turn the world upside down.
A Greek tragedy in modern England, A Place of Execution is a taut psychological thriller that explores, exposes, and explodes the border between reality and illusion in a multilayered narrative that turns expectations on their heads and reminds us that what we know is what we do not know.
(Summary provided by the publisher.)
– Back to Top –
Looking Forward . . .

Coming this spring is a new stand-alone book by Elly Griffiths, winner of an Edgar for The Stranger Diaries.
The Postscript Murders, by Elly Griffiths

'PS: Thanks for the murders.'
The death of a ninety-year-old woman with a heart condition should absolutely not be suspicious. DS Harbinder Kaur certainly sees nothing to concern her in carer Natalk's account of Peggy Smith's death.
But when Natalka reveals that Peggy lied about her heart condition and that she had been sure someone was following her . . .
And when clearing out Peggy's flat ends in Natalka being held at gunpoint by a masked figure . . .
Well then DS Harbinder Kaur thinks that maybe there is no such thing as an unsuspicious death after all.
'PS: Trust no one.'
(Summary provided by the author.)
On December 1st, Cat Kinsella returns for her third outing in the acclaimed series from Caz Frear.
Shed No Tears, by Caz Frear
Four victims. Killer caught. Case closed . . . or is it?
Growing up in a London family with ties to organized crime, Detective Constable Cat Kinsella knows the criminal world better than most cops do. As a member of the city's Metropolitan Police, she's made efforts to distinguish herself from her relatives. But leading an upstanding life isn't always easy, and Cat has come close to crossing the line, a fact she keeps well hidden from her superiors.
Working their latest case, Cat and her partner Luigi Parnell discover a connection to a notorious criminal: serial killer Christopher Masters, who abducted and killed several women in 2012. Though the cops eventually apprehended him, his final victim, Holly Kemp, was never found and he never confessed to her murder, despite the solid eyewitness testimony against him. Now, six years later, the discovery of Holly's remains near Cambridge seems to be the definitive proof needed to close the case.
Still, a few key items of evidence don't quite line up. As Cat and Parnell look closer, they find discrepancies that raise troubling questions. But someone will do anything to keep past secrets hidden—and as they inch closer to the truth, they may be putting themselves in jeopardy . . .
(Summary provided by the publisher.)
– Back to Top –
For Your Viewing Pleasure . . . A Noir Crime Thriller

If you have Amazon Prime Video, or Acorn, may I suggest taking a look at Mystery Road, a six episode series (with two bonus episodes) set in the outback of Australia, and starring Judy Davis and Aaron Pedersen. Local sheriff Emma James (Judy Davis) asks for assistance in solving the disappearance of two boys from a remote cattle station, and help arrives in the form of Jay Swan (Aaron Pedersen), an Indigenous detective. While there is some tension between them because of their differing styles, as they work toward a solution they uncover other crimes.
This series was based on two movies, Mystery Road and Goldstone. The time period explored in the series falls between the two movies. This is season one, with season two being released on DVD in 2021, with both series featuring Aaron Pedersen.
–Jeannette Voss
– Back to Top –
Share Your Member News

Friends of Mystery is happy to publish news and press releases from our members in our Member News section, with the following considerations:
The news must be related to mystery or true crime writing, films, and television, as well as non-fiction examinations of the mystery genre.
Friends of Mystery will not be able to edit announcements, and will publish them as provided.
Friends of Mystery will include one image with each announcement, if provided.
Friends of Mystery is not responsible for the content of news announcements, and we reserve the right to not publish any announcements which we feel will reflect poorly on the organization and do not advance the organization's mission.
– Back to Top –
Membership Renewal

It's never too late to consider renewing your membership to Friends of Mystery! Dues are $20.00 annually. FOM is a 501 (c)(3) non-profit organization. Dues and additional donations are deductible to the full extent of the law. Please mail your check, made out to Friends of Mystery, to PO Box 8251, Portland, Oregon 97207. Your newsletter will be sent electronically unless otherwise requested.
– Back to Top –
Submissions Needed

Members and readers are encouraged to submit book or film reviews, comments on authors, and recommendations for books to read or questions about mysteries, crime fiction and fact. If you have suggestions of mysteries worth sharing, please contact the editor at: jlvoss48@gmail.com
– Back to Top –