In this issue of The Blood-Letter from Friends of Mystery: a preview of our January 2021 Bloody Thursday guest S.A. Cosby interviewed by James D.F. Hannah, books and television, and more!
January 2021

CONTENTS:

Friends of Mystery Goes Online

Out of caution and due to limits on public gatherings, Friends of Mystery will be hosting our Bloody Thursday 2020-2021 speaker series online using ZOOM.
Though we regret we won't have the opportunity to meet and mingle with our speakers and guests in person, going online does have its benefits. In addition to protecting the health of our participants, we will be able to serve attendees from literally around the world. And when possible, we will record the events, which means even if you can't make it at the scheduled time, you will be able to watch later at your convenience.
On January 28, 2021 FOM Welcomes S.A. Cosby, Interviewed by James D.F. Hannah, For Bloody Thursday

Friends of Mystery is pleased to welcome S.A. Cosby as our speaker to start off 2021 in style!
Cosby's most recent book is the widely praised Blacktop Wasteland (see preview below), which was named Amazon's #1 Mystery and Thriller of the Year and their #3 Best Book of 2020 overall. It was also a New York Times Notable Book of the Year, a New York Times Editors' Choice Book, and a Goodreads Choice Awards semi-finalist. As Bill Ott wrote in Booklist, "A superb work of crime fiction, uncompromisingly noir but deeply human, too, much like Lou Berney's November Road."
A writer of rural noir, he is from southeastern Virginia. Cosby won the 2019 Anthony Award for Best Short Story for, "The Glass Beneath My Feet", and his previous books include Brotherhood of the Blade and My Darkest Prayer. He resides in Gloucester, Virginia. When not writing, he is an avid hiker and chess player.
His next book is entitled Razorblade Tears, and is scheduled for release on July 6, 2021.
James D.F. Hannah is the Shamus Award-winning author of the Henry Malone novels, as well as the novel The Righteous Path. A native of eastern Kentucky and southern West Virginia, Hannah was an award-winning former journalist and columnist before moving into governmental public relations. He lives with entirely too many cats in Louisville, Kentucky.
Please join us via Zoom on Thursday evening, January 28th. If we have your email address you will automatically receive an invitation. The evening will begin at 6:30 pm with a time to casually chat, and the program will begin at 7:00 pm. We hope you will be able to join us.
You can also register for the event Free at EventBrite. By registering, you'll be sure to receive an invite to Zoom with all login info on the day of the event. Register here.
– Back to Top –
In Memoriam

Parnell Hall
October 31, 1944 – December 15, 2020
Hall was the author of the Stanley Hastings private eye novels, the Puzzle Lady crossword puzzle mysteries, and the Steven Winslow courtroom dramas. He was the co-author of four Teddy Fay novels with Stuart Woods. His latest novel was a thriller, Chasing Jack.
---
John le Carre
October 19, 1931 – December 12, 2020
Le Carre was born David John Moore in Poole, Dorset. He was a writer of Cold War thrillers and spy novels. He was himself a spy of various kinds for 16 years, for both M.I.6 and M.I.5. His first book, Call for the Dead (1961) introduced the character of Smiley. His third novel, The Spy Who Came in From the Cold, was a best-seller, and was made into a movie starring Richard Burton. After this he was able to become a full-time writer. Among his other novels were The Looking Glass War; A Small Town in Germany; Tinker, Tailor, Soldier, Spy; The Honourable Schoolboy; Smiley's People; and The Constant Gardener. He also wrote a memoir, The Pigeon Tunnel, in 2016. He donated his archive of personal papers, letters and manuscripts to the Bodleian Library in Oxford.
---
John Lutz
September 11, 1939 – January 9, 2021
Lutz wrote over 40 novels and about 200 short stories, and they covered virtually every mystery subgenre. He published his first short story in 1966. His novel, SWF Seeks Same (1990) was adapted into a film in 1992 starring Bridget Fonda and Jennifer Jason Lee (Single White Female). Lutz's most recent novel, The Havana Game, was published in 2018. Lutz died of complications of Lewy body dementia, Parkinson's and COVID-19.
– Back to Top –
A Review Publication to Check Out: Deadly Pleasures

Deadly Pleasures is a mystery genre review publication that has recently changed to an online only format. It is published quarterly, and if you go to their website: www.deadlypleasures.com you can review a sample issue for free.
The next issue is to be published January 21st and features Louise Penny on the cover. The current issue (#89) features Julie Clark (The Last Flight) and "Novels of Capture, Escape and Rescue" on the cover. Inside the issue there are a variety of columnists and reviewers. One of the features is "Reviewed to Death", where the same book is reviewed by a number of their reviewers, sometimes with quite a difference in their opinions of the book. This issue happens to do a "Mini-Reviewed to Death" of Blacktop Wasteland, the book written by our speaker this month. There was no disagreement in their ratings on this one – they ranged from A+ to A-.
The cost of a subscription for a year is $10.00, and in my view is a bargain for the number and breadth of the reviews. Check out the free issue and see if it is something you might want to consider. The website also has articles that are free for anyone to read. Give it a try.
– Back to Top –
For Your Viewing Pleasure . . .

I have two suggestions, both available free on Amazon Prime:
The Fall

The Fall, starring Gillian Anderson and Jamie Dornan. There are three seasons of this psychological thriller set in Belfast, Northern Ireland. DSI Stella Gibson is asked to come over from the London Metropolitan Police to help the police with crimes that suggest a sexually-motivated serial killer. The killer, Paul Spector, is a father and family man who is a grief counselor and leads a double life – no one suspects him of any crimes. Over the three seasons we discover how his crimes affect not only the victims but also his family and the police officers who are attempting to bring him to justice.
I'm Your Woman

I'm Your Woman, starring Rachel Brosnahan. Set in the 1970's, Jean is the somewhat pampered wife of a criminal. In the opening scenes he brings home a baby and gives it to her, saying it is "their baby." Soon her husband goes out on a job with his cohorts, and someone she doesn't know shows up to tell her she needs to leave for her safety and go on the run with the baby.
– Back to Top –
For Your Reading Pleasure . . .

The Thursday Murder Club, by Richard Osman

In a peaceful retirement village, four unlikely friends meet weekly in the Jigsaw Room to discuss unsolved crimes; together they call themselves the Thursday Murder Club.
There's Red Ron, the infamous former socialist firebrand, still causing trouble; gentle Joyce, widowed, pining for another resident, but surely not as innocent as she seems; Ibrahim, a former therapist who understands the darker side of human nature; and Elizabeth? Well, no one is quite sure who she really is, but she's definitely not a woman to underestimate.
When a local developer is found dead, the Thursday Murder Club suddenly find themselves in the middle of their first live case. The friends might be septuagenarians, but they are cleverer than most. Can our unorthodox but brilliant gang catch the killer before it's too late?
(Summary provided by the publisher.)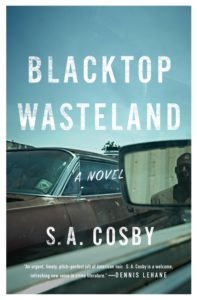 Blacktop Wasteland, by S.A. Cosby

Beauregard 'Bug' Montage is an honest mechanic, a loving husband, and a hardworking dad. Bug knows there's no future in the man he used to be: known from the hills of North Carolina to the beaches of Florida as the best wheelman on the East Coast.
He thought he'd left all that behind him, but as money gets tight, his carefully built new life begins to crumble. Pushed to his limits by poverty, race, and his own former life of crime, Bug finds himself drawn inexorably back into the world. When a smooth-talking former associates comes calling with a can't-miss jewelry store heist, Bug feels he has no choice but to get back in the driver's seat. And Bug is at his best when the scent of gasoline mixes with the smell of fear.
Haunted by the ghost of who he used to be and the father who disappeared when he needed him most, Bug must find a way to navigate this blacktop wasteland…or die trying.
(Summary provided by the publisher.)
– Back to Top –
Share Your Member News

Friends of Mystery is happy to publish news and press releases from our members in our Member News section, with the following considerations:
The news must be related to mystery or true crime writing, films, and television, as well as non-fiction examinations of the mystery genre.
Friends of Mystery will not be able to edit announcements, and will publish them as provided.
Friends of Mystery will include one image with each announcement, if provided.
Friends of Mystery is not responsible for the content of news announcements, and we reserve the right to not publish any announcements which we feel will reflect poorly on the organization and do not advance the organization's mission.
– Back to Top –
Membership Renewal

It's never too late to consider renewing your membership to Friends of Mystery! Dues are $20.00 annually. FOM is a 501 (c)(3) non-profit organization. Dues and additional donations are deductible to the full extent of the law. Please mail your check, made out to Friends of Mystery, to PO Box 8251, Portland, Oregon 97207. Your newsletter will be sent electronically unless otherwise requested.
– Back to Top –
Submissions Needed

Members and readers are encouraged to submit book or film reviews, comments on authors, and recommendations for books to read or questions about mysteries, crime fiction and fact. If you have suggestions of mysteries worth sharing, please contact the editor at: jlvoss48@gmail.com
– Back to Top –
"The sum of it all is: read what you like, because you like it, seeking no other reason and no other profit than the experience of reading."