In this issue of The Blood-Letter from Friends of Mystery: a preview of our March 2021 Bloody Thursday guests Chris Holm & Katrina Niidas Holm, awards, books and a remembrance.
March 2021

CONTENTS:

Friends of Mystery Goes Online

Out of caution and due to limits on public gatherings, Friends of Mystery will be hosting our Bloody Thursday 2020-2021 speaker series online using ZOOM.
Though we regret we won't have the opportunity to meet and mingle with our speakers and guests in person, going online does have its benefits. In addition to protecting the health of our participants, we will be able to serve attendees from literally around the world. And when possible, we will record the events, which means even if you can't make it at the scheduled time, you will be able to watch later at your convenience.
On March 25, 2021 FOM Welcomes Chris Holm & Katrina Niidas Holm In Conversation For Bloody Thursday

Chris Holm is the author of the cross-genre Collector trilogy, the Michael Hendricks thrillers, and the forthcoming standalone thriller, Child Zero. His work has been selected for The Best American Mystery Stories, named a New York Times Editor's Choice, appeared on more than fifty year's best lists, and has won a number of awards, including the 2016 Anthony Award for Best Novel. Chris and his wife, writer/editor/reviewer Katrina Niidas Holm, live in Portland, Maine. No, she hasn't reviewed his books.
Katrina Niidas Holm is a voracious and opinionated reader. She's also the wife of writer Chris Holm and an unabashed fan of Portland, Maine. She writes features and reviews for a number of sites and publications, including Publishers Weekly, Kirkus, and Mystery Scene, where she is the small and independent press reviews columnist. She also contributed to the Los Angeles Review of Books and did a stint as editor and social media maven for The Life Sentence.
They will be discussing their roles in the mystery world, Chris as a writer and Katrina as a reviewer.
Please join us via Zoom on Thursday evening, March 25th. If we have your email address you will automatically receive an invitation. The evening will begin at 5:30 pm Pacific with time to casually chat, and the program will begin at 6:00 pm Pacific. We hope you will be able to join us.
IMPORTANT: This month's event will take place one hour earlier than usual, with the social time starting at 5:30pm Pacific and the program following at 6:00pm Pacific!
– Back to Top –
IN MEMORIAM

Margaret Maron passed away on February 23, 2021 from a stroke-related illness. She was 82 years old.
Maron was the author of more than 30 books. She was best known for her two series with strong women characters. Her first series featured Sigrid Harald, a New York City police detective. Her second featured Deborah Knott, a legal aid lawyer running for a judgeship in North Carolina. The first book in that series, Bootlegger's Daughter, won the Edgar, Anthony, Agatha and Macavity awards. In the following books she had become a judge.
– Back to Top –
Edgar Award Nominations 2020

Awards season approaches, and these are the books up for awards presented by the Mystery Writers of America for works published or produced in 2020. The Edgar Awards will be presented April 29, 2021.
(For other categories not listed here, go to www.theedgars.com)
Best Novel

Anappara, Deepa. Djinn Patrol on the Purple Line.
Cooney, Caroline B. Before She Was Helen.
Osman, Richard. The Thursday Murder Club.
Pochoda, Ivy. These Women.
Quartey, Kwei. The Missing American.
Young, Heather. The Distant Dead.
Best First Novel

March, Nev. Murder in Old Bombay.
Mullen, Caitlin. Please See Us.
Thomas, Elisabeth. Catherine House.
Wanbli, David Heska. Winter Counts.
Wrobel, Stephanie. Darling Rose Gold.
Best Paperback Original

Cole, Alyssa. When No One Is Watching.
Freeman, Brian. The Deep, Deep Snow.
Lourey, Jess. Unspeakable Things.
Moore, Jessica. The Keeper.
Rahman, Khurrum. East of Hounslow.
Best Fact Crime

Bradley, Mark A. Blood Runs Coal: The Yablonski Murders and the Battle for the United Mine Workers of America.
Eisenberg, Emma Copley. The Third Rainbow Girl: The Long Life of a Double Murder in Appalachia.
Eyre, Eric. Death in Mud Lick: A Coal Country Fight Against the Drug Companies that Delivered the Opiod Epidemic.
Murdoch, Sierra Crane. Yellow Bird: Oil, Murder, and a Woman's Search for justice in Indian Country.
Sabar, Ariel. Veritas: A Harvard Professor, a Con Man, and the Gospel of Jesus's Wife.
Best Critical/Biographical

Edwards, Martin, ed. Howdunit: A Masterclass in Crime Writing by Members of the Detection Club.
Lane, Christina. Phantom Lady: Hollywood Producer Joan Harrison, the Forgotten Woman Behind Hitchcock.
MacDonald, Erin E. Ian Rankin: A Companion to the Mystery Fiction.
Mannion, Elizabeth and Cliff, Brian, eds. Guilt Rules All: Irish Mystery, Detective, and Crime Fiction.
Winspear, Jacqueline. This Time Next Year We'll Be Laughing.
The Simon & Schuster Mary Higgins Clark Award

Fredericks, Mariah. Death of an American Beauty.
Hart, Elsa. The Cabinets of Barnaby Mayne.
Rader-Day, Lori. The Lucky One.
Ryan, Hank Phillippi. The First to Lie.
Shelton, Paige. Cold Wind.
The G.P. Putnam's Sons Sue Grafton Memorial Award

Kent, Kathleen. The Burn.
King, Laurie R. Riviera Gold.
Knecht, Rosalie. Vera Kelly Is Not a Mystery.
Paretsky, Sara. Dead Land.
Tuti, Ilaria. The Sleeping Nymph.
Ziskin, James W. Turn to Stone.
– Back to Top –
For Your Viewing Pleasure . . . "Obsessive Cops"

By Jay Margulies
I've been pleased to receive several notes about my previous recommendations, especially praising Unbelievable on Netflix. I haven't written anything for the most recent newsletters because of Coronavirus fatigue and also because I couldn't recommend any series without issuing serious warnings. At the moment I am watching three terrific cop series and am delighted to recommend each of them.
Last week I finished watching the first season of Line of Duty (Amazon Prime). This BBC series focuses on a small police squad that investigates internal police misconduct and corruption. This series began in 2012 and season 7 has just been filmed. I've just started season 2, and after two episodes I'm still hooked. Each season details one major investigation. This show delights with multiple plot twists. Don't get too attached to anyone.
The Netflix series The Sinner is also filled with surprises that terrify and delight. Certainly the first season where Jessica Biel stars as a housewife who becomes enraged by music on the beach and violently kills an apparent stranger. Bill Pullman is the police investigator determined to discover the motive for the crime. The story moves frequently from present to past as it attempts to show motive. As the cop says, "I could tell she had a story." Most surprising, it somehow makes sense in the end. I've been warned by a friend who is usually right that Pullman and the series get a bit tedious. But I've finished episode 3 of the second season and I'm not stopping. Filmed in upstate New York.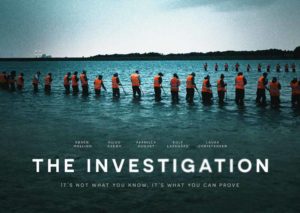 I could probably recommend any Scandinavian detective show (Wallender, The Bridge, etc.). One new show stands out and is worth putting on your "To Watch" list. The Investigation is a 6-episode true-crime series from Denmark based on the 2017 brutal murder of a Swedish journalist. The series focuses on the careful investigation of the crime by the Copenhagen police. It's now showing on HBO. Episode 4 detailing the watery search for the body should become a classic. The leading actors will be familiar to fans of the Danish series Borgen.
One final movie recommendation (Netflix). Don't miss the not-very-dark comedy I Care a Lot. Rosamund Pike recently won a Golden Globe for her role as the crooked conservator trying to fleece Dianne Wiest out of everything. Nonstop twists. Peter Dinklage as a Russian mobster.
– Back to Top –
Books To Consider . . .

(Summaries provided by the publishers)
Cruel as the Grave, by Cynthia Harrod-Eagles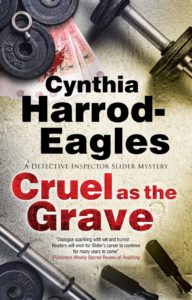 Fitness trainer Erik Lingoss is found dead in his west London flat, his head smashed by one of his own dumbbells. His heartlessly-dumped girlfriend, blood on her clothes and hands, is the prime suspect. She had means, opportunity, and motive.
But is the case as clear-cut as it seems? Handsome Erik Lingoss had clients in high places; and he seemed to engender powerful emotions. If it was a crime of passion, there was plenty of that to go round: love strong as death, jealousy cruel as the grave.
Who did he let in to his flat that evening? Where is his missing mobile phone? Why is seven hundred pounds in cash stuffed under his pillow? The deeper Slider and his team dig, the clearer it becomes there's far more to this case than meets the eye.
The Butterfly House, by Katrine Engberg

Hospitals are supposed to be places of healing. But in the coronary care unit at one of Copenhagen's leading medical centers, a nurse fills a syringe with an overdose of heart medication and stealthily enters the room of an older male patient.
Five days earlier, a paperboy on his route in central Copenhagen stumbles upon a macabre find: the naked body of a dead woman, lying in a fountain, her arms marked with small incisions. Cause of death? Exsanguination—the draining of all the blood in her body.
Clearly, this is no ordinary murder. Lead investigator Jeppe Korner, recovering from a painful divorce and in the throes of a new relationship, takes on the case. His partner, Anette Werner, now on maternity leave after an unexpected pregnancy, is restless at home with a demanding newborn and an equally demanding husband. While Jeppe pounds the streets looking for answers, Anette decides to do a little freelance sleuthing. But operating on her own exposes her to dangers she can't even begin to fathom.
As the investigation ventures into dark corners, it uncovers the ambition and greed that fester beneath the surface of caregiving institutions.
Murder in Old Bombay, by Nev March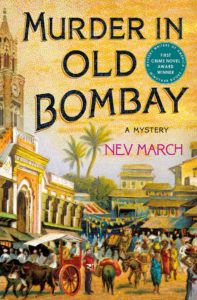 In 1892, Bombay is the center of British India. Nearby, Captain Jim Agnihotri lies in Poona Military hospital recovering from a skirmish on the wild northern frontier, with little to do but reread the tales of his idol, Sherlock Holmes, and browse the daily papers. The case that catches Captain Jim's attention is being called the crime of the century: Two women fell from the busy university's clock tower in broad daylight. Moved by Adi, the widower of one of the victims—his certainty that his wife and sister did not commit suicide—Captain Jim approaches the Parsee family and is hired to investigate what happened that terrible afternoon.
But in a land of divided loyalties, asking questions is dangerous. Captain Jim's investigation disturbs the shadows that seem to follow the Framji family and triggers an ominous chain of events. And when lively Lady Diana Framji joins the hunt for her sisters' attackers, Captain Jim's heart isn't safe, either.
– Back to Top –
The Spotted Owl Award Announcement Is Near

The Spotted Owl Committee has been hard at work, and we are planning to announce the winner and runners-up at the March 25th meeting. Good luck to all the authors under consideration!
– Back to Top –
Want To Join A Book Club For People Who Read Mysteries?

There are two book clubs reading mysteries. Check them out on our website (www.friendsofmystery.org) or go directly to www.friendsofmystery.org/book-group/ and see what they're reading. They are meeting via Zoom so for the time being you can be comfortable at home and interact with other mystery aficionados!
– Back to Top –
Share Your Member News

Friends of Mystery is happy to publish news and press releases from our members in our Member News section, with the following considerations:
The news must be related to mystery or true crime writing, films, and television, as well as non-fiction examinations of the mystery genre.
Friends of Mystery will not be able to edit announcements, and will publish them as provided.
Friends of Mystery will include one image with each announcement, if provided.
Friends of Mystery is not responsible for the content of news announcements, and we reserve the right to not publish any announcements which we feel will reflect poorly on the organization and do not advance the organization's mission.
– Back to Top –
Membership Renewal

It's never too late to consider renewing your membership to Friends of Mystery! Dues are $20.00 annually. FOM is a 501 (c)(3) non-profit organization. Dues and additional donations are deductible to the full extent of the law. Please mail your check, made out to Friends of Mystery, to PO Box 8251, Portland, Oregon 97207. Your newsletter will be sent electronically unless otherwise requested.
– Back to Top –
Submissions Needed

Members and readers are encouraged to submit book or film reviews, comments on authors, and recommendations for books to read or questions about mysteries, crime fiction and fact. If you have suggestions of mysteries worth sharing, please contact the editor at: jlvoss48@gmail.com
– Back to Top –
"A reader lives a thousand lives before he dies. The man who never reads lives only one."