In this issue of The Blood-Letter from Friends of Mystery: a preview of our May 2021 Bloody Thursday guest Cara Black, awards, books, and recommended TV.
May 2021

CONTENTS:

Friends of Mystery Goes Online

Out of caution and due to limits on public gatherings, Friends of Mystery will be hosting our Bloody Thursday 2020-2021 speaker series online using ZOOM.
Though we regret we won't have the opportunity to meet and mingle with our speakers and guests in person, going online does have its benefits. In addition to protecting the health of our participants, we will be able to serve attendees from literally around the world. And when possible, we will record the events, which means even if you can't make it at the scheduled time, you will be able to watch later at your convenience.
Next Season

We plan to continue with Zoom events for the first two Bloody Thursdays of the 2021-2022 Season, with hopes to return to in-person events in January.
Bloody Thursday, May 27, 2021, FOM Welcomes Cara Black

Cara Black is the New York Times and USA Today bestselling author of 19 books in the Private Investigator Aimée Leduc series, which is set in Paris. Cara has received multiple nominations for the Anthony and Macavity Awards, a Washington Post Book World Book of the Year citation, the Medaille de la Ville de Paris — the Paris City Medal, which is awarded in recognition of contribution to international culture—and invitations to be the Guest of Honor at conferences such as the Paris Polar Crime Festival and Left Coast Crime. With more than 400,000 books in print, the Aimee Leduc series has been translated into German, Norwegian, Japanese, French, Spanish, Italian, and Hebrew.
Cara was born in Chicago but has lived in California's Bay Area since she was five years old. Before turning to writing full-time, she tried her hand at a number of jobs: she was a barista in the Basel train station café in Switzerland, taught English in Japan, studied Buddhism in Dharmasala in Northern India, and worked as a bar girl in Bangkok (only pouring drinks!!). After studying Chinese history at Sophia University in Tokyo—where she met her husband, Jun, a bookseller, potter, and amateur chef—she obtained her teaching credential at San Francisco State College, and went on to work as a preschool director and then as an agent of the federally funded Head Start program, which sent her into San Francisco's Chinatown to help families there—often sweatshop workers—secure early care and early education for their children. Each of these jobs was amazing and educational in a different way, and the Aimee Leduc books are covered in fingerprints of Cara's various experiences.
Her love of all things French was kindled by the French-speaking nuns at her Catholic high school, where Cara first encountered French literature and went crazy for the work of Prix Goncourt winner Romain Gary. Her junior year in high school, she wrote him a fan letter—which he answered, and which inspired her to make her first trip to Paris, where her idol took her out for coffee and a cigar. Since then, she has been to Paris many, many times. On each visit she entrenches herself in a different part of the city, learning its secret history. She has posed as a journalist to sneak into closed areas, trained at a firing range with real Paris flics, gotten locked in a bathroom at the Victor Hugo museum, and—just like Aimee—gone down into the sewers with the rats (she can never pass up an opportunity to see something new, even when the timing is ideal—she was headed to a fancy dinner right afterwards and had a spot of bother with her shoes). For the scoop on real Paris crime, she takes the flics out for drinks and dinner to hear their stories—but it usually turns into a long evening, which is why she sticks with espresso.
Her most recent book Three Hours in Paris, is a stand-alone thriller set during World War II, and is nominated for the Hammett Prize, which is given for literary excellence in crime writing.
Please join us via Zoom on Thursday evening, May 27, 2021, for a presentation by author Cara Black. If you subscribe to the Blood-Letter by email, you will automatically receive an invitation on the day of the event. Otherwise, you can register free at EventBrite to receive login information the day of the event.
Bloody Thursday starts at 6:30 pm PDT with casual chat, with the program beginning at 7:00 pm PDT. We hope you will be able to join us.
– Back to Top –
Dugoni Wins The Spotted Owl Award

Robert Dugoni was announced as the Spotted Owl Award winner for his book, The Last Agent, at the March 25th Zoom meeting of Friends of Mystery. The following authors/books rounded out our Top Ten:
A Cold Trail, by Robert Dugoni (tied with)
Percentages of Guilt, by Michael Niemann
House Privilege, by Mike Lawson
Stone Cross, by Marc Cameron
The Last High, by Daniel Kalla
No Fixed Line, by Dana Stabenow
Shadows of the Dead, by Spencer Kope
The Missing Sister, by Elle Marr
Shadow of the Dragon, by Marc Cameron
Many thanks to our committee members: Janet Bechtold, Kris Field-Eaton, Carrie Richards, Sheila Sweet and Judith Wyss.
– Back to Top –
And The Winner Is . . .

The Edgar Awards were presented on Thursday, April 29th to the following:
Best Novel
Djinn Patrol on the Purple Line, by Deepa Anappara
Best First Novel By An American Author
Please See Us, by Caitlin Mullen
Best Paperback Original
When No One Is Watching, by Alyssa Cole
Best Fact Crime
Death in Mud Lick: A Coal Country Fight Against the Drug Companies that Delivered the Opioid Epidemic, by Eric Eyre
Best Critical/Biographical
Phantom Lady: Hollywood Producer Joan Harrison, the Forgotten Woman Behind Hitchcock, by Christina Lane
Best Short Story
"Dust, Ash, Flight," by Maaza Mengiste in Addis Ababa Noir
Best Juvenile
Premeditated Myrtle, by Elizabeth C. Bunce
Best Young Adult
The Companion, by Katie Alender
The Simon & Schuster Mary Higgins Clark Award
The Cabinets of Barnaby Mayne, by Elsa Hart
The G.P. Putnam's Sons Sue Grafton Memorial Award
Vera Kelly Is Not A Mystery, by Rosalie Knecht
– Back to Top –
And The Nominees Are . . .

The Hammett Prize

The Hammett Prize is awarded each year by The International Association of Crime Writers, North America. It is given for literary Excellence in Crime Writing.
Murder in Old Bombay, by Nev March
The Mountains Wild, by Sarah Stewart Taylor
Three Hours in Paris, by Cara Black
When These Mountains Burn, by David Joy
Winter Counts, by David Heska Wanbli Weiden
The Barry Awards

The Barry Awards are chosen by readers of Deadly Pleasures magazine and presented at Bouchercon.
Best Novel
The Boy from The Woods, by Harlan Coben
The Law of Innocence, by Michael Connelly
Blacktop Wasteland, by S.A.Cosby
And Now She's Gone, by Rachel Howzell Hall
Moonflower Murders, by Anthony Horowitz
All the Devil's Are Here, by Louise Penny
Best First Novel
Deep State, by Chris Hauty
Murder in Old Bombay, by Nev March
The Thursday Murder Club, by Richard Osman
The Eighth Detective, by Alex Pavesi
Winter Counts, by David Heska Wanbli Weiden
Darling Rose Gold, by Stephanie Wrobel
Best Thriller
Double Agent, by Tom Bradby
Blind Vigil, by Matt Coyle
One Minute Out, by Mark Greaney
The Last Hunt, by Deon Meyer
Eddie's Boy, by Thomas Perry
The Wild One, by Nick Petrie
Best Paperback Original
When No One is Watching, by Alyssa Cole
Mongkok Station, by Jake Needham
Hide Away, by Jason Pinter
Bad News Travels Fast, by James Swain
Darkness for Light, by Emma Viskic
Turn to Stone, by James W. Ziskin
– Back to Top –
Recently Published Books To Consider . . .

(Summaries provided by the publisher.)
Lightseekers, by Femi Kayode

When Dr. Philip Taiwo is called on by a powerful Nigerian politician to investigate the public torture and murder of three university students in remote Port Harcourt, he has no idea that he's about to be enveloped by a perilous case that is far from cold.
Philip is not a detective. He's an investigative psychologist, an academic more interested in figuring out the why of a crime than actually solving it. But when he steps off the plane and into the dizzying frenzy of the provincial airport, he soon realizes that the murder of the Okriki Three isn't as straightforward as he thought. With the help of his loyal and streetwise personal driver, Chika, Philip must outmaneuver those actively conspiring against him to piece together the truth of what happened to these students.
The Night Gate, by Peter May

In a sleepy French village, the body of a man shot through the head is disinterred by the roots of a fallen tree. A week later, a famous art critic is viciously murdered in a nearby house. The deaths occurred more than seventy years apart.
Asked by a colleague to inspect the site of the former, forensics expert Enzo Macleod quickly finds himself embroiled in the investigation of the latter. Two extraordinary narratives are set in motion—one historical, unfolding in the treacherous wartime years of Occupied France; the other contemporary, set in the autumn of 2020 as France re-enters Covid lockdown.
And Enzo's investigations reveal an unexpected link between the murders—the Mona Lisa.
Tasked by the exiled General Charles de Gaulle to keep the world's most famous painting out of Nazi hands after the fall of France in 1940, 28-year-old Georgette Pignal finds herself swept along by the tide of history. Following in the wake of Da Vinci's Mona Lisa as it is moved from chateau to chateau, she finds herself just one step ahead of two German art experts sent to steal it for rival patrons—Hitler and Goring.
What none of them know is that the Louvre itself has taken exceptional measures to keep the painting safe, unwittingly setting in motion a fatal sequence of events extending over seven decades. Events that have led to both killings.
Hummingbird Salamander, by Jeff VanderMeer

The security consultant "Jane Smith" receives an envelope with a key to a storage unit that holds a taxidermied hummingbird and clues leading her to a salamander. Silvina, the dead woman who left the note, was a reputed ecoterrorist and the daughter of an Argentine industrialist. By taking the hummingbird from the storage unit, Jane sets in motion a series of events that quickly spiral beyond her control.
Soon, Jane and her family are in danger, with few allies to help her make sense of the true scope of the peril. Is the only way to safety to follow in Silvina's footsteps? Is it too late to stop? As Jane desperately seeks answers about why Silvina contacted her, time is running out—for her and possibly for the world.
– Back to Top –
For Your Viewing Pleasure . . .

By Jeannette Voss
Here are three series that I've enjoyed recently:
The Paris Murders, Season 1 (12 episodes)

Available streaming with a PBS Masterpiece subscription. Police profiler Chloe Saint-Laurent works with a group of "misfits" to solve crimes in Paris. This is a French series with subtitles, and I quickly forgot I was reading the subtitles and thought my high school/college French had miraculously come back to me. Chloe and her colleagues quickly captured my interest, and I binge-watched them solve the crimes (and really liked Chloe's clothes – very French!) This was a popular series, and there was a total of nine seasons when it aired in France. I can only hope they eventually make them all available to watch.
Agathe Koltes: Murder in Brittany, Season 1 (10 episodes)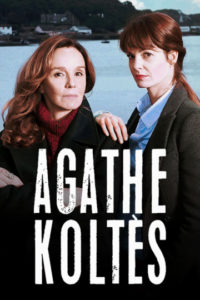 Available streaming with a PBS Masterpiece subscription. When a female police commander accepts a post in a small town, nobody knows that the young captain who strongly opposes her is her daughter. This is another French series with subtitles and great scenery. Over the first season we see mother and daughter come to terms as they solve crimes. This series had three seasons in France. I hope we eventually get to see all three.
Grace, Season 1 (2 episodes)

Available streaming on BritBox. Grace is based on the Roy Grace crime novels by Peter James – the episodes are feature-length. It has just been released, and I've only watched the first one, but it's excellent so far.
Jay Margulies plans to be back with his selections in the next newsletter.
Reading/viewing suggestions from our members are welcome – please submit them to: jlvoss48@gmail.com.
– Back to Top –
Share Your Member News

Friends of Mystery is happy to publish news and press releases from our members in our Member News section, with the following considerations:
The news must be related to mystery or true crime writing, films, and television, as well as non-fiction examinations of the mystery genre.
Friends of Mystery will not be able to edit announcements, and will publish them as provided.
Friends of Mystery will include one image with each announcement, if provided.
Friends of Mystery is not responsible for the content of news announcements, and we reserve the right to not publish any announcements which we feel will reflect poorly on the organization and do not advance the organization's mission.
– Back to Top –
Membership Renewal

It's never too late to consider renewing your membership to Friends of Mystery! Dues are $20.00 annually. FOM is a 501 (c)(3) non-profit organization. Dues and additional donations are deductible to the full extent of the law. Please mail your check, made out to Friends of Mystery, to PO Box 8251, Portland, Oregon 97207. Your newsletter will be sent electronically unless otherwise requested.
– Back to Top –
Submissions Needed

Members and readers are encouraged to submit book or film reviews, comments on authors, and recommendations for books to read or questions about mysteries, crime fiction and fact. If you have suggestions of mysteries worth sharing, please contact the editor at: jlvoss48@gmail.com
– Back to Top –