In this issue of The Blood-Letter from Friends of Mystery: we welcome Tasha Alexander, remember those we lost in 2021, and take a look at intriguing books and television.
January 2022

CONTENTS:

Bloody Thursdays To Continue Online

Friends of Mystery continues to host our Bloody Thursday 2021-2022 speaker series online using ZOOM.
Though we regret we won't have the opportunity to meet and mingle with our speakers and guests in person, remaining online does have its benefits. In addition to protecting the health of our participants, we will be able to serve attendees from literally around the world. And when possible, we will record the events, which means even if you can't make it at the scheduled time, you can watch later at your convenience.
On January 27, 2022, We Welcome Tasha Alexander

Friends of Mystery is delighted to host Tasha Alexander. The virtual door will open at 6:30 for general chat, with the presentation starting at 7:00 pm. We will send out a Zoom link on the day of the presentation.
"The daughter of two philosophy professors, I grew up surrounded by books. I was convinced from an early age that I was born in the wrong century and spent much of my childhood under the dining room table pretending it was a covered wagon. Even there, I was never without a book in hand and loved reading and history more than anything. I studied English Literature and Medieval History at the University of Notre Dame.

"Writing is a natural offshoot of reading, and my first novel, And Only to Deceive, was published in 2005. I'm the author of the long-running Lady Emily series as well as the novel Elizabeth: The Golden Age. One of the best parts of being an author is seeing your books translated, and I'm currently in love with the Japanese editions of the Emily books.

"I played nomad for a long time, living in Indiana, Amsterdam, London, Wyoming, Vermont, Connecticut, and Tennessee before settling down. My husband, the brilliant British novelist Andrew Grant (I may be biased but that doesn't mean I'm wrong), and I live in southeastern Wyoming. I still don't have a covered wagon, but a log house goes a long way toward fulfilling my pioneer fantasies. Andrew makes sure I get my English characters right, and I make sure his American ones sound American."
Annie Bloom's Books has Alexander's books, along with the rest of this year's Bloody Thursday lineup, for sale on the Friends of Mystery page on their website: annieblooms.com/bloody-thursday-books
We hope you will be able to join us.
– Back to Top –
Authors We Lost in 2021

As we move into 2022, we acknowledge these mystery authors who provided hours of reading pleasure.
Michael Bowen (1951-2021)
Emma Darcy (1940-2021)
Carole Nelson Douglas (1944-2021)
G.M. Ford (1945-2021)
Mo Hayder (1962-2021)
John Lutz (1939-2021)
John Malcolm (1936-2021)
Richard Marcinko (1940-2021)
Irene Marcuse (1953-2021)
Paul D. Marks (1953-2021)
Margaret Maron (1938-2021)
Jason Matthews (1951-2021)
Gordon McAlpine (1959-2021)
William F. Nolan (1928-2021)
Sharon Kay Penman (1945-2021)
Robert Richardson (1940-2021)
Caroline Roe (1937-2021)
Wilbur Smith (1933-2021)
Caroline Todd (1934-2021)
Andrew Vachss (1942-2021)
Judith Van Gieson (1941-2021)
– Back to Top –
In Memoriam:

G.M. FORD, 1945-2021

G.M. Ford was a Spotted Owl Award winner and past speaker at our meetings. His first book, Who in Hell Is Wanda Fuca?, was published in 1995, and was the first in a series of 12 books featuring Leo Waterman, a detective living and working in Seattle, Washington. He also wrote a series featuring Frank Corso, introduced in the novel Fury, which was followed by five others in the series.
"Ford's debut novel, Who in Hell Is Wanda Fuca? was nominated for the 1996 Anthony Award, the Shamus Award for Best First Novel, and the Dilys Award for Best Novel. The Deader the Better was nominated for the Best Novel Shamus Award in 2001. The second novel in the Frank Corso series, Black River, was recognized by The Seattle Times as one of the "Best Mysteries of 2002." The following year, Ford received the Pacific Writers Association Achievement Award for both his literary success and, according to The Seattle Times, his "willingness to help others." The same year, he won the Spotted Owl Award for the best mystery novel by a Pacific Northwest writer for Black River. A Blind Eye was a nominee in 2004." (Information from Wikipedia.)
Those of us who read the Frank Corso series will forever be left wondering if Frank survived wearing a bomb vest, which was how the last book in the series ended.
– Back to Top –
For Your Viewing Pleasure

By Jeannette Voss
The Chestnut Man (Netflix)

This is a six-part series (only one season so far), based on a book of the same name, written by Soren Sveistrup. It's a Danish production but has been dubbed in English by Netflix so you don't have to read subtitles. Two mis-matched Copenhagen detectives, Naia Thulin (female) and Mark Hess (male), are on the hunt for a serial killer who leaves behind figurines made of chestnuts at the crime scenes, and who is linked to a politician's missing child.
The book was excellent, and I must admit I binge-watched all six episodes. It had been long enough since I read the book that I was still surprised by many of the plot points. If you like police procedurals I would highly recommend it.
McDonald & Dodds (Britbox)

Set in Bath, England, this series is on the lighter side. It features shy, modest DS Dodds and a very ambitious DCI McDonald solving a different crime in each episode. There are two seasons of three episodes each available, and it has been renewed for a third season. The Bath locations let one do a bit of virtual travel, and the interplay between DS Dodds, who carries his pad and pencil to make notes, and the very current DCI McDonald makes for very enjoyable viewing.
– Back to Top –
Recently Published Books to Consider

We Know You Remember, by Tove Alsterdal

It's been more than twenty years since Olof Hagstrom left home. Returning to his family's house, he knows instantly that something is amiss. The front door key, hidden under a familiar stone, is still there. Inside, there's a panicked dog, a terrible stench, water pooling on the floor: the father Olof has not seen or spoken to in decades is dead in the bathroom shower.
For police detective Eira Sjodin, the investigation of this suspicious death resurrects long-forgotten nightmares. She was only nine when Olof Hagstrom, then fourteen, was found guilty of raping and murdering a local girl. The case left a mark on the town's collective memory –a wound that never quite healed—and tinged Eira's childhood with fear. Too young to be sentenced, Olof was sent to a youth home and exiled from his family. He was never seen in the town again. Until now.
(Winner of the Swedish Crime Novel of the Year Award)
Gated Prey, by Lee Goldberg

Los Angeles County Sheriff's detective Eve Ronin and her soon-to-retire partner, Duncan Pavone, are running a 24-7 sting in a guard-gated enclave of palatial homes in Calabasas. Their luxury McMansion is a honey trap, set to lure in the violent home invaders terrorizing the community. The trap works, leaving three intruders dead, a body count that nearly includes Eve and Duncan.
Eve's bosses are eager to declare the case closed, but there are too many unanswered questions for her to let go. Was the trap actually for her, bloody payback for Eve's very public takedown of a clique of corrupt deputies? Or is there an even deadlier secret lurking behind those opulent gates? Eve's refusal to back down and her relentless quest for the truth make her both the hunter . . . and the prey.
A Line to Kill, by Anthony Horowitz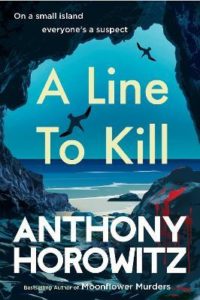 When ex-detective inspector Daniel Hawthorne and his sidekick, author Anthony Horowitz, are invited to a far-from exclusive literary festival on the tiny island of Alderney, they soon discover that all is not as it should be.
The locals of Alderney are embroiled in a feud over a disruptive power line that's turning neighbor against neighbor, and the festival's other guests include a gathering of eccentric authors harboring a number of unpleasant secrets.
So when a local grandee is found dead under the strangest of circumstances, Hawthorne and Horowitz know they don't have to look far for suspects. There is no easy escape from the island, and it becomes horribly clear that a cold-blooded murderer lurks in their midst. But who? And there's about to be a second murder . . .
– Back to Top –
Spotted Owl Committee Hard at Work

The committee is busy reading books published in 2021, and will be making their decision in time to make an announcement in March. Stay tuned . . .
– Back to Top –
Buy Books by Friends of Mystery Speakers Online at Annie Bloom's Books

If you want to order any of our speaker's books, you can find them at our special Friends of Mystery page at Annie Bloom's Books!
– Back to Top –
Share Your Member News

Friends of Mystery is happy to publish news and press releases from our members in our Member News section, with the following considerations:
The news must be related to mystery or true crime writing, films, and television, as well as non-fiction examinations of the mystery genre.
Friends of Mystery will not be able to edit announcements, and will publish them as provided.
Friends of Mystery will include one image with each announcement, if provided.
Friends of Mystery is not responsible for the content of news announcements, and we reserve the right to not publish any announcements which we feel will reflect poorly on the organization and do not advance the organization's mission.
– Back to Top –
Membership Renewal

It's never too late to consider renewing your membership to Friends of Mystery! Dues are $20.00 annually. FOM is a 501 (c)(3) non-profit organization. Dues and additional donations are deductible to the full extent of the law. Please mail your check, made out to Friends of Mystery, to PO Box 8251, Portland, Oregon 97207. Your newsletter will be sent electronically unless otherwise requested.
– Back to Top –
Submissions Needed

Members and readers are encouraged to submit book or film reviews, comments on authors, and recommendations for books to read or questions about mysteries, crime fiction and fact. If you have suggestions of mysteries worth sharing, please contact the editor at: jlvoss48@gmail.com
– Back to Top –