In this issue of The Blood-Letter from Friends of Mystery: November guest John Straley, we say goodbye to Peter Robinson, and more.
November 2022

CONTENTS:

Bloody Thursdays To Continue Online

Friends of Mystery continues to host our Bloody Thursday 2022-2023 speaker series online. Though we regret we won't have the opportunity to meet and mingle with our speakers and guests in person, remaining online does have its benefits. In addition to protecting the health of our participants, we will be able to serve attendees from literally around the world. And when possible, we will record the events, which means even if you can't make it at the scheduled time, you can watch later at your convenience.
BLOODY THURSDAY

On November 17, 2022, We Welcome John Straley

Our November Bloody Thursday guest, John Straley, has worked as a secretary, horseshoer, wilderness guide, trail crew foreman, millworker, machinist and private investigator.
The author of the critically acclaimed Cecil Younger and Cold Storage novels, he moved to Sitka, Alaska in 1977 and has no plans of leaving. He's a two-time Shamus Award winner and received the Spotted Owl for The Music of What Happens. John's wife, Jan Straley, is a marine biologist well-known for her extensive studies of humpback whales.
Straley will be interviewed by Bill Cameron. We will open the virtual doors at 7:00 pm for the program, and chat casually afterwards. We hope you will join us.
– Back to Top –
And the Winners Are…

Bouchercon was held in Minneapolis, Minnesota, and the following awards were presented on September 10, 2022.
McCavity Awards

Best Mystery Novel
Razorblade Tears, by S.A. Cosby
Best First Mystery Novel
Arsenic and Adobo, by Mia P. Manansala
Best Non-Fiction/Critical
How to Write a Mystery: A Handbook from Mystery Writers of America, by MWA with editors Lee Child and Laurie R. King
Sue Feder Historical Mystery Award
Clark and Division, by Naomi Hirahara
Barry Awards

Best Mystery/Crime Novel
Razorblade Tears, by S.A. Cosby
Best First Mystery/Crime Novel
Sleeping Bear, by Connor Sullivan
Best Paperback Original
The Good Turn, by Dervla McTiernan
Best Thriller
Five Decembers, by James Kestral
Anthony Awards

Best Mystery Novel
Razorblade Tears, by S.A. Cosby
Best First Mystery
Arsenic and Adobo, by Mia P. Manansala
Best Paperback/EBook/Audiobook
Bloodline, by Jess Lourey
Best Critical/Non-Fiction Work
How to Write a Mystery: A Handbook from Mystery Writers of America, by MWA with editors Lee Child and Laurie R. King
Best Anthology or Collection
This Time for Sure: Bouchercon Anthology 2021, edited by Hank Phillippi Ryan
Congratulations to S.A. Cosby, who won Best Mystery from all three organizations!
– Back to Top –
In Memoriam

Peter Robinson
March 17, 1950 – October 4, 2022
Robinson, 72, died after a short illness. He emigrated to Canada in 1974, and lived in Toronto with his wife, Sheila Halliday.
Although he also wrote poetry and short stories, he was best known for his series featuring DCI Alan Banks, set in Yorkshire. It was an ITV television series from 2011-2017.
Robinson was nominated for many mystery awards. He won Canada's Arthur Ellis Awards five times. In 2002 he was awarded the CWA Dagger in the Library. In 2020 he won the Edgar Award for Best Short Story, "Missing in Action," the same year he was granted the Grand Master Award from the Crime Writers of Canada.
One of his most accomplished works was In A Dry Season, which won the Anthony and Barry Awards for Best Novel and was nominated for the Edgar, Hammett, Macavity and Arthur Ellis Awards in 2000. In 2001 it went on to win the France's Grand Prix de Litterature Policiere and Sweden's Martin Beck Award.
His new Inspector Banks mystery, Standing in the Shadows, will be released in March 2023.
(Summary provided by the publisher)
Late November, 1980. English student Nick Hartley returns from a lecture to find his house full of police. He soon discovers that his ex-girlfriend has been found murdered in a nearby park, and her new boyfriend is missing. Nick quickly realizes he is a suspect as he has no convincing alibi, but Nick has his own suspicions…Meanwhile, in late November 2019, an archeological dig near Scotch Corner unearths a skeleton that turns out to be far more recent than the Roman remains she is looking for. Detective Superintendent Alan Banks and his team are called in, and the investigation into the find begins but there is little to be gleaned from the remains themselves. Left with few clues, Banks and his team must rely on their wits to hunt down a killer. As the two cases unfurl, the investigations twist and turn to an explosive conclusion.
– Back to Top –
For Your Viewing Pleasure. . .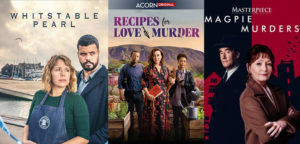 By Jeannette Voss
Whitstable Pearl is set in Whitstable on the north coast of Kent in England. Pearl is a single mother of a grown son who runs a family restaurant and want to start a detective agency. Season 1 has six episodes and this month (November) is available on Prime to preview.
Recipes for Love and Murder is set in South Africa. An advice columnist on a small local newspaper includes recipes with her advice, and she tries to solve the murder of one of her letter-writers. There are ten episodes in Season 1, and it streams on Acorn. (The food she makes from the recipes is visually very appealing!)
Magpie Murders is based on the book of the same name by Anthony Horowitz. It's a story within a story, and is playing right now on OPB/PBS, also streaming on Masterpiece. There are six episodes.
– Back to Top –
New and Noteworthy. . .

(Summaries provided by the publishers)
1989, by Val McDermid
It's 1989 and journalist Allie Burns is growing up. Older and maybe wiser than the hustling young hack we met in 1979, she's running the northern news operation of the Sunday Globe, chafing at losing her role in investigative journalism and at the descent into the gutter of the UK tabloid media. But there's plenty to keep her occupied. The year begins with the memorial service for the victims of the bombing of Pan Am Flight 103, but Allie has barely filed her copy when she stumbles over a story about HIV/AIDS that will shock her into a major change of direction. The world of newspapers is undergoing a revolution, there's skullduggery in the medical research labs and seismic rumblings behind the Iron Curtain. When murder is added to this potent mix, Allie will be called upon to chase a story that will take her further afield than she'd ever planned and force her to question all her old certainties.
The Shadow Lily, by Johanna Mo
Small-town police detective Hanna Duncker has a past. Her deceased father was convicted of murder and arson long ago, and she has taken up residence and resumed her police career in her hometown after his death. She and her partner Erik Lindgren are called to investigate the disappearance of a father and his toddler son from their home while his wife was away on a weekend trip. As the investigation unfolds, Hanna makes a breakthrough in her ongoing private investigation of her father's crimes: a discovery that could change everything she thinks she's learned so far.
Demolition, by Nick Oldham
Former Detective Superintendent Henry Christie is focused on running his pub, The Tawny Owl, where he learns of the Kendleton protest group's fury with James Twain, a local property developer, and the keen desire of some residents to solve a murder that stretches back to the Second World War.
When James is viciously killed in his barn, and another body is found in similar disturbing circumstances nearby, Henry is drawn into the investigations and the villagers' dark wartime secrets. Pulled out of retirement once more to lead a double murder inquiry for Lancashire police, can he uncover the truth behind chilling events both past and present?
A Beginner's Guide to Murder, by Rosalind Stopps
Grace, Meg and Daphne are minding their own business when seventeen-year-old Nina stumbles into the coffee shop they're in. She's clearly distraught and running from someone, so the three women think nothing of hiding her when a suspicious-looking man starts asking if they've seen her.
Once alone, Nina tells the women a little of what she's running from. The need to protect her is immediate, and Grace, Meg and Daphne vow to do just this. But how? They soon realize there really is only one answer: murder.
And so begins the tale of the three most unlikely murderers-in-the-making, and may hell protect anyone who underestimates them.
– Back to Top –
Buy Books by Friends of Mystery Speakers Online at Annie Bloom's Books

If you want to order any of our speaker's books, you can find them at our special Friends of Mystery page at Annie Bloom's Books!
– Back to Top –
Share Your Member News

Friends of Mystery is happy to publish news and press releases from our members in our Member News section, with the following considerations:
The news must be related to mystery or true crime writing, films, and television, as well as non-fiction examinations of the mystery genre.
Friends of Mystery will not be able to edit announcements, and will publish them as provided.
Friends of Mystery will include one image with each announcement, if provided.
Friends of Mystery is not responsible for the content of news announcements, and we reserve the right to not publish any announcements which we feel will reflect poorly on the organization and do not advance the organization's mission.
– Back to Top –
Membership Renewal

It's never too late to consider renewing your membership to Friends of Mystery! Dues are $20.00 annually. FOM is a 501 (c)(3) non-profit organization. Dues and additional donations are deductible to the full extent of the law. Please mail your check, made out to Friends of Mystery, to PO Box 8251, Portland, Oregon 97207. Your newsletter will be sent electronically unless otherwise requested.
– Back to Top –
Submissions Needed

Members and readers are encouraged to submit book or film reviews, comments on authors, and recommendations for books to read or questions about mysteries, crime fiction and fact. If you have suggestions of mysteries worth sharing, please contact the editor at: jlvoss48@gmail.com
– Back to Top –