In this issue of The Blood-Letter from Friends of Mystery: January guest Brett Battles, upcoming book releases, a Spotted Owl update, and more.
January 2023

CONTENTS:

Bloody Thursdays To Continue Online

Friends of Mystery continues to host our Bloody Thursday 2022-2023 speaker series online. Though we regret we won't have the opportunity to meet and mingle with our speakers and guests in person, remaining online does have its benefits. In addition to protecting the health of our participants, we will be able to serve attendees from literally around the world. And when possible, we will record the events, which means even if you can't make it at the scheduled time, you can watch later at your convenience.
BLOODY THURSDAY

On January 26, 2023, We Welcome Brett Battles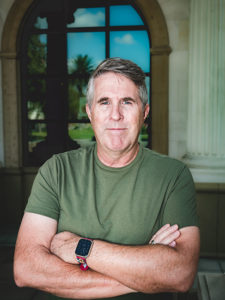 Friends of Mystery is pleased to welcome Brett Battles as our January speaker. Brett was born and raised in southern California. His parents, avid readers, instilled the love of books in him early on, and there were many days his mom would kick him out of the house in the afternoon just so he would get a little sunshine.
He is the USA Today bestselling author of over thirty novels, including the Jonathan Quinn series, the Project Eden series, and the time bending Rewinder trilogy. His debut novel, The Cleaner (The Jonathan Quinn Thrillers #1), was nominated for the 2008 Barry Award for Best Thriller, and the 2008 Shamus Award for Best First Novel. His second novel, The Deceived, won the 2009 Barry Award for Best Thriller. He received an additional Barry Award nomination for the fourth in his Quinn series, The Silenced.
Though he still makes California his home, he has traveled extensively to such destinations as Ho Chi Minh City, Berlin, Bangkok, Angkor Wat, Singapore, Jakarta, London, Paris, and Rome, all of which play parts in his current and upcoming novels.
Authors who have influenced him over the years include, but aren't limited to: Isaac Asimov, Robert Heinlein, Alistair MacLean, Robert Ludlum, Stephen King, Graham Greene, Haruki Murakami, and Tim Hallinan.
He has three kids who are all adults now, and a "neurotic, paranoid cute Australian Shepherd."
We are looking forward to his presentation, which will begin at 7:00pm on Zoom when the virtual doors are opened, with time to chat casually at the end. Please plan to join us!
– Back to Top –
Books to Look Forward to in 2023

One of my favorite websites is www.deadlypleasures.com, and the editor, George Easter, posted a list of 17 books that will be coming out in 2023 that he has already read and recommends:
The Housemate, by Sarah Bailey (April)
The Lie Maker, by Linwood Barclay (May)
Red Queen, by Juan Gomez-Jurado (March)
Exiles, by Jane Harper (January)
Small Mercies, by Dennis Lehane (April)
Lying Beside You, by Michael Robotham (February)
Everyone in My Family Has Killed Someone, by Benjamin Stevenson (January)
The End of the Road, by Andrew Welsh-Huggins (April)
Better the Blood, by Michael Bennett (January)
Sons and Brothers, by Kim Hays (April)
Fearless, by M.W. Craven (July)
Killing Me, by Michelle Gagnon (May)
Burner, by Mark Greaney (February)
Alligator Alley, by Mike Lawson (February)
Going Zero, by Anthony McCarten (April)
Blind Fear, by Brandon Webb & John David Mann (July)
The Partisan, by Patrick Worrall (April)
If you're interested in learning a bit more about any of these books you can go to his website and there is a synopsis of each book. There are also a lot of "Best of 2022" lists of mystery/thriller/crime books to peruse if you need more recommendations.
– Back to Top –
Spotted Owl Readers Hard at Work

The Spotted Owl Committee has been diligently reading books for the Spotted Owl Award written by authors living in the Pacific Northwest whose books were published in 2022. We are considering over 40 books, discovering new authors as well as those who appear frequently. Among those being considered are:
Cold Snap, by Marc Cameron
The Silent Sisters, by Robert Dugoni
Edge of the Storm, by Valerie Geary
Something to Hide, by Elizabeth George
Nothing to Lose, by J.A. Jance
The Lost Kings, by Tyrell Johnson
Deceived, by Mary Keliikoa
The Darkest Place, by Phillip Margolin
Strangers We Know, by Elle Marr
Take No Names, by Daniel Nieh
Hell and Gone, by Sam Wiebe
The Ride-Along, by Zafiro & Conway
If you know of a book published in 2022 that meets our criteria, please check with Jeannette Voss (Spotted Owl Coordinator) at jlvoss48@gmail.com to make sure the committee is aware of it.
– Back to Top –
For Your Viewing Pleasure

By Jeannette Voss
Three Pines, based on the books by Louise Penny, has landed recently on Amazon Prime. Alfred Molina plays Armand Gamache and does justice to the character. The storyline involves missing indigenous people, and while Three Pines isn't exactly as I'd pictured it in my mind, I enjoyed watching the 8 episodes and hope that there will be a second season.
Grace, Season 2 has three episodes. Once again John Simm returns as troubled detective Roy Grace in this hit crime series based on Peter James' award-winning novels. It's available on Britbox.
The Lincoln Lawyer, available on Netflix. Maybe everyone has already watched this ten-episode series, but I hadn't, and I must admit that I binge-watched the whole series in one day. It was fast moving, and the new Mickey Haller made me forget all about Matthew McConaughey. If you haven't watched it yet, be sure to give it a try.
And finally, a series that's been around for a while, but well-worth watching (and a retired head of detectives in Durham, England told me it was the most realistic portrayal he'd seen.) Scott & Bailey – Season 1 is available on Britbox. Detective Constable Rachel Bailey is 30, down-to-earth, noisy, argumentative and single. Her partner, Detective Constable Janet Scott, is 40, a diplomat and a thinker, as well as being a wife and mother. They both work for Manchester Metropolitan Police's prestigious Murder Investigation Team, and despite the obvious differences between them, they make a formidable team.
– Back to Top –
New and Noteworthy

(Summaries provided by the publishers)
Long Gone
by Joanna Schaffhausen

Chicago detective Annalisa Vega shattered her life, personally and professionally, when she turned in her ex-cop father for his role in a murder. Her family can't forgive her. Her fellow officers no longer trust her. So when Detective Leo Hammond turns up dead in a bizarre murder, Annalisa thinks she has nothing to lose by investigating whatever secrets he hid behind the thin blue line.
Annalisa quickly zeroes in on someone who had good reason to want Hammond dead: a wealthy, fast-talking car salesman who'd gotten away with murder once and wasn't about to let Hammond take a second shot. Moe Bocks remains the number one suspect in his girlfriend's brutal unsolved death, and now he's got a new woman in his sights – Annalisa's best friend.
Annalisa is desperate to protect her friend and force Bocks to pay, either for Hammond's death or for his earlier crime. But when no one else believes the connection, she takes increasingly risky chances to reveal the truth. Because both Hammond and Bocks had secrets to die for, and if she doesn't untangle them soon, Annalisa will be next.
A Game of Fear: An Inspector Ian Rutledge Mystery
by Charles Todd

Spring 1921. Scotland Yard sends Inspector Ian Rutledge to the sea-battered village of Walmer on the coast of Essex, where among the salt flats and a military airfield lies Benton Abbey, a grand manor with a storied past. The lady of the house may prove to be Rutledge's most bewildering witness yet. She claims she saw a violent murder—but there is no body, no blood. She also insists she recognized the killer: Captain Nelson. Only it could not have been Nelson because he died during the war.
Everyone in the village believes that Lady Benton's losses have turned her mind—she is, after all, a grieving widow and mother—but the woman Rutledge interviews is rational and self-possessed. And then there is Captain Nelson: What really happened to him in the war? The more Rutledge delves into this baffling case, the more suspicious tragedies he uncovers. The Abbey and the airfield hold their secrets tightly, until Rutledge arrives, and a new trail of death follows…
– Back to Top –
Coming Soon…

February 7th
Crombie, Deborah. A Killing of Innocents
Kellerman, Jonathan. Unnatural History
Lawson, Mike. Alligator Alley
February 21st
Berry, Steve. The Last Kingdom
Mosley, Walter. Every Man a King
March 14th
Jance, J.A. Collateral Damage
March 28th
Dugoni, Robert. Her Deadly Game
– Back to Top –
Buy Books by Friends of Mystery Speakers Online at Annie Bloom's Books

If you want to order any of our speaker's books, you can find them at our special Friends of Mystery page at Annie Bloom's Books!
– Back to Top –
Share Your Member News

Friends of Mystery is happy to publish news and press releases from our members in our Member News section, with the following considerations:
The news must be related to mystery or true crime writing, films, and television, as well as non-fiction examinations of the mystery genre.
Friends of Mystery will not be able to edit announcements, and will publish them as provided.
Friends of Mystery will include one image with each announcement, if provided.
Friends of Mystery is not responsible for the content of news announcements, and we reserve the right to not publish any announcements which we feel will reflect poorly on the organization and do not advance the organization's mission.
– Back to Top –
Membership Renewal

It's never too late to consider renewing your membership to Friends of Mystery! Dues are $20.00 annually. FOM is a 501 (c)(3) non-profit organization. Dues and additional donations are deductible to the full extent of the law. Please mail your check, made out to Friends of Mystery, to PO Box 8251, Portland, Oregon 97207. Your newsletter will be sent electronically unless otherwise requested.
– Back to Top –
Submissions Needed

Members and readers are encouraged to submit book or film reviews, comments on authors, and recommendations for books to read or questions about mysteries, crime fiction and fact. If you have suggestions of mysteries worth sharing, please contact the editor at: jlvoss48@gmail.com
– Back to Top –
Happy New Year