In this issue of The Blood-Letter from Friends of Mystery: May guest Mike Lawson, awards, upcoming book releases, and more.
May 2023

CONTENTS:

BLOODY THURSDAY

On May 25, 2023, We Welcome Mike Lawson

Friends of Mystery is pleased to have Mike Lawson, in conversation with Bill Cameron, as our May program.
Lawson is the author of 16 books in his Joe DeMarco series, three in his Kay Hamilton series, and one standalone, Redemption. He is a three-time Spotted Owl Award winner (House Blood, House Odds, House Witness), and a finalist for the award for thirteen of his other books. He also received a "Best Novel" Edgar nomination for House Witness.
The Spotted Owl Committee is presenting Lawson with a Stanley Johnson Lifetime Achievement Award in honor of his body of work.
Please join us at TaborSpace, 5441 SE Belmont Street, Portland, Oregon 97215, in person or via Zoom. The event is free and open to the public. A social time with refreshments begins at 7:00 pm, with the program beginning at 7:30 pm. Free parking is available in the block across from the entrance. Bus line #15 will drop you off right by the door.
– Back to Top –
Spotted Owl Winner Announced

Robert Dugoni was announced as the winner of the Spotted Owl Award for books published in 2022 at the March meeting of Friends of Mystery. Dugoni received the award for The Silent Sisters. The "top ten" books chosen by the committee were:
The Silent Sisters, by Robert Dugoni
Something to Hide, by Elizabeth George
The Lost Kings, by Tyrell Johnson
Cold Snap, by Marc Cameron
What She Found, by Robert Dugoni
Murder at Black Oaks, by Phillip Margolin
Hell and Gone, by Sam Wiebe
Tom Clancy's Red Winter, by Marc Cameron
Nothing to Lose, by J.A. Jance
Notes on an Execution, by Danya Kukafka
The award is given to authors living in the Pacific Northwest. The committee members were Janet Bechtold, Kris Field-Eaton, Carrie Richards, Sheila Sweet and Judith Wyss.
– Back to Top –
Edgar Awards Presented

The Mystery Writers of America announced the Edgar winners at a dinner on April 27, 2023, in New York City. The winners were:
Best Novel

Kukafka, Danya. Notes on an Execution
Best First Novel by an American Author

Cranor, Eli. Don't Know Tough
Best Paperback Original

Hart, Joe. Or Else
Best Fact Crime

Krouse, Erika. Tell Me Everything: The Story of a Private Investigation
Best Critical/Biographical

Edwards, Martin. The Life of Crime: Detecting the History of Mysteries and Their Creators
The Simon & Schuster Mary Higgins Clark Award

Myers, B.R. A Dreadful Splendor
The G.P. Putnam's Sons Sue Grafton Memorial Award

Luna, Louisa. Hideout
The Lillian Jackson Braun Memorial Award

Berry, Tamara. Buried in a Good Book
Grand Master Award

MICHAEL CONNELLY
JOANNE FLUKE
– Back to Top –
In Memoriam

Anne Perry, 1938 – 2023

Multiple Edgar award winner Anne Perry passed away on April 10, 203 at the age of 84. Known for her historical crime fiction, she published 103 books over her 44-year career, selling over 26 million copies of her books. Among her best-known series were the Charlotte and Thomas Pitt series and the William Monk series.
Perry was already an established author when the movie Heavenly Creatures was released in 1994 and brought to light that she had been convicted of murder as a teenager and served five years in prison. She continued with her successful writing career until suffering a heart attack in December of 2022.
– Back to Top –
For Your Viewing Pleasure

By Jeannette Voss
Grace (Britbox) 2023, 3 episodes (season 3)

"John Simm returns as Detective Roy Grace for a new season based on Peter James' award-winning novels. Following shocking news about his wife, Roy attempts to get closer to the truth while trying to move forward with Cleo, as he is drawn into three sinister investigations." – Britbox
Holding (Acorn) 2023, 4 episodes

"Nothing ever happens in tiny Irish towns like Duneen – until one day human remains are found buried on a farm there. For the first time ever, police sergeant PJ Collins (Conleith Hill) has a genuine crime to solve. A life-time worth of small-town secrets are unearthed, revealing the villagers' dark pasts and rousing PJ's own inner demons." – Acorn
The Diplomat (Netflix) 8 episodes

An American political thriller, I haven't had a chance to watch it yet, but I've only heard good things about it. It has already been renewed for a second season.
– Back to Top –
Coming In September…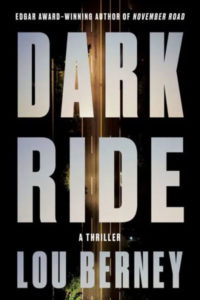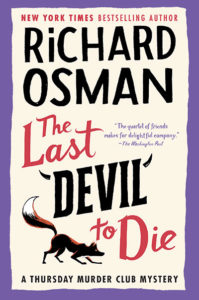 Dark Ride, by Lou Berney

It's his first book in five years.
The Last Devil to Die, by Richard Osman

4th in The Thursday Murder Club series.
– Back to Top –
New and Noteworthy…

(Summaries provided by the publishers)
Everybody Knows by Jordan Harper

Welcome to Mae Pruett's Los Angeles, where "Nobody talks. But everybody whispers." As a "black-bag" publicist tasked not with letting the good news out but keeping the bad news in, Mae works for one of LA's most powerful and sought-after crisis PR firms at the center of a sprawling web of lawyers, PR flaks, and private security firms she calls "the Beast." They protect the rich and powerful and depraved by any means necessary.
After her boss is gunned down in front of the Beverly Hills Hotel in a random attack, Mae takes it upon herself to investigate and runs headfirst into the Beast's lawless machinations and the twisted systems it exists to perpetuate. This takes her on a roving neon joyride through a Los Angeles of influencers pumped full of pills and fillers, sprawling mansions footsteps away from sprawling homeless encampments, crooked cops, and mysterious wrecking crews in the middle of the night.
Sons and Brothers by Kim Hays

A surgeon in his seventies doesn't come home from walking his dog along Bern's river and is found drowned. From the bruising on his body, it's clear his death was no accident. As Swiss police detective Giuliana Linder and her assistant Renzo Donatelli investigate the dead man's background and family, suspicion falls on his middle son, Markus. A photographer with a history of violence and substance abuse, Markus was always a disappointment to his father.
During the year before his father's death, Markus got to know Jakob Amsler, a long-ago schoolmate of the surgeon's in the village where they both lived as boys. A foster child, Jakob was removed from his family by the authorities at nine and placed on a farm to work under terrible conditions. From Jakob, Markus learned that his father's life contained some ugly secrets. Slowly Giuliana and Renzo are now circling in on those secrets, all the while dealing with their attraction to each other and their ambivalence about having an affair.
I Have Some Questions for You by Rebecca Makkai

A successful film producer and podcaster, Bodie Kane, is content to forget her past – the family tragedy that marred her adolescence, her four largely miserable years at a New Hampshire boarding school, and the murder of her former roommate, Thalia Keith, in the spring of their senior year. Though the circumstances surrounding Thalia's death and the conviction of the school's athletic trainer, Omar Evans, are hotly debated online, Bodie prefers – needs—to let sleeping dogs lie.
But when the Granby School invites her back to teach a course, Bodie is inexorably drawn to the case and its increasingly apparent flaws. In their rush to convict Omar, did the school and the police overlook other suspects? Is the real killer still out there? As she falls down the very rabbit hole she was so determined to avoid, Bodie begins to wonder if she wasn't as much of an outsider at Granby as she'd thought—if, perhaps, back in 1995, she knew something that might have held the key to solving the case.
Lying Beside You by Michael Robotham

If I could tell you one thing about my brother, it would be this: two days after his nineteenth birthday, he killed our parents and our twin sisters because he heard voices in his head. As defining events go, nothing else comes close for Elias, or for me.
As a boy, Cyrus Haven survived a family massacre and slowly pieced his life back together. Now, after almost twenty years, his brother is applying to be released from a secure psychiatric hospital—and Cyrus is expected to forgive Elias and welcome him home.
Elias is returning to a very different world. Cyrus is now a successful psychologist, working with the police, sharing his house with Evie Cormac, a damaged and gifted teenager who can tell when someone is lying. Evie has gone back to school and is working part-time at an inner-city bar, but she continues to struggle with authority and following rules.
When a man is murdered and his daughter disappears, Cyrus is called in to profile the killer and help piece together Maya Kirk's last hours. Police believe she was drugged and driven away from the same bar where Evie is working. Soon, a second victim is taken, and Evie is the only person who glimpses the man behind the wheel.
But there's a problem. Only two people believe her. One is Cyrus. The other is the killer.
– Back to Top –
Book Signing


Flat White Fatality by Emmeline Duncan
Our own Kelly Garrett (writing as Emmeline Duncan) has a new book in her series coming out on May 23rd – Flat White Fatality. You can come support her at Powell's in Cedar Hills on June 2nd at 7:00 pm.
– Back to Top –
Buy Books by Friends of Mystery Speakers Online at Annie Bloom's Books

If you want to order any of our speaker's books, you can find them at our special Friends of Mystery page at Annie Bloom's Books!
– Back to Top –
Share Your Member News

Friends of Mystery is happy to publish news and press releases from our members in our Member News section, with the following considerations:
The news must be related to mystery or true crime writing, films, and television, as well as non-fiction examinations of the mystery genre.
Friends of Mystery will not be able to edit announcements, and will publish them as provided.
Friends of Mystery will include one image with each announcement, if provided.
Friends of Mystery is not responsible for the content of news announcements, and we reserve the right to not publish any announcements which we feel will reflect poorly on the organization and do not advance the organization's mission.
– Back to Top –
Membership Renewal

It's never too late to consider renewing your membership to Friends of Mystery! Dues are $20.00 annually. FOM is a 501 (c)(3) non-profit organization. Dues and additional donations are deductible to the full extent of the law. Please mail your check, made out to Friends of Mystery, to PO Box 8251, Portland, Oregon 97207. Your newsletter will be sent electronically unless otherwise requested.
– Back to Top –
Submissions Needed

Members and readers are encouraged to submit book or film reviews, comments on authors, and recommendations for books to read or questions about mysteries, crime fiction and fact. If you have suggestions of mysteries worth sharing, please contact the editor at: jlvoss48@gmail.com.
– Back to Top –
Take time and enjoy a good book!