CONTENTS:
FRIENDS OF MYSTERY MEETING
Kate Wilhelm To Receive Spotted Owl Award at September 25th Bloody Thursday
The 2008 Spotted Owl Award winner, Kate Wilhelm, will be the speaker at the first Bloody Thursday program of the 2008-2009 season. She will be presented with her award for her legal mystery A Wrongful Death. This is the tenth Barbara Holloway mystery and the second Spotted Owl award for Kate. The first was for her mystery Desperate Measures in 2002. With this award, she joins authors Kris Nelscott and Lowen Clausen as two-time Spotted Owl winners.
Kate has received several awards, including the Hugo and Nebula for her science fiction novels. In addition to her science fiction work she also created a mystery series featuring husband and wife detectives Charlie Meikejohn, a former arson detective, and Constance Leidl, a psychologist. In 1986 she and her son, Richard Wilhelm, published a non-fiction work, The Hills are Dancing. Her latest Barbara Holloway legal mystery, Cold Case, is scheduled for release this August.
Kate and late husband, author Damon Knight, moved to Eugene in 1976, where she still resides. They were instrumental in establishing the Clarion Workshop at Michigan State University, where they were instructors for twenty-eight years. They also lectured at universities around the world for the State Department of Cultural Affairs Office.
Please join us for the presentation and talk by this renowned writer. The meeting will be held in the auditorium of Good Samaritan Medical Center, 1040 NW 22nd Avenue (corner of NW 22nd and Marshall.) The event will begin with a reception at 7:00 pm, followed by the presentation at 7:30 pm. The meeting is free and open to the public. Free parking is available in the parking structure adjacent to the auditorium. The Portland Streetcar and Tri-Met run on nearby routes.
– Back to Top –
The 2008-2009 Bloody Thursday Season
In September, we'll host Kate Wilhelm as she receives her 2008 Spotted Owl Award for A Wrongful Death.
We'll hear from Detective James Lawrence of the Portland Police Bureau in November, who'll discuss the finer points of cold case investigation.
Jessica Morrell, noted editor and author of Bullies, Bastards and Bitches: How to Write the Bad Guys of Fiction will join us in January to discuss villains and anti-heroes.
Debut author of Cezanne's Quarry Barbara Pope will join us in March.
Fingerprint expert Larry Rossen appears in May.
We look forward to this exciting series, and hope to see you.
Sept. 25, 2008: Kate Wilhelm and the Spotted Owl presentation
Nov. 20, 2008: Det. James Lawrence – Portland Police Cold Case Unit
Jan. 22, 2009: Jessica Morrell – Author/Lecturer on Villains and Anti-heroes
Mar. 26, 2009: Barbara Pope – Debut author of Cezanne's Quarry
May 28, 2009: Larry Rossen – Fingerprint Expert
– Back to Top –
Friends of Mystery Reading Group
The Friends of Mystery Reading Group meets on the third Wednesday of every month at Murder By The Book to discuss their selection of the month. Upcoming selections are:
September: Asa Larsson – The Black Path
October: Laura Lippman – What the Dead Know
November: Kathy Reichs – Grave Secret
December: M.C. Beaton – Kissing Christmas Goodbye
Anyone is invited to attend. For more information check out our Reading Group page.
– Back to Top –
Small Presses Mean More Choices For Mystery Readers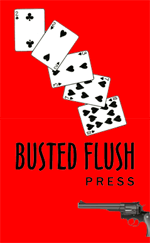 Interview by John Walsdorf
In the past few years there has been quite a resurgence of small presses (not print on demand or self published books) who have picked up authors whose books, for one reason or another, have been dropped by conglomerate publishers, reprinted long out of print classics or discovered budding new talent. We were interested in this development so John Walsdorf decided to talk with one publisher, David Thompson, who started Busted Flush Press in 2005.
Q 1) What led you to wanting to be a publisher and how hard was it to break into publishing?
A 1) When I started up Busted Flush Press I had worked at Houston's Murder By The Book, one of the nation's oldest and largest mystery bookstores, for 16 years. One of the most enjoyable aspects of the bookstore job is helping readers discover new authors that they might not find elsewhere; one of the most irritating aspects of the job is when major NYC publishers allow our store's best-selling, recommended books to go out of print. I was prompted mainly by the scarcity of David Handler's mysteries featuring celebrity ghostwriter Stewart Hoag and his faithful, yet neurotic basset hound, Lulu (who does not talk or solve the crime!). The third book won the Edgar Award, for crying out loud! It's still difficult to break into publishing, even after 3 years. There's the usual distribution hassles, and of course, no one knows who I am or whether or not they should trust my releases. There are so many small presses and print-on-demand publishers, some great, some not so much, that booksellers, libraries, and the book-buying public are a tad gun-shy. Busted Flush Press has been nominated for two Edgars (both for Best Short Story) in its three-year-history, but even then, it's tough to get noticed.
Q 2) Smaller, quality publishers such as Ugly Town, Bleak House, Akashic, Hard Case Crime and your Busted Flush Press, just to name a few, appear to be enjoying a renaissance right now in coming out with well produced books by quality authors. What do you attribute this resurgent popularity to?
A 2) I honestly believe it's because the men and women behind these presses, and to name a few other wonderful ones: Rue Morgue Press, Poisoned Pen Press, Felony & Mayhem, Stark House, and Crippen & Landru (and I may have missed others…sorry!), are first and foremost avid, passionate readers!! Sure, we'd all love to make some money, but if we really wanted to make money, publishing isn't what we would've chosen. It's a tough business. But it's all worthwhile to see the authors and books you love see the light of day. And I believe what's made the presses successful, to one degree or another (remember, I'm the new kid on the block!), is that they are producing quality products…these are authors and books that for one reason or another haven't done well enough for major NYC publishers, but are doing just fine at smaller presses where the authors can get more attention. And it helps if you hit on a smaller yet popular niche subgenre, like Hard Case Crime with noir, Akashic Books with noir anthologies and original noir novels, Rue Morgue Press with Golden Age mysteries, and Crippen & Landru with never-before-published story anthologies.
(To be continued…)
– Back to Top –
My Favorite Mystery Contest Results
Favorite cozy: Anything by M.C. Beaton
Favorite thriller: Wolf's Remedy, by Doc Macomber
Favorite mystery author: (tie) Carter Dickson, John D. MacDonald, Dorothy Sayers
All-time favorite mystery: Nine Tailors, by Dorothy Sayers.
– Back to Top –