CONTENTS:
FRIENDS OF MYSTERY MEETING
Cold Case Detective James Lawrence to Speak at November 20th Bloody Thursday
Detective James Lawrence of the Portland Police will discuss the role of the Cold Case Unit in solving crimes that have eluded police in the past. Detective Lawrence has been a police officer for the past 13 years, serving with the St. Helens force for four years, and with the Portland Police for the past nine years. He joined the Cold Case Unit about a year ago after working with Robbery Unit.
One recent case he worked on was the November 2002 Asia Bell murder. The victim of this crime was a young mother who was shot and killed while on the front porch of her home with her husband, who was shot and blinded. Nearly five years later, the Cold Case Unit arrested four individuals who were members of a gang. Neither Asia Bell nor her husband was involved with gang members, but the house they just bought had been a place where gang members had held meetings.
Another case, previously known as the Lamon murder, was solved after more than 15 years when David Lee Patterson walked into a police station in Richards, Texas and confessed to shooting Lamon in self-defense. Detective Lawrence traveled to Texas to interview Patterson and then bring him back to Portland. The case is now known as the Patterson assault as crime cases are identified by the name of the victim. It was Patterson, not Lamon who was the original victim.
Detective Lawrence will discuss these cases and others that he and other members of the Cold Case Unit have investigated.
We hope you will join us for what promises to be an interesting and informative event. The meeting will be held in the auditorium of Good Samaritan Medical Center, 1040 NW 22nd Avenue (corner of NW 22nd and Marshall.) The event will begin with a reception at 7:00 pm, followed by the presentation at 7:30 pm. The meeting is free and open to the public. Free parking is available in the parking structure adjacent to the auditorium. The Portland Streetcar and Tri-Met run on nearby routes.
– Back to Top –
Small Presses Mean More Choices For Mystery Readers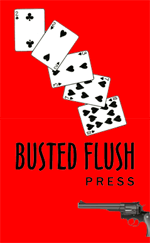 Interview by John Walsdorf
(Part I of this interview was in the last issue of The Blood-Letter. John Walsdorf is talking with publisher David Thompson, who started Busted Flush Press in 2005.)
Q 3) What is the favorite book you have published so far and why?
A 3) Now I know why authors have a hard time picking their favorite "children"…it's tougher for me because all the authors are my friends. But I'd probably have to say David Handler's two omnibuses of Hoagy & Lulu mysteries. At my day job, the aforementioned Murder By The Book, every single employee loves Handler's work (including the Mitch & Desiree novels, currently published by St. Martin's Minotaur), and the customer response is equally incredible. But I'm also going to cop out and say Ken Bruen's A FIFTH OF BRUEN has a special place in my heart because it was my first publication. Bruen could not have been nicer with helping me see it in print, and there are some heart-wrenching stories in that collection. My favorite book that I haven't yet published is Mitchell Smith's tour-de-force noir novel, STONE CITY. One of my top-ten favorite books of all time, this book is sheer literature. Unfortunately, as I'm presently cash-poor, I've been forced to continue postponing the reprint date until I can afford it…but it will happen, and when it does, watch out because this is one amazing book, down to the very…last…line. [Editor's note: Portland author Phillip Margolin has done the introduction to this book.]
Q 4) What impact do you think the increasingly marginalized way the large chain stores handle authors has on publishers, both large and small?
A 4) I'm too much a newbie to know, from a publisher's standpoint. I will say this, though…I won't name names, but I've heard of at least three occurrences in the last year where a major chain has influenced the publication of an established author, and for better or worse, the publishers took it to appease the powers that control major sales.
Q 5) What books do you have forthcoming and what is the best way for people to find out more information on Busted Flush Press?
A 5) I just received the first of another series I'm very excited about…NOBLESSE OBLIGE, by Cynthia Smith. Originally published by Berkley Prime Crime in the mid-1990's, this series about "private resolver" Emma Rhodes, is a perfect treasure for high-society mystery fans who enjoy Nancy Martin, Marne Davis Kellogg, Jane Stanton Hitchcock, and Kerry Greenwood. And coming in April, a reprint of Reed Farrel Coleman's first Moe Prager novel, WALKING THE PERFECT SQUARE. Reed's just been nominated for his second Edgar Award, for the fourth Moe novel, SOUL PATCH (Bleak House)…and Bleak House is releasing Reed's best book yet, EMPTY EVER AFTER, in March…but you must (I can't stress this enough) read the first two first, or at least number two, REDEMPTION STREET. And beginning in April, I'll be reprinting three Ken Bruen novels, starting with LONDON BOULEVARD, with a special introduction by Oscar-winning screenwriter William Monahan (THE DEPARTED)! Later in the year, THE HACKMAN BLUES and DISPATCHING BAUDELAIRE will follow.
Find out more about Busted Flush Press here: www.bustedflushpress.com
[Editor's note: This interview was done prior to February of 2008 so the books mentioned as coming out in March and April should have already been published.]
– Back to Top –
Oregon Cultural Trust Tax Credit
Friends of Mystery is pleased to be designated an Oregon nonprofit cultural organization. Donations, including dues to FOM qualify you to make tax-free contributions to the Oregon Cultural Trust. If you donate up to $500.00 (or up to $1000.00 per couple filing jointly) this year to any Oregon nonprofit cultural organization in Oregon, you can also make a matching gift to the Oregon Cultural Trust. That second donation will earn you a matching credit on your Oregon income tax. This is a tax credit, not a deduction. Therefore your contribution to the trust doesn't cost you a thing. So your contribution to Friends of Mystery would be a charitable tax deduction, and your contribution to the Oregon Cultural Trust will give you a dollar for dollar tax credit in the amount of tax due on the bottom line. The purpose of the tax credit is to stimulate direct giving to Oregon cultural nonprofit organizations, while raising money for the Trust to distribute in grants. We hope you will take advantage of this unique opportunity. For more information, visit the website at www.culturaltrust.org or your tax advisor.
– Back to Top –
Spotted Owl Committee Update
The Spotted Owl Committee has been working through the current list of 67 mystery novels written by authors residing in the Northwest. Some top-rated are by our favorite regulars, including Damage Control by J.A. Jance, Uneasy Relations by Aaron Elkins, Black Ship by Carola Dunn, Executive Privilege by Phillip Margolin, Blue Smoke and Murder by Elizabeth Lowell, The King of Ragtime by Larry Karp, Cold Plague by Daniel Kalla, Shanghai Tunnel by Sharan Newman, and Careless in Red by Elizabeth George. Spotted Owl winning authors Kate Wilhelm with her new Barbara Holloway mystery Cold Case, the new G.M. Ford stand-alone Nameless Night, and the Mike Doogan novel Skeleton Lake have also received high praise. Plus the debut novels Night Kill by Ann Littlewood, Just Deceits by Michael Schein, and Cezanne's Quarry by Barbara Pope have impressed us.
With more to come during the next months, we are having a very busy and enjoyable year. Check these out at your local bookstore or your library.
– Back to Top –
Chasing Smoke Makes Powell's Debut

FOM member and webmaster, Bill Cameron, signed his new book, Chasing Smoke, at Powell's in Beaverton on Friday, October 17th. Bill's first book, Lost Dog, was a Spotted Owl finalist last year, and his new book features one of that book's secondary characters, detective Skin Kadash. Set in Portland, the book is available in both hardback and trade paperback. The Spotted Owl committee is looking forward to reading his new effort.
– Back to Top –