Judicious Murder, the debut novel by Friends of Mystery member and attorney Val Bruech will be available December 5th.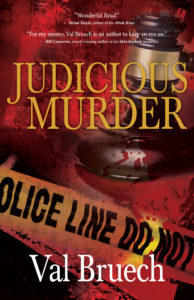 Defense attorney Susan Marshfield is all about challenging prosecutors, charming juries, and winning acquittals for her clients. When her former trial partner is brutally murdered, she catapults into the investigation with the same 'take no prisoners' attitude that fuels her courtroom victories.
The novel has everything a great mystery should: a search for a truth that proves disillusioning, authentic secondary characters who either repulse or enchant, a plot that intensifies with every chapter and an ending twist that dazzles.