In this issue of The Blood-Letter from Friends of Mystery: a preview of our January 2020 Bloody Thursday guest Robert Donnelly, awards season, new books, and more!
March 2020

CONTENTS:

Bloody Thursday, March 26, 2020, FOM Welcomes Robert Donnelly

Friends of Mystery is pleased to welcome Robert Donnelly as our March speaker.
He is an Associate Professor at Gonzaga University in Spokane, Washington, where he has taught U.S. History since 2004. He earned degrees at Western Oregon University, Portland State University, and Marquette University and is the author of Dark Rose: Organized Crime and Corruption in Portland (UW Press, 2011). Dr. Donnelly is a native Oregonian who was born in Eugene and raised in Winston.
Please join us at TaborSpace, 5441 SE Belmont St., Portland, Oregon 97215. The event is free and open to the public. A social time with refreshments begins at 7:00 pm, with the program beginning at 7:30 pm. Free parking is available in the block across from the entrance. Bus line #15 will drop you off right by the door.
– Back to Top –
The Spotted Owl Award Goes to . . . Robert Dugoni

The Eighth Sister

Rounding out our top ten choices were:
Mike Lawson – House Arrest
Martin Limon – G.I. Confidential
Dana Haynes – St. Nicholas Salvage & Wrecking
Daniel Kalla – We All Fall Down
Warren Easley – No Way to Die
W.H. Cameron – Crossroad
Marc Cameron – Active Measures
Michael Niemann – No Right Way
Frank Zafiro – Charlie 316
Thank you to the committee members who spent many hours reading to come to this conclusion: Janet Bechtold, Kris Field-Eaton, Carrie Richards, Sheila Sweet and Judith Wyss.
—Jeannette Voss, Facilitator
– Back to Top –
Awards Season

While the motion picture awards season is just ending, the awards season for mystery and crime novels season is just beginning. Here are the nominees for the Agatha's (traditional mysteries), Edgar's (presented by the Mystery Writers of America), and the Barry's (presented by the readers of Deadly Pleasures magazine.)
Agatha Award Nominees

Best Contemporary Novel
Fatal Cajun Festival, by Ellen Byron
The Long Call, by Ann Cleeves
Fair Game, by Annette Dashofy
The Missing Ones, by Edwin Hill
A Better Man, by Louise Penny
The Murder List, by Hank Phillippi Ryan
Best First Novel
A Dream of Death, by Connie Berry
One Night Gone, by Tara Laskowski
Murder Once Removed, by S.C. Perkins
When It's Time for Leaving, by Ang Pompano
Staging for Murder, by Grace Topping
Best Historical Novel
Love and Death Among the Cheetahs, by Rhys Bowen
Murder Knocks Twice, by Susanna Calkins
The Pearl Dagger, by L.A. Chandler
Charity's Burden, by Edith Maxwell
The Naming Game, by Gabriel Valjan
Best Non-Fiction
Frederic Dannay, Ellery Queen's Mystery Magazine and the Art of the Detective Short Story, by Laird A. Blackwell
Blonde Rattlesnake: Burmah Adams, Tom White, and the 1933 Crime Spree that Terrified Los Angeles, by Julia Bricklin
Furious Hours: Murder, Fraud and the Last Trial of Harper Lee, by Casey Cep
The Mutual Admiration Society: How Dorothy L. Sayers and her Oxford Circle Remade the World for Women, by Mo Moulton
The Five: The Untold Lives of the Women Killed by Jack the Ripper, by Hallie Rubenhold
Edgar Award Nominees

Best Mystery Novel
Fake Like Me, by Barbara Bourland
The Stranger Diaries, by Elly Griffiths
The River, by Peter Heller
Smoke and Ashes, by Abir Mukherjee
Good Girl, Bad Girl, by Michael Robotham
About The Stranger Diaries by Elly Griffiths. Clare Cassidy is no stranger to murder. A high school English teacher specializing in the gothic writer R.M. Holland, she teaches a course on him every year. But when Clare's colleague and close friend is found dead, with a line from R.M. Holland's most famous story, The Stranger, left by her body, Clare is horrified to see her own life collide with the story lines of her favorite literature. To make matters worse, the police suspect that the killer is someone Clare knows. Unsure whom to trust, she turns to her closest confidant, her diary, the only outlet she has for her darkest suspicions and fears about the case. Then one day she notices something odd. Writing that isn't hers, left on the page of an old diary: Hallo Clare. You don't know me. Clare becomes more certain than ever: The Stranger has come to terrifying life. But can the ending be rewritten in time?
(Plot summary provided by the publisher. Plot summary of Good Girl, Bad Girl was included in the September 2019 issue of The Blood-Letter)
Best First Novel by an American Author
My Lovely Wife, by Samantha Downing
Miracle Creek, by Angie Kim
The Good Detective, by John McMahon
The Secrets We Kept, by Lara Prescott
Three-Fifths, by John Vercher
American Spy, by Lauren Wilkinson
Best Paperback Original
Dread of Winter, by Susan Alice Bickford
Freedom Road, by William Lashner
Blood Relations, by Jonathan Moore
February's Son, by Alan Parks
The Hotel Neversink, by Adam O'Fallon Price
The Bird Boys, by Lisa Sandlin
Best Fact Crime
The Ghosts of Eden Park: The Bootleg King, the Woman Who Pursued Him, and the Murder that Shocked Jazz-Age America, by Karen Abbott
The Less People Know About Us: A Mystery of Betrayal, Family Secrets, and Stolen Identity, by Axton Betz-Hamilton
American Predator: The Hunt for the Most Meticulous Serial Killer of the 21st Century, by Maureen Callahan
Norco '80: The True Story of the Most Spectacular Bank Robbery in American History, by Peter Houlahan
Indecent Advances: A Hidden History of True Crime and Prejudice Before Stonewall, by James Polchin
Best Critical Biography
Hitchcock and the Censors, by John Billheimer
Beyond the Thirty-Nine Steps: A Life of John Buchan, by Ursula Buchan
The Hooded Gunman: An Illustrated History of Collins Crime Club, by John Curran
Medieval Crime Fiction: A Critical Overview, by Anne McKendry
The Mutual Admiration Society: How Dorothy L. Sayers and her Oxford Circle Remade the World for Women, by Mo Moulton
Mary Higgins Clark Award
The Night Visitors, by Carol Goodman
One Night Gone, by Tara Laskowski
Strangers at the Gate, by Catriona McPherson
Where the Missing Go, by Emma Rowley
The Murder List, by Hank Phillippi Ryan
Sue Grafton Memorial Award
Shamed, by Linda Castillo
Borrowed Time, by Tracy Clark
The Missing Ones, by Edwin Hill
One Night Gone, by Tara Laskowski
The Alchemist's Illusion, by Gigi Pandian
Girl Gone Missing, by Marcie R. Rendon
Barry Award Nominees

Best Mystery/Crime Novel
Th1rt3en, by Steve Cavanagh
Your House Will Pay, by Steph Cha
The Lost Man, by Jane Harper
Metropolis, by Philip Kerr
If She Wakes, by Michael Koryta
The Border, by Don Winslow
Best First Mystery/Crime Novel
Scrublands, by Chris Hammer
Save Me from Dangerous Men, by S.A. Lelchuk
The Silent Patient, by Alex Michaelides
The Chestnut Man, by Soren Sviestrup
To the Lions, by Holly Watt
American Spy, by Lauren Wilkinson
Best Paperback Original Mystery/Crime Novel
Winner Kills All, by R.J. Bailey
The Godmother, by Hannelore Cayre
Killing Quarry, by Max Allan Collins
Fate: The Lost Decades of Uncle Chow Tung, by Ian Hamilton
Missing Daughter, by Rick Mofina
No Good Deed, by James Swain
Best Thriller
True Believer, by Jack Carr
Mission Critical, by Mark Greaney
The Chain, by Adrian McKinty
The Burglar, by Thomas Perry
White Hot Silence, by Henry Porter
Backlash, by Brad Thor
Best Mystery/Crime Novel Of the Decade
November Road, by Lou Berney
Suspect, by Robert Crais
Gone Girl, by Gillian Flynn
The Dry, by Jane Harper
The Blackhouse, by Peter May
The Border, by Don Winslow
– Back to Top –
Two Thrillers for Your Reading Pleasure

(Plot summaries from the publisher)
The Tenant by Katrine Engberg

When a young woman is discovered brutally murdered in her own apartment, with an intricate pattern of lines carved into her face, Copenhagen police detectives Jeppe Korner and Anette Werner are assigned to the crime. In short order, they establish a link between the victim, Julie Stender, and her landlady, Esther De Laurenti, who's a bit too fond of drink and who's the host of raucous dinner parties with her artist friends. Esther is also a budding novelist –and when Julie turns up as a murder victim in the still-unfinished mystery she's writing, the link between fiction and real life grows both more urgent and more dangerous. But Esther's role in this twisted scenario is not quite as clear as it first seems. Is she the culprit – or just another victim, trapped in a twisted game of vengeance? Anette and Jeppe must dig more deeply into the two women's pasts to discover the identity of the brutal puppet master pulling the strings in this heart-stopping literary thriller.
Safe Houses by Dan Fesperman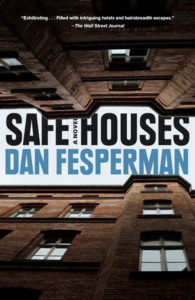 West Berlin, 1979. Helen Abell oversees the CIA's network of safe houses, rare havens for field agents and case officers amid the dangerous milieu of a city in the grips of the Cold War. Helen's world is upended when she overhears a meeting between two people unfamiliar to her speaking a coded language that hints at shadowy realities. Before the day is out, she witnesses a second unauthorized encounter, one that will place her in the sight lines of the most ruthless and dangerous man at the agency. What she witnessed will have repercussions that reach across decades and continents into the present day, when, in a farm town in Maryland, a young man is arrested for the double murder of his parents and his sister takes it upon herself to find out why he did it.
Book Groups
And speaking of your reading pleasure, check out our Book Groups page. Friends of Mystery in partnership with Murder by the Book sponsors two different groups who meet monthly to read and discuss mystery. In March, the groups are reading The Jealous Kind by James Lee Burke and Widows of Malabar Hill by Sujata Massey.
The reading lists are updated regularly, so you can see what's coming up for the months ahead. The groups meet in Portland at the Belmont Library at 1038 SE Cesar Chavez Blvd. (39th Ave.) between SE Belmont and Hawthorne.
– Back to Top –
In Memoriam

– Back to Top –
---
Member News

Kelly Garrett Receives Literary Fellowship

FOM Member Kelly Garrett was one of fifteen Oregon writers and publishers to receive the 2020 Oregon Literary Fellowship. Literary Arts of Oregon makes annual fellowship grants to emerging and published writers throughout the state. Congratulations, Kelly! Learn more.
Linda Kuhlmann's Koenig's Promise Now Available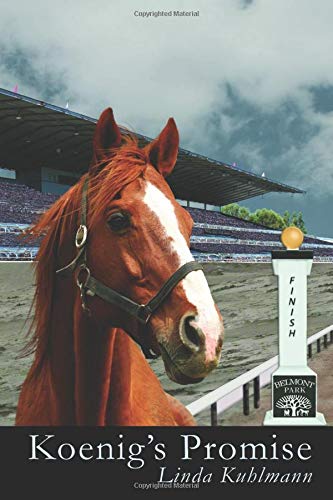 In Koenig's Promise by Linda Kuhlmann, the powerful characters of Koenig's Wonder and Koenig's Spirit return with new challenges in the thrilling world of Thoroughbred racing. Conspiracy, intrigue and revenge weave the characters along a new dimension in their lives as their pasts and new beginnings bring the members of these families closer together. Learn more.
Author Duel: J.S. James vs W.H. Cameron

On April 9th, travel "beyond the bridge" to St. John's Two Rivers Bookstore, where dueling mystery authors thrust and parry over character quirks, plot secrets and action clips from River Run: a Delia Chavez Mystery by J. S. James and Crossroad by W. H. Cameron. All interested in the genre are invited to come and join in the repartee. At Two Rivers Bookstore a "magical confluence happens where art, music and community combine, clash and show up . . ." As unique bookstore concepts go, new and current patrons are in for a treat! Learn more.
– Back to Top –
Share Your Member News

Friends of Mystery is happy to publish news and press releases from our members in our Member News section, with the following considerations:
The news must be related to mystery or true crime writing, films, and television, as well as non-fiction examinations of the mystery genre.
Friends of Mystery will not be able to edit announcements, and will publish them as provided.
Friends of Mystery will include one image with each announcement, if provided.
Friends of Mystery is not responsible for the content of news announcements, and we reserve the right to not publish any announcements which we feel will reflect poorly on the organization and do not advance the organization's mission.
– Back to Top –
Membership Renewal

It's never too late to consider renewing your membership to Friends of Mystery! Dues are $20.00 annually. FOM is a 501 (c)(3) non-profit organization. Dues and additional donations are deductible to the full extent of the law. Please mail your check, made out to Friends of Mystery, to PO Box 8251, Portland, Oregon 97207. Your newsletter will be sent electronically unless otherwise requested.
– Back to Top –
Submissions Needed

Members and readers are encouraged to submit book or film reviews, comments on authors, and recommendations for books to read or questions about mysteries, crime fiction and fact. If you have suggestions of mysteries worth sharing, please contact the editor at: jlvoss48@gmail.com
– Back to Top –