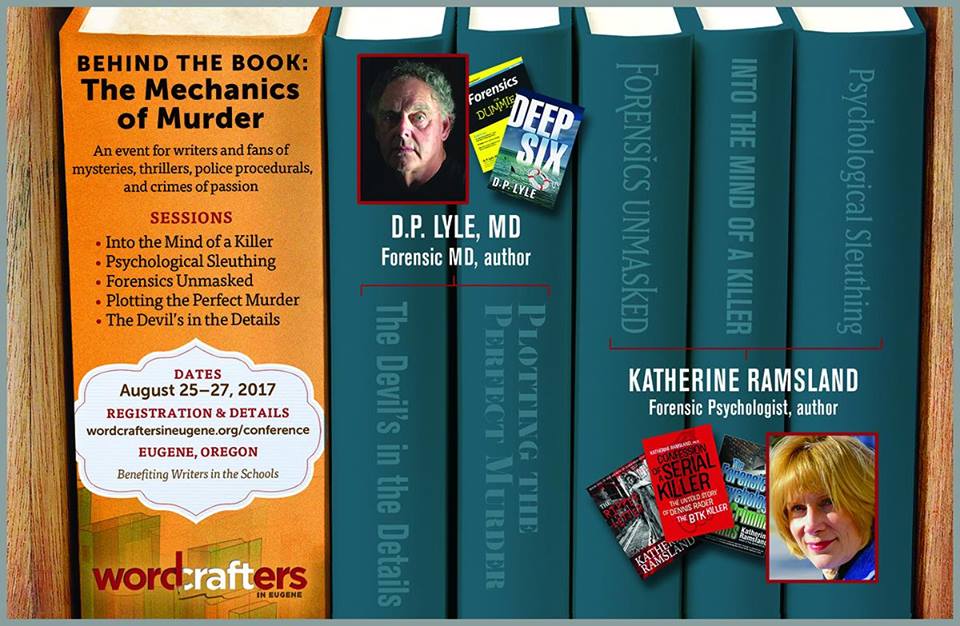 Join Wordcrafters of Eugene, Oregon for a weekend conference for writers called Behind the Book: The Mechanics of Murder, featuring D.P. Lyle and Katherine Ramsland.
read more
On May 25, 2017, Friends of Mystery hosts a panel on young adult mystery, featuring Sheryl Scarborough, Kelly Garrett, and Bill Cameron.
read more
In the March 2017 of the Blood-Letter: a preview of our March 2017 guest Robert Wollheim, awards news, and more!
read more
In the January 2017 of the Blood-Letter: a Nick Slosser, reading suggestions for the cold winter, new mysteries, and more!
read more
Coming in July From Warren Easley: Dead Float, a Cal Claxton Mystery Cal Claxton—a former L.A. prosecutor now practicing law in Oregon's wine country and who works to fish—has to pinch himself when his best friend Philip Lone Deer asks him to assist guiding a group of...
read more
Left Coast Crime 2015: Crimelandia comes to Portland March 12-15, 2015. The Guests of Honor are Chelsea Cain and Ridley Pierson, with Gar Anthony Haywood serving as Toastmaster. The Fan Guests of Honor will be the Friends of Mystery! Learn more at the Left Coast Crime...
read more
Join Friends of Mystery on September 28, 2017 as we present Robert Dugoni with the 2017 Spotted Award for Best Mystery for The 7th Canon.
read more